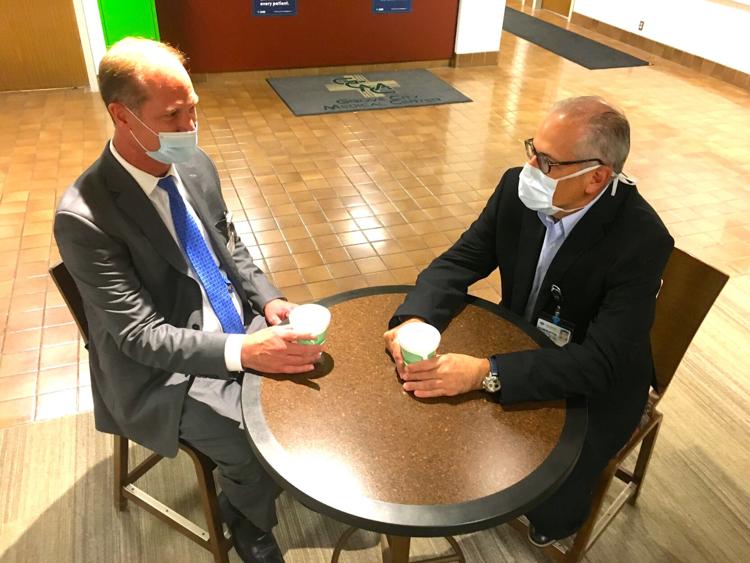 NOTE: This article was edited Sept. 8 to correct information about AHN Grove City's move to reopen an obstetrics-gynecology department. As originally published, the story incorrectly reported that the hospital will reopen birthing services. The labor and delivery department, closed a few years ago, and  hospital officials have no plans to reopen.
PERUSING the gift shop at AHN Grove City, a display of small stuffed toys caught Dr. Allan Klapper's eyes.
After seeing the price tag for the elite toys, sticker shock set in.
"Hey, these things cost $4.99,'' Klapper said.
Appointed as the hospital's new president in May, a small part of his duties will be reviewing costs. Right now he's focused on adding health care services.
He, along with Jason Roeback, the hospital's new chief operating officer, are ushering in a new era for the 67-bed hospital.
Pittsburgh-based Allegheny Health Network finalized the deal to buy Grove City Medical Center on Jan. 10. He and Roeback were named to their posts in May.
Under the deal AHN pledged to spend $40 million on upgrades at the local healthcare provider.
They've moved quickly.
Visitors to the hospital now have to hunt for a parking spot – unheard of when it was an independent hospital.
Klapper credits the tight supply of parking spaces to adding more physicians to the hospital staff.
"We've added 20 doctors so far,'' Klapper said.
So far AHN Grove City has added physicians in cardiology, primary care, neurology and orthopedics.
The hospital will also revive its obstetrics-gynecology department, offering prenatal and woman-centered care.
This is where Klapper brings his insight. He's a Pittsburgh area physician in obstetrics and gynecology devoting one day a week to his practice. And he won't give it up.
"It's what I love to do,'' he said of his practice.
Currently holding eight beds, the hospital's emergency room also is going under the microscope.
"It's a high priority for us,'' Roeback said of the emergency room. "We're already talking to architects about expanding it. We're looking for ways to refresh it and what is the right number of beds for the ER.''
A good chunk of the money AHN is sinking into the hospital, $17 million to be exact, is earmarked for fiber optics and information technology. The investment means patients can use telemedicine technology, as early as this fall. It will give quicker access to medical care with online technology using a computer or phone, Klapper said.
As with every hospital administrator Klapper said he continues to devote large blocks of time to COVID-19. Medical staff are given weekly updates and equipment supplies are closely monitored.
"I feel we're as well prepared as we can be,'' he said.
Roeback is familiar with the area as he served as Sharon Regional Medical Center's CEO from January 2015 to through June 2017. An Erie native, in addition to his role at AHN Grove City, he will continue to hold his post as COO of AHN St. Vincent in Erie where he will be based full time.
Klapper also will continue to hold his posts as president of AHN Health and Wellness Pavilion in Allegheny County, which provides a variety of medical services, and also president of adjacent AHN Wexford Hospital which is under construction and is expected to open next September. He will spend half of his hospital administrative time in Grove City.
AHN Grove City already has a critical feature needed in a hospital, Klapper said.
"When I first came here I was struck by the staff at the hospital, their care and concern,'' he said. "They are so engaged and want to help patients.''