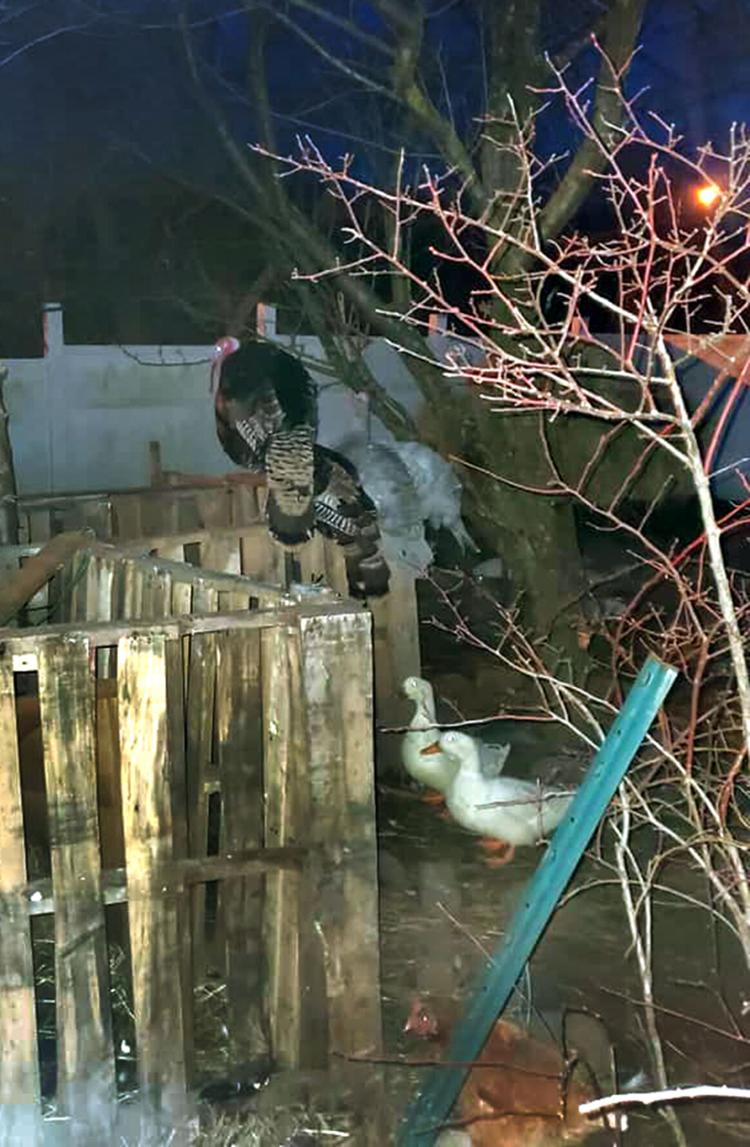 SHARON — The community is coming together after the Humane Society of Mercer County started taking in animals from a well-meaning resident Thursday.
A social media call for help generated more than $2,000 in donations to care for the animals, which represented more diversity than the typical household's cats and dogs.
The Humane Society collected eight turkeys, eight chickens, seven turtles, seven rabbits, seven ferrets, 40 ducks, five pigs, 12 guinea foul, a snake, 24 cats, and three dogs living at a Sharon home, Humane Officer Courtney Ivan said.
Ivan said the resident wanted to care for the animals, but the burden became too much.
"I have no doubt her intentions are pure. It's just something that can become overwhelming," Ivan said of the owner.
The Humane Society was called to the house Tuesday by officers from the Sharon Code Enforcement Office, who were inspecting the home to determine if residents could install a furnace. The code office contacted the Humane Society upon discovering the animals, Ivan said.
Ivan said the homeowner was grateful for the Humane Society's involvement. The resident had rescued many of the animals and previously tried unsuccessfully to relocate the animals.
No one had been charged as of Thursday. The animals themselves didn't seem to display signs of neglect, such as emaciation, and animals such as ferrets all had appropriate cages and bedding.
Aside from the animals, the home's inhabitants included the property owner and a few children. Since the children have emotional attachments with some of the animals, Ivan said the owner would like to keep a few of the animals, although the Humane Society will have to evaluate the animals first.
However, the Humane Society faces a challenge in that it does not have a large facility of its own to store that many animals.
The organization asked for help supporting and relocating the animals in a Facebook post early Wednesday morning. The plea for assistance netted about $2,035 as of Thursday evening. A couple people expressed a willingness to help take some of the wildlife such as the turkeys or ducks, while the Shenango Valley Animal Shelter took 12 of the cats, Ivan said.
"It was nice to see everyone come together," she said.
If anyone would like to support the Humane Society's efforts, Ivan said it could use financial donations any spaying, neutering, vaccinations or veterinary care the animals may need. Supplies — such as cat litter, or items for rabbits or ferrets — would also be helpful, she said.
Like David L. Dye on Facebook or email him at ddye@sharonherald.com.
DONORS CAN drop off supplies at Elite EMS in Hermitage anytime before 8 p.m., and financial donations can be mailed to Box 1046, Hermitage. People can also make financial donations to the society's PayPal account at mercountyhumane1@outlook.com.