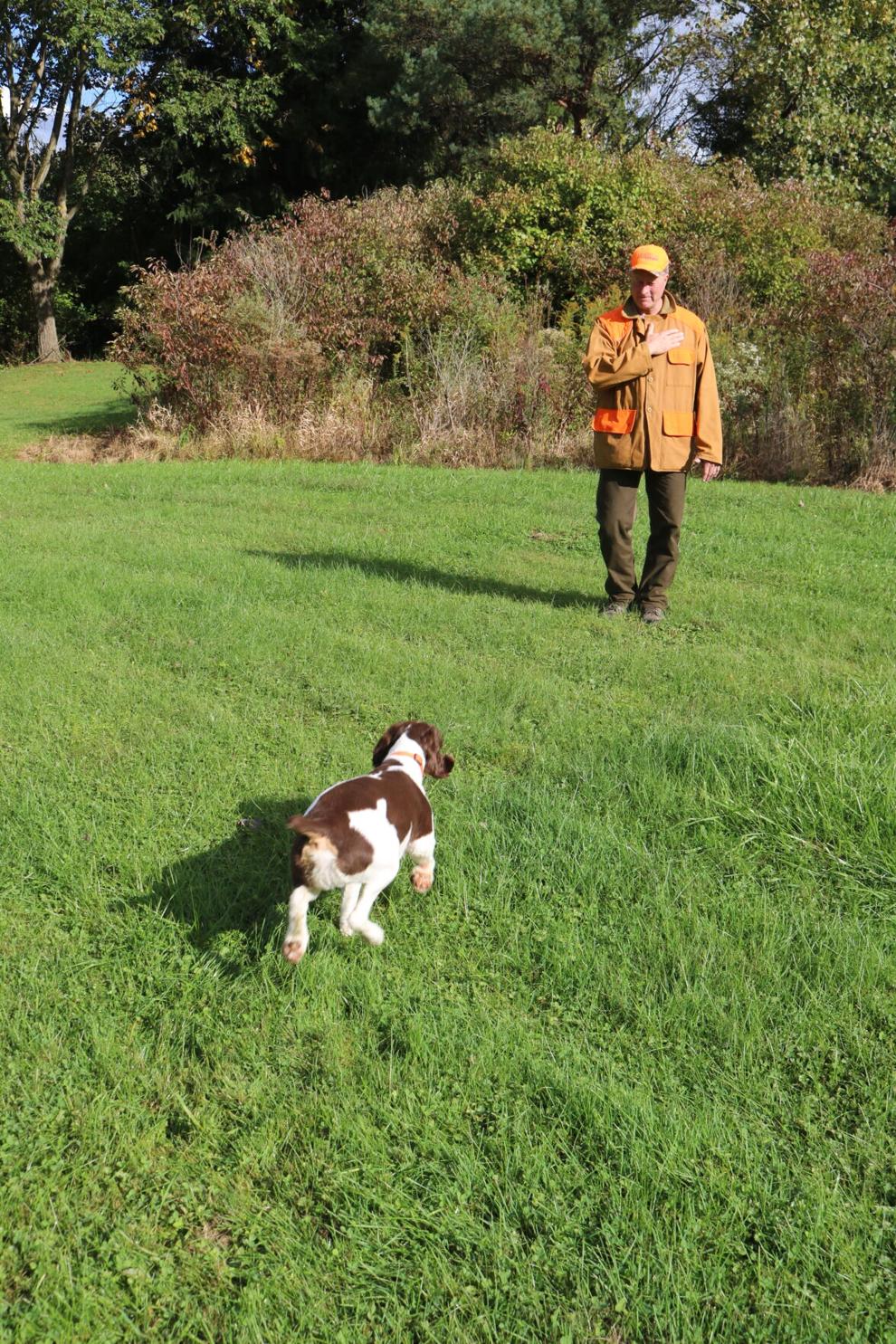 If Brad Gosser's buddy Booker Bourbon gets lost while they're hunting, the search will be a little easier than it used to be.
Booker is Gosser's 3-year-old springer spaniel he uses mostly when hunting pheasants.
A regulation change by the Pennsylvania Game Commission several years ago is now gaining attention. Unarmed hunters are allowed to walk onto private property to retrieve their lost dogs – even on land posted "no hunting."
"I've been hunting all of my life and hunt every year but I didn't know about this change,'' said Gosser, a hunter residing in Hempfield Township.
In his day job, Gosser is executive director and vice president of Greenville Reynolds Development Corp. But he's also an avid hunter who has owned a number of hunting dogs.
Booker, highly trained by Gosser, responds to verbal, whistle and hand sign commands such as to hunt and sit. Booker instinctively responds with excitement to let his master know he's on the scent of game.
"He goes birdie,'' Gosser joked.
Last year, while still in training Booker caught the scent of a rabbit instead of a pheasant. His owner found himself on the hunt for the dog, which he eventually discovered "a ways'' off.
"He's much better now,'' Gosser said.
The state Game Commission has rules on how dogs can be used in hunting.
There is a distinction between tracking and hunting dogs, said Travis Lau, a Game Commission spokesman. Tracking dogs are only used to find game after they've been shot or hit by a hunter's arrow, leaving a blood trail.
"It's the blood trail they're tracking – that's why it's called a tracking dog,'' Lau said.
In Pennsylvania tracking dogs must be leashed and can only be used to search for three big-game animals — deer, elk and bear.
Hunting dogs used on smaller game sniff out the prey for their owners. That game can include pheasants. Waterfowl hunters also commonly use dogs to fetch ducks and other game that they shot which landed in the water – which is legal.
Another change the commission has made in recent years is allowing property owners to use purple paint on trees or fencing instead of signage to alert hunters that their land is private and trespassing isn't permitted.
This law is effective throughout the state, except for Philadelphia and Allegheny counties.
Greenville hunter Brandon Beilstein uses his yellow Labrador for tracking and hunting allowable game.
"I've cross-trained him,'' Beilstein said. "He pretty much can go after anything.''
All of those interviewed agreed on one point: There's no situation where dogs can be used to hunt down and kill game.
"I believe it's unlawful at any point to allow a dog to hunt and kill or injure wildlife,'' Lau said.
Gosser was more pointed.
"That's an unethical practice,'' he said. "No ethical hunter would do something like that.''
MORE INFO: www.pgc.pa.gov/Pages/default.aspx