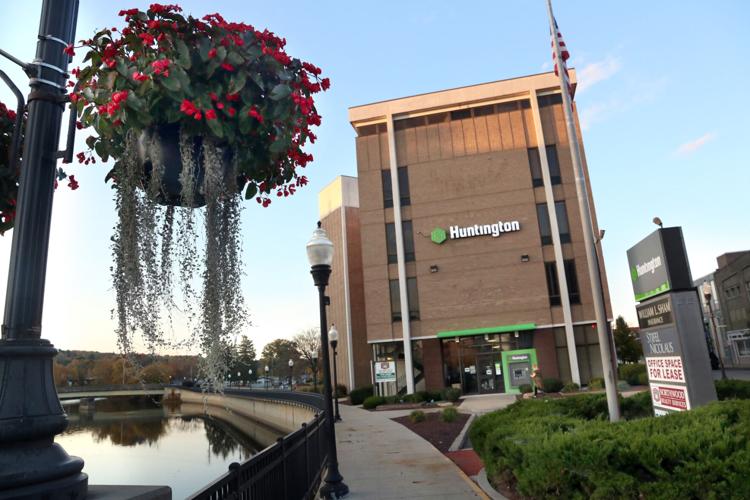 SHARON – Huntington Bank is closing its downtown Sharon office.
A sign on the branch's front door says the branch will permanently close Jan. 16.
The sign included no explanation for the closure.
Questions at the branch were referred to the company's Columbus headquarters. A phone message and email left at the office weren't immediately returned Thursday.
The sign directed Huntington customers to its nearby offices at 3250 Shenango Valley Freeway in Hermitage near Home Depot and 24 W. Liberty St., Hubbard. The bank's website also shows a drive-through branch at 1685 E. State St., Hermitage, and branches at 127 N. Diamond St., Mercer, 1506 W. Main St. Ext. Grove City, and 108 S. Market St., New Wilmington.
A notice beside the ATM outside the Sharon branch says the machine will remain after the branch closes.
Online Mercer County tax records indicate that Huntington owns the building. It opened about 1967 as the home office of First Federal Savings and Loan Association, which through a series of mergers was absorbed into Huntington.
The bank fills the ground floor, while most of the upper-floor office space in the five-story building is vacant. A rental sign that has been on the building for some time says space up to 5,314 square feet per floor is available for lease.
Founded in 1866 as The Huntington National Bank, the bank is owned by Huntington Bancshares, a publicly traded bank holding company. As of Sept. 30, Huntington Bancshares assets totaled $120 billion.
After the closure, downtown Sharon will have three remaining financial institutions: First National Bank of Pennsylvania, PNC Bank, both on State Street, and Mercer County Community Federal Credit Union on North Sharpsville Avenue.