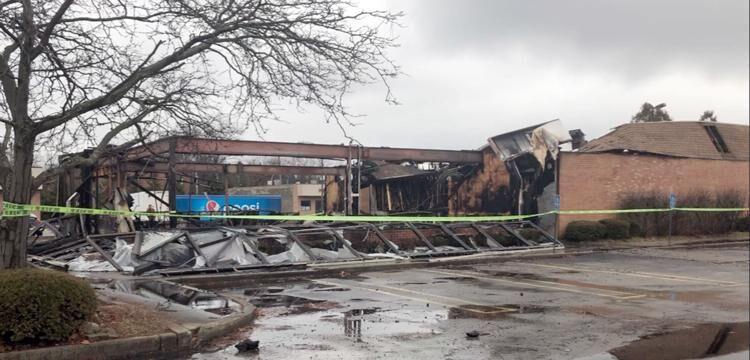 MERCER – A Mercer County judge sentenced a husband and wife in the December 2018 arson of a daycare center in Farrell.
Anna Teresa Spruill, 29, and her husband Robert Milton Spruill Jr., 36, both of Farrell, had been charged with arson and related crimes for their part in the Dec. 21, 2018, fire that destroyed the building at 841 Sharon New Castle Road, which housed Caring 4 Kids daycare center.
Robert Spruill was accused of driving arson suspect Dustin Lovell Morrow, to the building for the purpose of setting it on fire. He also was accused of returning to the fire and recording the building burning.
Anna Teresa Spruill pleaded guilty to tampering with physical evidence and was sentenced Thursday by Mercer County President Judge Robert G. Yeatts to 2 years probation, in keeping a deal between the defense and prosecutors.
The Mercer County District Attorney's office did not prosecute charges of arson, causing a catastrophe, burglary, reckless endangerment, conspiracy to commit the crimes, trespassing and aggravated arson charges in return for her guilty plea.
Her husband pleaded guilty to conspiracy to commit arson. Yeatts sentenced him last week to 21 to 42 months confinement.
The DA's office did not prosecute charges against Robert Spruill of arson, causing a catastrophe, burglary, reckless endangerment and conspiracy to commit those crimes as part of his plea agreement.
Morrow previously pleaded guilty to risking a catastrophe and was sentenced in July to 7 years probation.
Farrell police Capt. Chuck Rubano had testified that Morrow told him that Anna Teresa Spruill gave them a key to the building and a $5,000 deposit to burn it down. Once the job was complete, Morrow said he was to receive $50,000.
According to an affidavit, a "cooperating witness" told Rubano that Spruill drove "them" around Farrell on the night of Dec. 21, 2018. The witness said Robert Spruill was driving a vehicle belonging to Anna Teresa Spruill.
The witness said Spruill assisted him in making sure the immediate area of the business was clear of police. The two then arrived at the business. The witness did not have the right key to get into the steel door, so he and Robert Spruill met Anna Teresa Spruill, who gave them the correct key, the affidavit stated.
Robert Spruill and the witness then returned to the business. Anna Theresa Spruill's vehicle already contained two five-gallon gasoline cans which were left at the business on the first attempt to get in. Once they returned, the witness said he entered the business and dumped the gasoline all over the building, while Robert Spruill waited in the car to drive away.
After dousing the building in gasoline, the witness said he lit a piece of paper and set the fire. Because of the amount of accelerant used, the business exploded.
At Anna Teresa Spruill's sentencing Thursday, Yeatts told her to "stay out of trouble, get to work and you'll be fine."
Follow Melissa Klaric on Twitter and Facebook @HeraldKlaric, email: mklaric@sharonherald.com