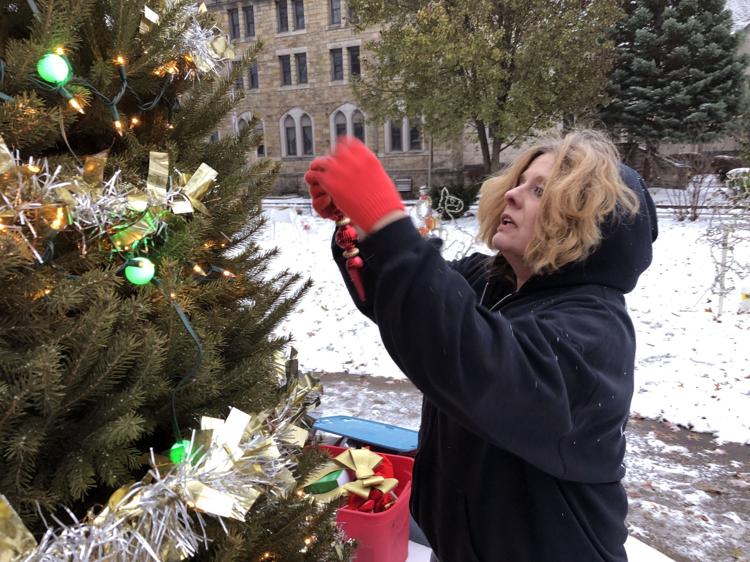 GREENVILLE — With temperatures plunging into the 20s and a frigid wind cutting through Central Park, Audra Amos and Beth Schufest raced Tuesday against darkness — and even colder conditions — to finish decorating the Christmas tree for Greenville's annual holiday celebration.
"The weather hasn't been cooperative this year, with the rain, then the cold," said Amos, a member of the parade's Central Park committee. "Where did Indian summer go?"
Amos, Schufest and borough council President Paul Hamill were wrapping up preparations in Central Park for Greenville's light-up night and Christmas parade.
The parade starts at 5:30 p.m., with staging at 4 p.m. in Riverside Park in Greenville. The Central Park committee will light the Christmas Tree and decorations after the parade.
Greenville is one of three communities celebrating the Christmas season this weekend.
On Friday, Mercer will have its Christmas on the Square event from 6 to 8 p.m., with a visit from Santa, chili cook-off and carolers.
Grove City will hold its annual Olde Town Christmas event from noon to 5 p.m. Saturday along the Broad Street business district. The event will include a visit from a North Pole elf, hay rides and a visit from Santa from 1:30 to 5 p.m. at Burdicks Men's Clothing.
Greenville's parade, sponsored by Greenville Area Chamber of Commerce, will wind out of Riverside Park and through town before going up Main Street past Central Park.
"We've got a little bit of everything this year," said Janice Schwanbeck, director of the chamber of commerce.
"A little bit of everything" includes more than 30 marching groups and floats, Santa Claus and a balloon provided by UPMC Horizon Greenville. In addition, fire trucks from Greenville, Hempfield and West Salem will drive in the parade.
The Salvation Army will provide free hot chocolate at Central Park.
And the fun, particularly for children, will begin even before the parade starts, with the new Christmas on Canal attraction, sponsored by Greenville Neuromodulation Center. Christmas on Canal will be open from 3 to 7 p.m. Saturday.
The event will include children's games and activities, including an ornament pool, ugly Christmas sweater contest and a "Guess What's in the Stocking" game.
On Saturday, Greenville will mark more than 60 years of its Christmas light-up parade. Schwanbeck said she doesn't know how long the parade has been around.
"I know they held it in the 1940s, just after World War II," she said.
Follow Eric Poole on Facebook and Twitter @Her aldEricPoole. Email him at epoole@sharonherald.com