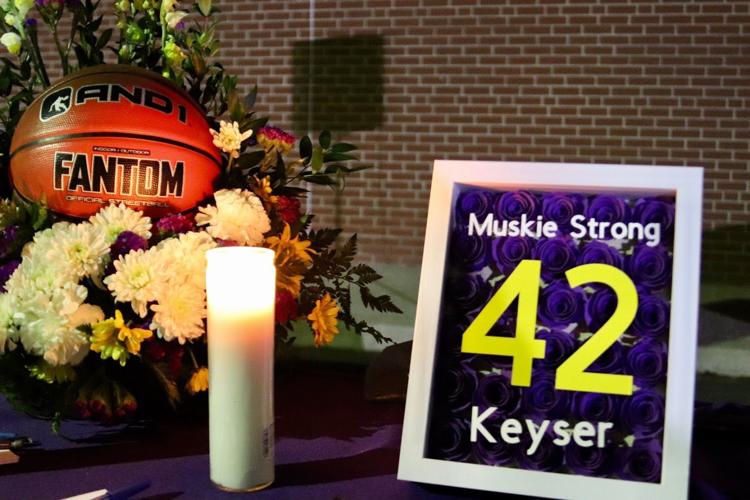 JAMESTOWN — At 6-foot-6, Darian Keyser looked like a basketball player.
But if he was tall, his heart was even taller, said Marilyn Hutchinson, Jamestown High School athletic director.
"He always reached his hand and heart out to help someone else," Hutchinson said. "Whenever I think about Darian, it will be with that little grin he always had and the sparkle in his eye when you caught his attention."
Keyser, 18, who was one of the top basketball scorers in Mercer County, died in his sleep Feb. 17 at home.
Mercer County Coroner John Libonati said Monday that autopsy findings are not complete. Because Keyser was a young healthy athlete, Libonati said extensive tests will be necessary before his office can issue a finding, which could take six to eight weeks.
His passing left the Jamestown community reeling. 
Since early last week, Jamestown and the surrounding areas have poured out their sorrow. Signs bearing his name and basketball uniform number — 42 — often with the hashtag, "#Muskie Strong" have sprung up throughout the area. 
Students at other schools — including Sharpsville, Reynolds and Kennedy Catholic — replaced their own school colors with the Muskies' purple and gold for a day last week.
On Sunday night, a day after his funeral, the Muskies' community gathered to remember and honor his life, and his faith.
Keyser, who planned to continue his education and basketball at Geneva College in Beaver Falls, Beaver County, treasured his Christianity, said Jamestown boys basketball coach Lucas Widger.
"His relationship with Jesus really shaped the kind of person he was," Widger said. "He had strong beliefs, convictions, which I always thought was impressive for a high school kid."
Keyser carried that faith onto the court — he wrote "Proverbs 3:6," to represent one of his favorite Bible verses, on his size 15 basketball shoes. The verse reads, "In all your ways acknowledge Him and He will make your paths straight." 
His pastor, David Cox of First Baptist Church in Greenville, said Keyser's life was about so much more than basketball.
"At 18 years old, he lived with purpose," Cox said. "So many people live without purpose, week-to-week in survival mode. This kid lived his life with clarity and purpose."
Cox said another of Keyser's favorite Bible verses was John 11:25 — "Jesus says, 'I am the resurrection and the life. Whoever comes to me will never die."
Cox described Keyser as "quiet" and "humble" but also as a "very mature, very focused kid, who had purpose in his life."
"He really knew who he was," Cox said. "God was number one in his life. That was the most important thing to him, and he was clear about that." 
Cox said Keyser's greatest accomplishment in life was figuring out God was in control. 
"The greatest thing Darian has ever done is know Jesus Christ as his Lord and Savior," Cox said. "In 18 years, he has made more of an impact than most people make in their entire lifetime."
With half of Keyser's senior academic year remaining, his loss leaves a void.
The Muskies play Friday in their first game without their team captain and 6-foot-6 heart. Jamestown takes on Commodore Perry in the District 10 Class 1A championship game. 
But the space Keyser leaves behind might be even larger off the court. In a small school, Keyser had been his class president for four years. Widger said Keyser took on a leadership role and was someone he could trust to make good decisions with strong convictions simultaneously.
"The senior class he's in, everybody's just devastated and shocked," Widger said. "Everybody just misses him."
Jennifer Klink, one of Keyser's teachers, spoke glowingly of him.
"Darian was a good friend," Klink said. "He was kind and generous and supportive. Failure was not in his vocabulary."
Klink said Keyser was making her a better teacher. 
"If you were feeling down, he'd pick you back up," Klink said. "My heart swelled often with Darian." 
Just 11 days before his death, Keyser scored the 1,000th point of his Jamestown High School basketball career in a game against Tidioute Community Charter School. Keyser's younger brother, Cameron, delivered the assist on Keyser's 1,000th point.
"It was special that they got to play together this year," said Widger. 
Cox said about 1,000 people attended calling hours for Darian last Friday and an estimated 300 people attended the funeral service Saturday at First Baptist.
Darian's father, Jamestown High School Principal Brian Keyser, expressed his appreciation for the outpouring of love and support his family has received since his son's sudden and unexpected passing last week.
"The outpouring of love and support to us has been tremendous," he said. "We truly are a family here, and that's why my son loved it so much. It's a special place."
Like Heidi Warren on Facebook or email her at hwarren@sharonherald.com.