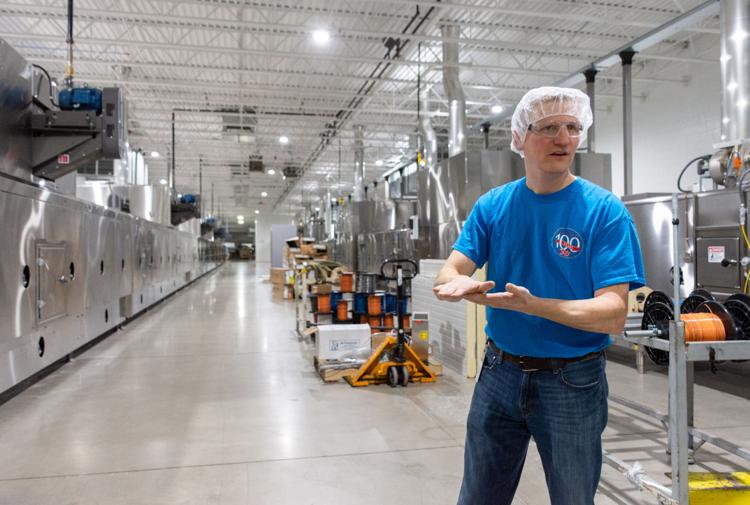 HERMITAGE – Joy Cone Co. got a warm $450,000 state grant to install a new hot $10 million line at its new Hermitage plant.
As a result of the grant, announced Friday by the Pennsylvania Department of Community and Economic Development, it will allow the company to add a couple dozen employees at the cookie plant, said David George, Joy Cone's president and CEO.
The company's new line will produce wafers, such as the chocolate kind used in ice cream sandwiches.
"When we opened our cookie plant in October 2018, we saw down the line that we would want to add a wafer line,'' George said. "Our sales at the cookie plant have jumped dramatically. So we're making this investment sooner than expected.''
The line includes an oven that will allow Joy Cone to quickly and consistently produce quality wafers, he said. Expanding wafer production was part of the company's strategy when it bought BoDeans Baking Group in 2016.
BoDeans produced wafers and cookies, which allowed Joy Cone to enter that market, George said. The deal included BoDeans wafer-producing plant in Le Mars, Iowa.
"This will be the first wafer line in Hermitage,'' George said. "Having a wafer line here gives us closer access to customers on the East Coast.''
Joy Cone bought Altesa, the largest ice cream cone producer in Mexico, about the same time as the BoDeans deal. The acquisition included Altesa's ice cream cone plant near Mexico City. 
Hermitage's wafer line will be completed later this year, possibly as early as March, George said.
Joy Cone, entering its 102nd year of operations, touts itself as being "the world's largest ice cream cone company," with production of more than 1.5 billion cones a year, according to the company's website.
George's grandfather, Albert George, created the business in 1918 as a bakery after arriving in the United States from Lebanon. George's father, Joe, took over the reins as CEO and still remains as the company's chairman.
The George family and Joy Cone employees jointly own of the company. 
The company has over 1,000 employees, including about 500 at the Hermitage plant.
The Hermitage figure includes full- and part-time employees along with seasonal temporary workers, George said.
"We benefit by being in the Shenango Valley because of its great workforce,'' he said. "We feel very comfortable by investing in the Hermitage plant. It's a stable work environment and we're proud to offer good wages and benefits and a tremendous retirement plan.''