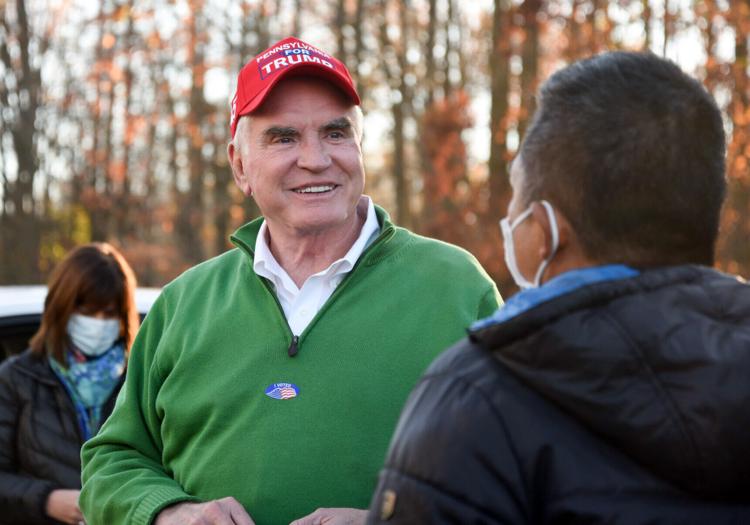 The large, drum-like metal cylinders that sit atop telephone poles don't often attract much attention, at least not until they stop working.
But the metal objects, transformers, play a key role in the nation's electric infrastructure. U.S. Rep. Mike Kelly said he is well aware of the objects' importance — and of the steel used to make them.
Kelly, R-16, Butler said AK Steel in Butler, now owned by Cleveland-Cliffs Inc., is the nation's only manufacturer of electric steel, a substance used in transformers. That status, in his estimation, is an issue more crucial than commerce.
"From a national security standpoint, that is critical," he said. "If we lost that, we would have to depend on foreign manufacturers for electric steel. We would be in deep trouble."
Kelly, who won election Tuesday to a sixth term in the U.S. House of Representatives, said infrastructure — including the steel needed to manufacture the bridges, roads and transformers — would be a priority when the 117th U.S. Congress convenes in January.
Incomplete, unofficial election results gave Kelly a resounding victory over Democrat Kristy Gnibus, with 187,295 votes (62.7%) to 111,268 for Gnibus.
The 16th District covers all of Mercer, Crawford, Erie and Lawrence counties and part of Butler County. Kelly outperformed his opponent in every district county except for Gnibus' home of Erie, where mail-in votes put her ahead by less than 1,000 votes.
In a concession statement issued Wednesday, Gnibus congratulated Kelly and thanked her supporters.
"While this was not the result we wanted, none of this would have been possible without you," she said. "We still have work to do. Our fight is not over."
Kelly said he planned to continue pursuing the same causes he has championed in the last 10 years since he was first elected in 2010.  A senior member of the House Republican Caucus, Kelly is a member of the influential House Ways and Means Committee.
"We need to do an infrastructure bill," he said. "Why in the world should we be sitting here with some of the oldest types of infrastructure?"
For the term beginning in January, Kelly will be part of the minority party in Congress, but with a smaller Democratic majority. Election Day results indicate that the Republican party has picked up at least five seats in the House of Representatives, a number that could grow as high as 10.
In the next session, Kelly said he plans to work on infrastructure, including roads and broadband service in rural America, and controlling the price of prescription drugs, including insulin. He is a sponsor of a bill that would make generic insulin more readily available on the U.S. market, and drive down costs for the drug.
"I don't know why in the world we pay more than anyone else in the world," he said.
He promised that Republicans would also protect health care insurance for people with pre-existing conditions.
With a Democratic majority in the U.S. House, Kelly said he would have to work across the aisle on infrastructure and drug prices, but he remains a committed conservative. That includes a commitment toward ending abortion, an issue he feels that has taken a back seat to matters like the economy and the COVID-19 pandemic.
"I'm kind of disappointed that people don't talk about it as much as they should," he said.
A supporter of President Donald Trump, Kelly is one of the parties to a lawsuit seeking to restrict the ballot count in Pennsylvania. He said Pennsylvania Secretary of State Kathy Boockvar is approving the addition of questionable ballots to the state's total.
"We do want to count every legitimate ballot," Kelly said. 
Kelly accused Gov. Tom Wolf of approving Democratic ballots with an eye toward getting an appointment to a potential administration run by former Vice President Joe Biden.
"That would be good news for Pennsylvania, to get him the hell out of here," Kelly said. "But it would be bad for the country."
Follow Eric Poole on Facebook and Twitter @HeraldEricPoole. Email him at epoole@sharonherald.com.