LIBERTY TOWNSHIP – As a midsummer sun rises above the savannah, little Simba struggles to climb the rocks with his parents.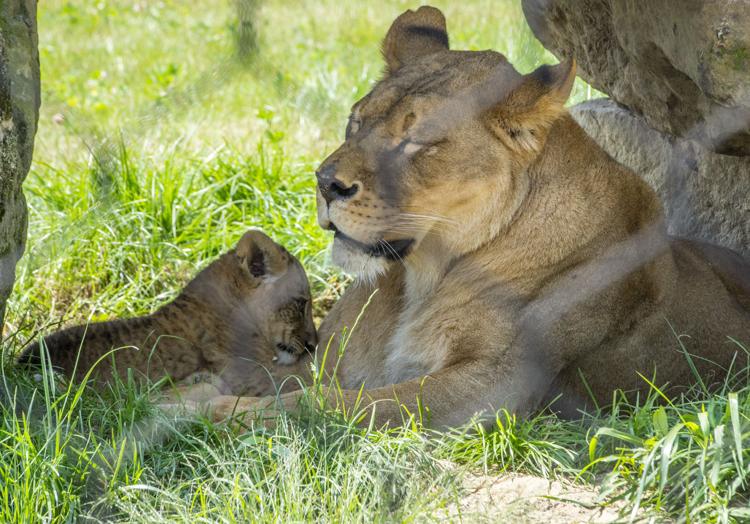 He can't quite reach the top yet, but like his famous movie namesake, he'll get there someday.
Named for the central lion character in the movie, "The Lion King," keepers at Keystone Safari in Liberty Township unveiled Simba, born May 19, just in time for release of the new Disney movie last week.
And the local Simba has proven almost as popular in Mercer County as the movie hero has been on the big screen.
"It's so cute," said Ava Planavsky, 6, of Lower Burrell, Westmoreland County, as she got her first look at Simba.
Simba, who shares a spacious habitat at Keystone Safari with his parents June and Cash, is perhaps more unique than his movie counterpart. All three are Barbary lions, a species that went extinct in its northern African habitat before the early 1960s.
The world's only remaining Barbary lions — including June, Cash and Simba — exist in captivity.
Krystle MacLean, the park's office manager, said Simba is the 11th cub born to June and Cash, who are 13 years old and previously lived at Living Treasures Wild Animal Park in Slippery Rock Township, Lawrence County. Both parks are owned by Adam and Tanis Guiher.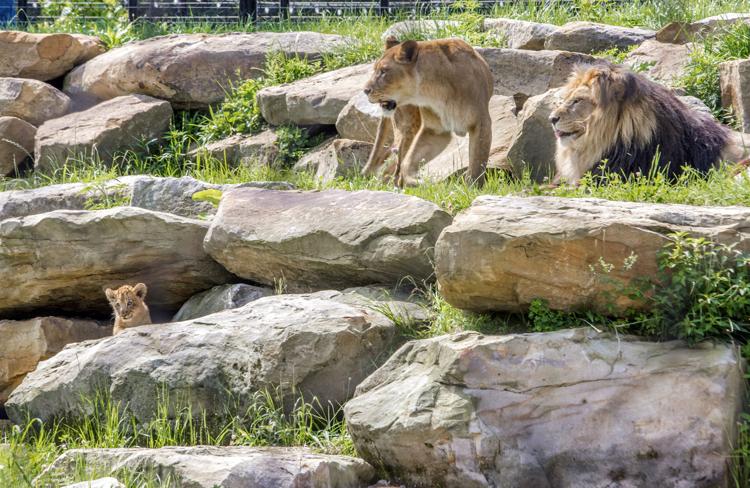 June and Cash's other cubs have been distributed among other zoos and animal parks in an effort to continue successful conservation, MacLean said.
The wild Barbary lion population disappeared because of hunting and poaching, she said, noting that they were part of gladiator games about 2,000 years ago at the Colosseum in Rome.
Barbary lions are native to the Atlas Mountains in North Africa, and they are known for being larger than other members of their species.
It's believed that there are fewer than 100 living lions in zoos with a high percentage of the Barbary lions' genetics.
Simba weighed about 3 pounds at birth, and he'll reach upwards of 400 pounds as an adult. This is his third week roaming the enclosure, and he's already displaying a playful and smart personality, said Hailey Vey, lead keeper.
"It's all very new," she said of Simba's explorations as he gnawed on a small tree.
The staff encourages the cub's development by giving him toys and hiding his food. June often tries to corral Simba, who likes to wander around.
Their relationship is similar to that of a parent with an adolescent human, Vey said.
"He sasses her."
Staff members said June is a good mother who is very protective of Simba.
Guests of all ages leaned in for a closer look as the three lions sat down in a shady spot.
 The staff isn't sure how long Simba will stay at Keystone Safari, or whether June and Cash will have more cubs, but everyone has been excited to meet the little guy, the keepers said.
"He will be out every day," Vey said.
Brian Guenther of the Barkeyville area and his daughter Angelina, 4, made a stop at the lion enclosure, which is just beyond the main entrance.
"I think it's fantastic," he said.
Keystone Safari, 2284 Mercer Butler Pike, Liberty Township, is open 10 a.m. to 6 p.m. daily through October, weather permitting; winter hours will be announced later this year. For more information, call 724-748-6777, visit the Facebook page or keystonesafari.net or email info@keystonesafari.net