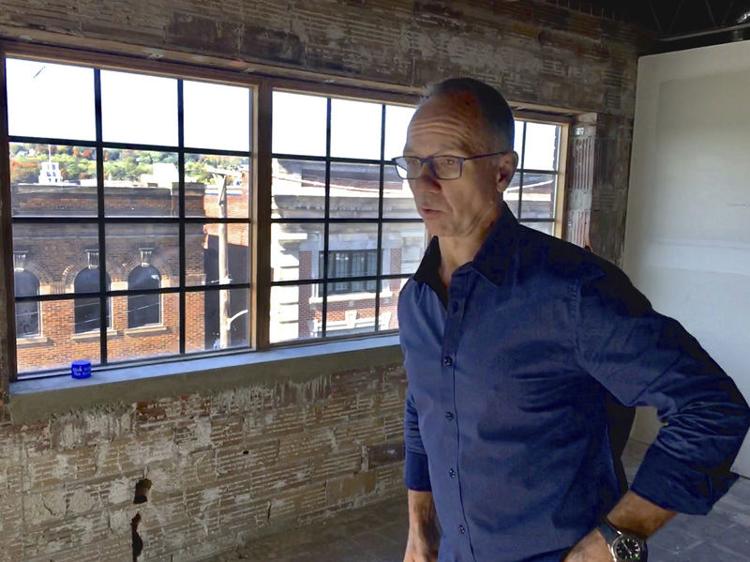 SHARON – After giving an overview of his downtown projects at First Presbyterian Church in Sharon on Sunday, Jim Landino got a hearty handshake from Lyle Derrenbacher.
"Thank you for investing in Sharon,'' Derrenbacher said.
"Well, thanks,'' Landino responded.
A lot of gratitude was directed at Landino and his fiancee, Jen Krezeczowski, in the church's downstairs community room. Landino gave an overview of their downtown Sharon revitalization projects. First Presbyterian has been hosting Sunday morning talks about efforts to improve the local economy.
Landino sold the company Sunbelt Transformers in 2015 and basically has gone into the development business – which he likes to call redevelopment.
He has embarked on an campaign to buy beaten up buildings in downtown Sharon and restore them to house apartments and businesses.
Through his JCL Development business, Landino said in all he owns about 50 properties in Mercer County, but the bulk of them are in downtown Sharon.
He didn't want to give an exact figure on how much he's spent on projects, but said the total exceeded $10 million.
Landino took the first plunge in 2012 when he bought the former Independent Order of Odd Fellows lodge at 44 S. Sharpsville Ave. Built in 1922, it was partially connected to the former Sunshine Home.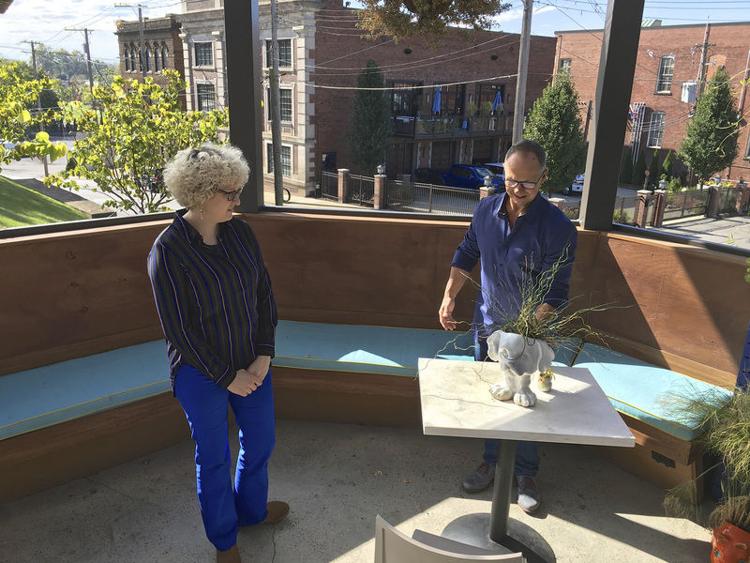 "I clearly fell in love with the building,'' Landino said. "The building called to me.''
So strong was the attachment he made the building their home. He also went on to buy the Sunshine Home next door.
"It was a total cluster mess,'' Landino said of the building's shape. "My kids said, 'Dad, you are absolutely intense.''' 
But he whipped that building in shape and it now houses offices for Sunbelt.
---
"We want to make it a quality town that people want to live in. We do this because it's the right thing to do.''
Jim Landino
---
Their most notable project was the former Petrini Insurance building at the corner of Sharpsville Avenue and East State Street. The building was overhauled, and the couple turned it into LuLu Beans Cafe & Coffee House, which has been open for about two years. The restaurant and coffee house now also offers cocktails, beer and wine.
"Getting a liquor license makes a big difference in what we can do there,'' he said.
Liquor will be coming into Sharon in a different way as Derailed Distillery of Volant will be settling into a building Landino bought, he said. Most recently serving as a motorcycle shop, the narrow brick building is on the corner of North Sharpsville Avenue and East Silver Street.
The business will produce craft spirits at the location, Landino said, and added that distillery expects to open by April.
Up the block from LuLu Beans on Sharpsville Avenue, across from the library, is a project close to being completed. Landino bought the Applegate building, which has been completely overhauled. A digital marketing company is housed on the second floor and was there during construction work, he said.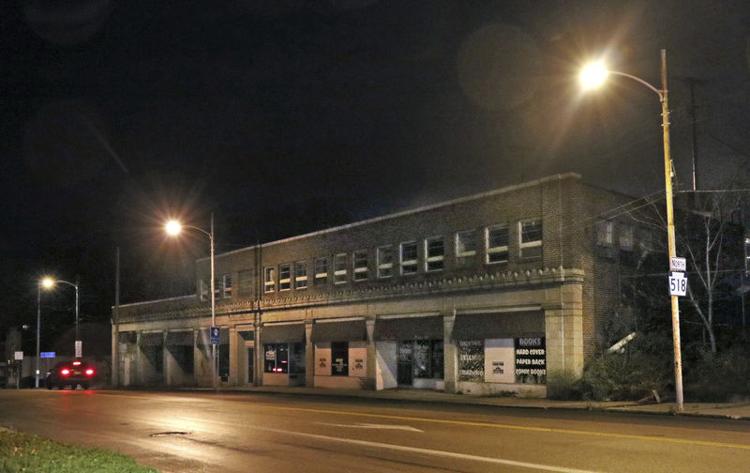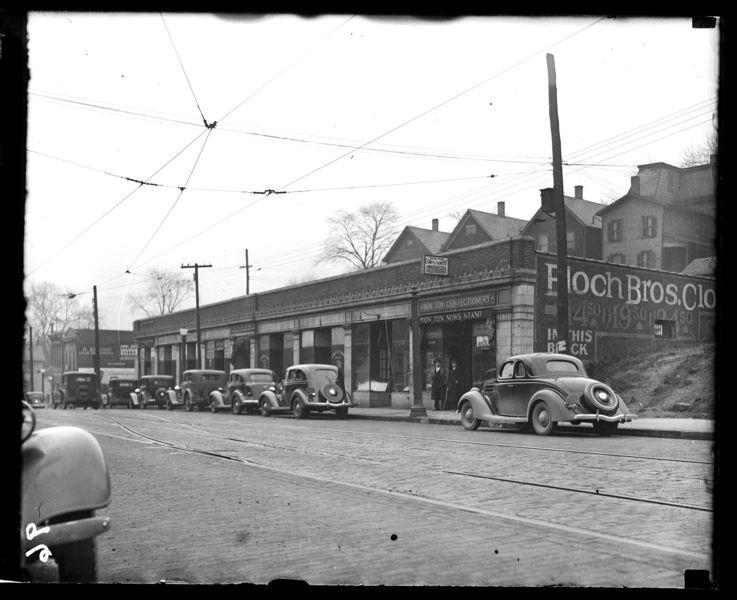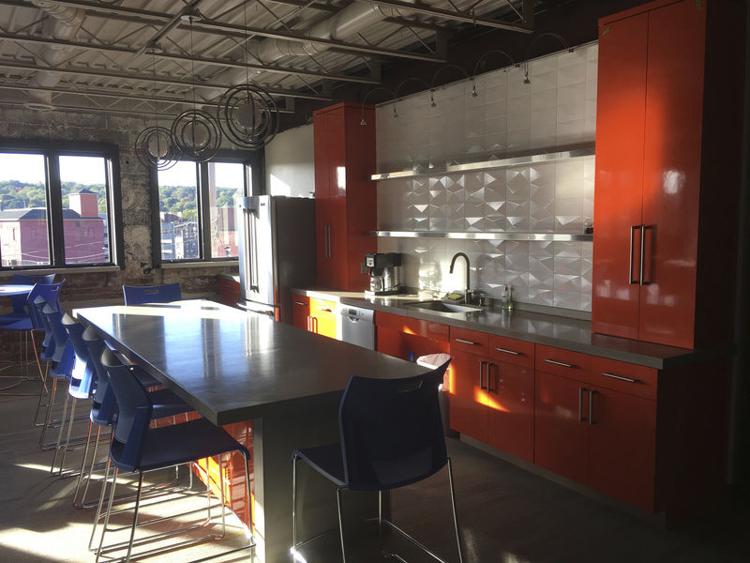 A barbershop has opened on the ground floor. Gifted at Applegate, a gift and home boutique shop operated by Krezeczowski, will be opening in the south ends of the building by December. Also an "artisan-American'' restaurant will be fill the north end, but the menu is still being worked on. He plans for the restaurant to open by April.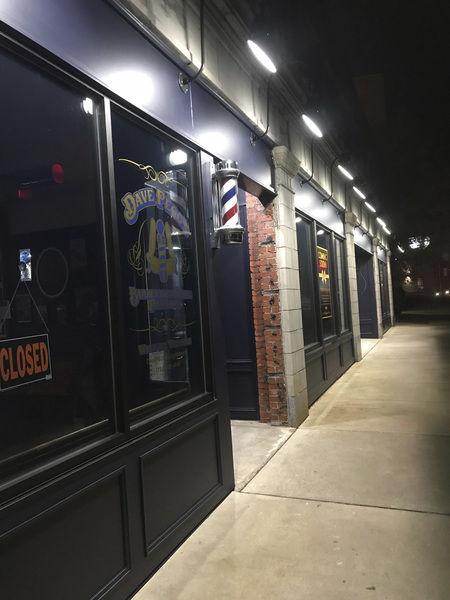 "Parents are taking their kids going to the barbershop,'' Landino said. "And we want to have other things for the parents and kids to do when they're in the downtown – like getting a slice of pizza and other things.'' 
A more recent purchase was the former Church of the Sacred Heart at South Irvine Avenue and West State Street. 
"I'm trying to get a group to take it over,'' he said. "A group that could turn it into a theater for community plays and events.''
A huge project he's taken on is what most locals remember as the former Julia F. Buhl Girls Club. Originally built in 1905 as the Buhl Armory, the Girls Club had called it home for half a century, starting in 1936. The building sits at 49 S. Sharpsville Ave., across from Landino's home and behind LuLu Beans.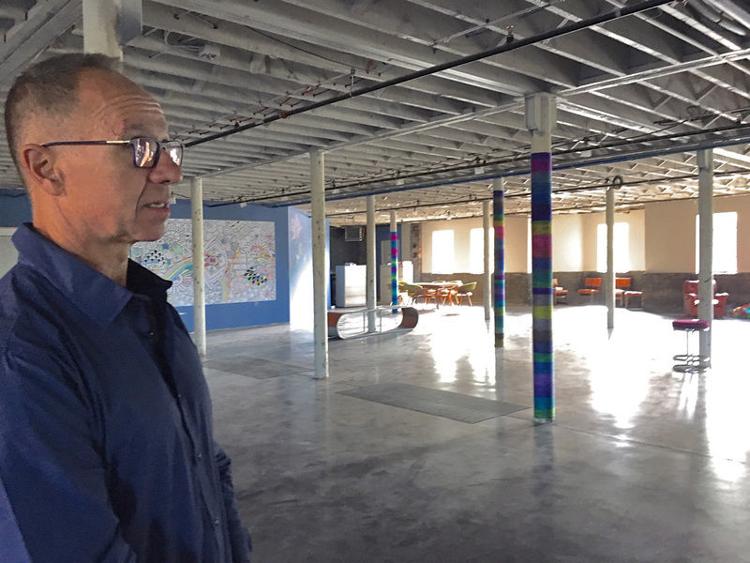 One section of the building will house offices while another will be a gallery, he added. Work on the top floor is nearly completed for five apartments that already have tenants ready to move in by Christmas, he said.
"These are younger people, and four out of the five are girls. So we're getting the girls back,'' Landino said with a smile. "And they're saying this is a cool, trendy place – a place where they want to live.''
While betting heavily on downtown Sharon, this wasn't a whimsical roll of the dice for the couple.
"We traveled all over the country to get ideas,'' Landino said. "We constantly asked ourselves, 'What's cool? What will work in Sharon? What will attract the younger people?
As he approaches his 56th birthday on Oct. 29, Landino said there are more projects in the works he hopes to talk about in the upcoming months.  
As the couple talked about their plans, at no point did they mention profits as a motivation for their work. When asked why they've taken on such an enormous series of projects, it made Landino pause.  
"The community has become an extra strong backbone for us,'' he said after contemplation. "We want to make it a quality town that people want to live in. We do this because it's the right thing to do.''