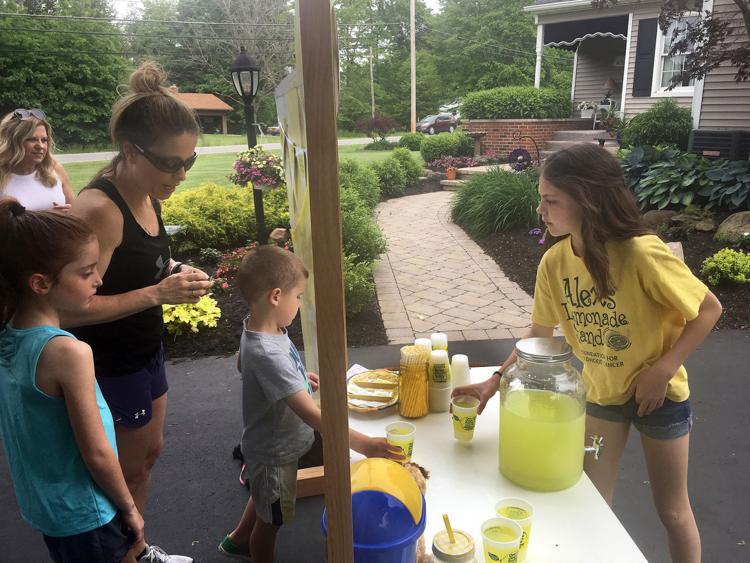 HERMITAGE — Saturday's weather, warm and sunny with a cool breeze to keep the air moving, was perfect for lemonade.
Brooklyn, 11, and Hannah Beighley, 14, were ready for the demand. The sisters, in fifth and eighth grade, respectively, in Hermitage School District, alternated between pouring drinks for customers and running back and forth to their grandparents' house.
"It's been kinda busy all day," Brooklyn said as she poured another cup.
Cars lined up along Morefield Road as the Beighley family — including children, parents and grandparents — filled lemonade orders and sported matching yellow shirts that read "Alex's Lemonade Stand."
The family spent the day working to raise donations for cancer-related causes through the Alex's Lemonade Stand Foundation, named in memory of Alexandra "Alex" Scott, who started a wildly successful lemonade stand in her southeastern Pennsylvania hometown of Wynnewood, Montgomery County, to help other children affected by cancer.
Scott died in 2004 at the age of 8, but not before turning "Alex's Lemonade Stand" into an national movement that has raised more than $40 million for cancer research and other causes.
That includes the efforts of Hannah and Brooklyn, who have collected more than $30,000 since their first Alex's Lemonade Stand in 2011.
The Alex's Lemonade cause is one that hits close to home for the sisters. Their mother, Megan Beighley, is a childhood cancer survivor.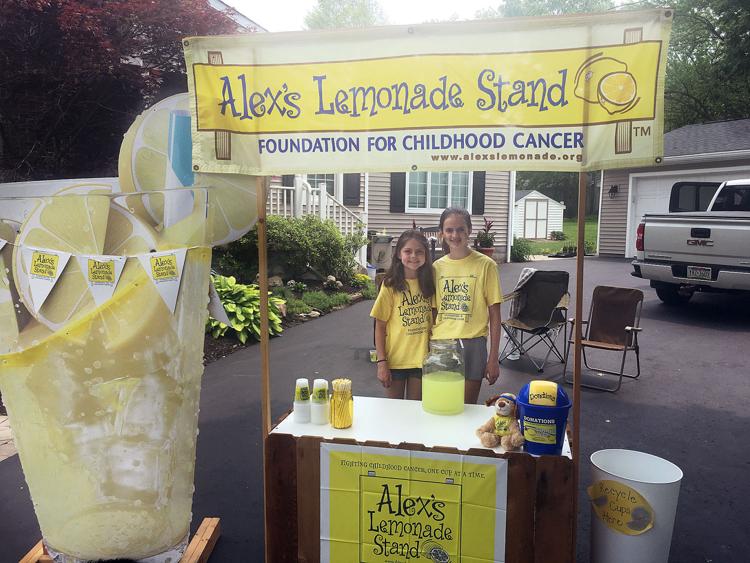 Megan Beighley was 7 when she was diagnosed with leukemia. At the time, Megan could tell she was sick, with symptoms that included fatigue, loss of appetite, frequent bruising and pale coloration. However, the full gravity of her diagnosis didn't truly dawn on her until later, when Megan said she learned what it meant to have cancer.
"We visited a local doctor, and they thought she may have had pneumonia or been anemic, but then they got the blood work back and it turned out she had leukemia," Megan's father, Rick Mild, said.
Even if Megan didn't fully understand, her parents, Rick and Barbara Mild, did. They said it was important to try to keep their daughter's life "as normal" as possible while she underwent treatment.
That process, including bone marrow transplants and chemotherapy, took three years, and Megan temporarily lost her hair. Because both of her parents were teachers, Megan said there was one way to tell whether she had a hospital day coming up.
"My parents really did try to keep things like it was business as usual as much as possible, to the point that the only way I knew we were going to the hospital was if they weren't dressed for school," Megan said.
Megan, whom her mother described as a "trouper" during treatment, said some of her fellow students knew something was going on, but otherwise weren't aware of the full extent of her treatment, though Barbara said it was "terrifying" for her and Rick.
"I wish I could have a picture of her (Megan) and the girls with the stand here and show myself that picture in 1984," Barbara said, motioning toward her family. "Just so that I would have known for sure that everything was going to turn out all right."
Megan recovered, but her family's fight against cancer wasn't over. Several years ago, Barbara read about Alex's Lemonade Stand Foundation in a magazine, and urged her daughter to read it.
"I told her 'you should do this, because there's other kids out there that need help and the girls are young enough to get them started,'" Barbara said.
However, the lemonade stand has always been a family affair over the years, Megan said.
"My husband made the lemonade stand, and the girls always help grandma make the lemonade," Megan said.
Since 2011, the Beighley family's Alex's Lemonade Stand has become an annual tradition. This year, Megan said at least 100 people stopped by as of Saturday afternoon.
That included Hermitage resident Jennie Kemper, a Hermitage School District teacher who taught Brooklyn in fourth grade. Kemper brought along her two young children Andy and Abbie to help do their part.
"I think it's great to see a former student and her family willing to do something like this, especially to support such a great cause," Jennie said.
While Rick said the family sees "many of the same faces" every year, Barbara said local businesses and residents donate to the cause online.
"It's great because it shows how much everyone cares and wants to make a difference," Hannah said.
After the annual day of collection and lemonade sales at the Milds' house, the lemonade stand will make an appearance July 13 and 14 at the Hermitage Arts, Food and Music Festival. Barbara said the family is looking into organizing some kind of 5K run or similar event to further help benefit Alex's Lemonade Stand Foundation.
"We've always received so much support from so many people in the community. It's really beautiful," Barbara said.
Like David L. Dye on Facebook or email him at ddye@sharonherald.com.