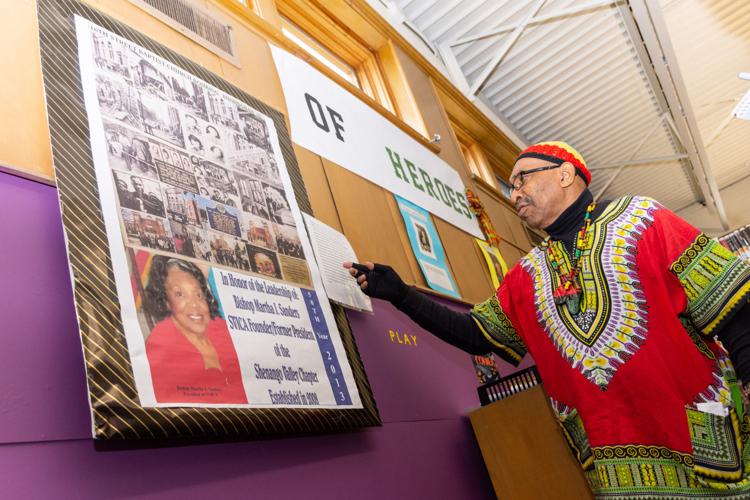 FARRELL — In an observation of Black History Month, the Stey-Nevant Public Library is displaying a series of photographs and a colorful banner that reads "Community Wall of Heroes."
But this isn't the usual cast of black history luminaries. These photos, of people from seniors to teenagers, doctors to entrepreneurs, are easily recognizable to local residents.
That's the point, said Milton Wilson.
"It's not people that the kids might read about or see in a movie who lived far away or might have died a long time ago," said Wilson, a former library employee who retired last October, but continues to volunteer at the facility.
"These are people who live in this community, who work in this community, people who the kids would know but are pioneers in some ways or working every day," he said.
In previous years, the Farrell library had recognized historical heroes — including the Rev. Dr. Martin Luther King Jr., Rosa Parks, and former President Barack Obama. But this year, Wilson suggested recognizing heroes closer to home, people making lives better right here in Mercer County.
So the library is displaying the photos of local heroes, such as Bishop Martha Sanders, whose accomplishments include being the first black woman to serve on Farrell City Council, and Dr. Erin Houston, CEO of the Shenango Valley Urban League.
"The library was very supportive and we've had a really great response from the people we've reached out to so far," Wilson said.
There's currently a Community Wall of Heroes adorning the library's main room, as well as a second Wall of Heroes located directly across from the children's room at eye-level for the children.
This allows the children to read about such people as Farrell Elementary Principal Japraunika Wright, a familiar face to some local children, District Judge Mary Odem and local author Char Freeman. 
The photo of Dr. April Torrence, director of the Zion Education Center, is flanked by a picture of her own daughter Cynthia Torrence, a teenager who started her own juice brand, Tropical FlaMingo NIU.
"The kids have really liked it because they'll say 'that's my principal!' or 'I know her!'" Wilson said. "These are people that the kids know, and they can see what they've done and say 'I can do something like them.'"
When the Wall of Heroes exhibit began this month, it featured the photos of 10 people. That number is now at 20, and Wilson said he expects the roster of heroes to grow to at least 50 by the end of the month — although the display will probably remain up year-round, and continue to grow.
But even if the children don't recognize all of the local heroes, those who look at the display can see people who started their journey at the Stey-Nevant library as children. Wilson said that list includes Freeman, who is an example to show today's library-goers that they too can grow up to become the authors, doctors and other occupations represented in the photos.
"I can still remember when she (Freeman) used to come to all the lock-ins and sleepovers here that Miss Margaret used to have here at the library when she was younger," Wilson said, referring to former librarian Margaret Orchard.
Like David L. Dye on Facebook or email him at ddye@sharonherald.com.