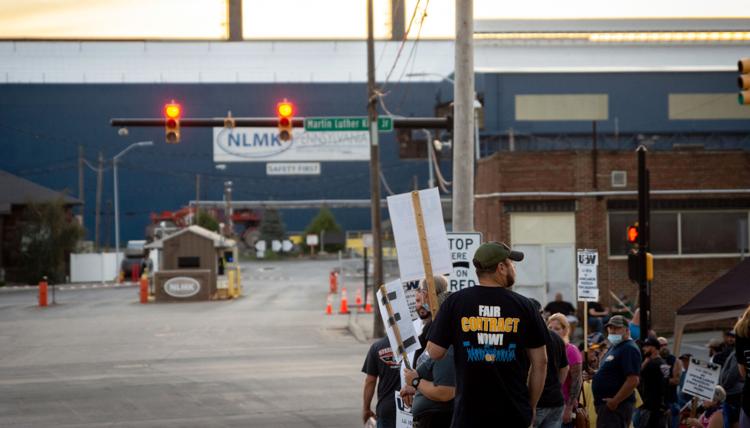 FARRELL – The strike at NLMK Pennsylvania is costing the company more than lost productivity and revenue.
Todd Clary, a representative for United Steelworkers Local 1016-03, said the strike at NLMK's Farrell steel mill has forced some skilled-labor employees to look elsewhere. Local 1016-03 represents about 400 employees at the mill.
"Some of them took full-time jobs and don't plan on coming back," Clary said.
Clary said the departed workers are chiefly skilled-labor workers like millwrights, high-precision machine maintenance positions and electricians – the types of jobs in high demand with other employers.
The strike entered its sixth week Saturday after a negotiation session last week yielded agreement on some minor contract matters, but left the most important issues – health care and wages – unresolved.
NLMK management has offered workers two health insurance options: a preferred provider organization plan with monthly premiums rising from $185 to $385 over the course of the proposed four-year contract, and a high-deductible plan with a company-funded supplemental health savings account that would cover most of the deductible in the contract's first three years and a lesser amount in the fourth.
For the skilled employees who have taken other jobs, health care was a key factor, Clary said.
"Some of them are taking a little less, but they're getting a better health care plan," he said.
Clary said that the union proposed a Highmark insurance plan, backed by the United Steelworkers, that would have saved NLMK more than $2 million and avoided high PPO premium increases, but the company rejected the offer.
Attempts by The Herald to contact NLMK officials by email last week were unsuccessful. However, NLMK management has said previously that the company's health care offer is reasonable and that the union is misrepresenting the plan's costs to employees.
On wages, Clary said the union wants the company to revive a pre-strike offer of annual 3% pay increases for the contract's first year and 2.5% for the remaining three years, and a $3,000-per-employee signing bonus.
NLMK's current offer calls for raise of 2.5% in the first year and 2% in each of the last three years, with no signing bonus.
The prospect of a lengthy strike could have ramifications for Farrell's city finances, already buffeted by lost wage taxes from COVID-19-related unemployment. Between wage taxes and property taxes, NLMK Pennsylvania contributes almost one-quarter of the city's revenues.
Farrell City Manager Ben Prescott said earlier this month that Farrell could feel the strike impact on its budget in the final quarter of 2020.
After the negotiation session last week, Clary said the union is waiting for NLMK's next move.
"We're waiting for the company to reach out to us," he said. "We're willing to negotiate in good faith for a contract that our members have earned and deserve."
Eric Poole can be reached online at epoole@sharonherald.com. Email him at epoole@sharonherald.com