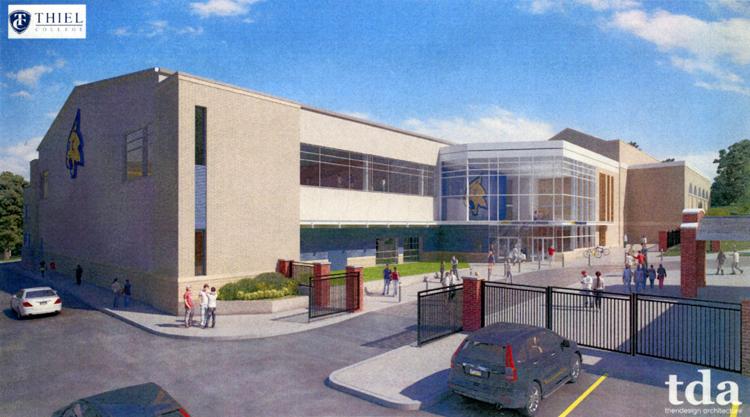 Thiel College will refinance existing debt and embark on a capital improvement program with a $56.9 million loan through the U.S. Department of Agriculture.
Bob Schmoll, the college's senior vice president for finance and management, said about one-third of the funding, almost $21 million, would be used to consolidate existing debt under a lower interest rate, at a savings of more than $800,000 in repayment.
The remaining funding will be used for improvement projects at the Academic, Library and Science buildings and build a three-story 64,716 square-foot addition to the Wellness Center.
Mercer County Commissioners unanimously approved a request by the school and the Mercer County Industrial Development Authority to pursue the loan. The county's endorsement was required under federal regulations, but Commissioner Matt McConnell said Mercer County is not responsible for repaying the loan.
"It's a substantial investment in our county," said Commissioner Scott Boyd.
Schmoll said the plans had been part of a two-year process at the school. A report issued Thursday indicates that the improvements will help attract students, for both academics and athletics, to Thiel College.
In the report, school officials project that enrollment, now about 750 in Thiel's undergraduate programs, could increase to 1,057.
Thiel plans to spend $12.9 million on construction at the academic complex. The improvements are an addition to $13 million on projects over the last six years.
The new project calls for replacing the heating, air conditioning and ventilation system, and installing a fire suppression system. Work also will focus on improving the science wing's insulation properties, including installation of new windows.
Thiel officials plan to replace ventilation hoods in the science wing and make other lab renovations, and make cosmetic improvements — including lighting along with floor and ceiling replacements.
Plans also call for a 1,500 square-foot addition to the academic complex, including a secure vestibule entry point and handicapped-accessible restrooms.
The larger project, at the wellness facility, calls for renovation of locker rooms and the weight room, and replacement of the gym floor.
Thiel College officials said the school has sent plans to the U.S. Department of Agriculture's Harrisburg office for approval, with the process to be completed by the middle of next month.
Work is scheduled to begin in the spring of 2020, with construction to take as long as three years.
NOTE: This article has been edited to correct a reference to the Mercer County Industrial Development Authority.