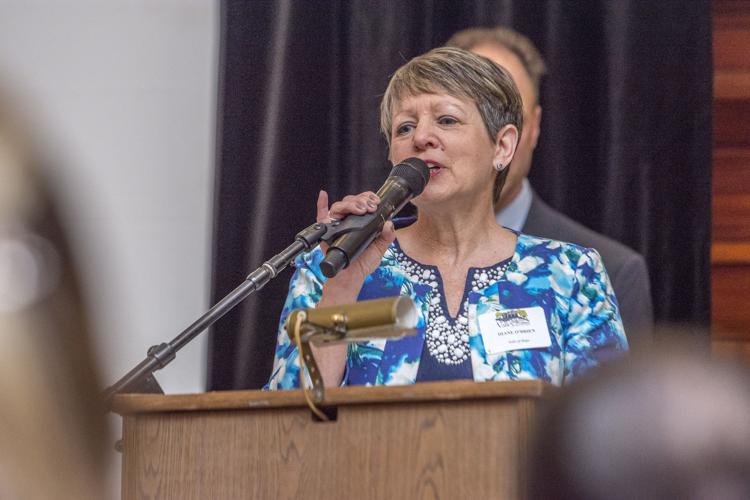 SHARON – The Shenango Valley Chamber of Commerce reached out to the local community in more ways than one Thursday at its 2019 Phoenix Award ceremony.
"Our awards plaques were made by Blissed Out Design in Sharon,'' said Sherris Moreira, the chamber's executive director. "We want to keep things as local as we can.''
About 200 people attended the 15th annual Phoenix Awards, which were held at The Corinthian Banquet Center in Sharon. The event honored top-performing local for-profit and non-profit businesses in 10 categories.
One of those honored was Anna Marie Mindicino, who founded Do Good. Period. She received the Entrepreneur Award for creating the non-profit organization that provides feminine hygiene products to those in need. 
After the event, Mindicino told the story of how she started Do Good. Period in November 2017.
"I was looking for something nice to do for the holidays that was different,'' she said. "There are so many other organizations out there that collect toys and clothes for the holidays so I knew that area was saturated.''
Mindicino isn't new to the business world. She created and works as chief executive officer for Bottle Tree. The for-profit venture, located in Sharon, is a creative arts center that offers piano lessons along with classes on knitting and painting. She also will become Sharon Rotary Club's president in July. 
She started Do Good. Period. hoping to get 30 boxes of feminine products before the end of 2017. She ended up with 18,000. Then, in 2018, Do Good. Period. received donations of more than 100,000 boxes.
"Our biggest donations are made to AWARE, the Crisis Center of Lawrence County, Prince of Peace and the Shenango Valley Urban League,'' said Mindicino, who serves as executive director. "I want to keep the donations for the benefit of local women.'' 
Shane Nugent, chamber president and vice president of The Nugent Group, said the awards are good news for the community.
"Now when you have this you expect bigger and better things in the future,'' Nugent said.
The Phoenix Awards also give members of the business community a chance to honor each other's success, he added.
"What a fantastic thing that a community can come together and congratulate each other,'' Nugent said. "I can't imagine myself living anywhere else.''
Moreira said the Phoenix Awards ceremony is a celebration of positive people and positive happenings in the Shenango Valley.
"It's always nice to come together and tout some of the accomplishments in our area," she said. "It's something to keep in mind when we get focused on the negative."
Those honored, in addition to Mindicino, included: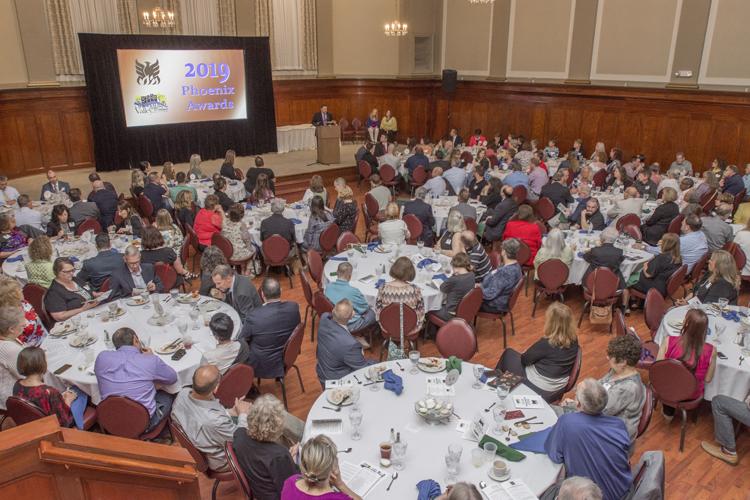 • New Business Startup: Purpose The Therapeutic Subscription Box, Hermitage.
• Innovation Award: Olive's Place Boutique and Gift Shop, Sharon.
• Growth Small Manufacturing: Industrial Robotix, Greenville.
• Growth Large Business (for profit): Sharon Regional Medical Center, Sharon.
• Growth Large Manufacturing: American Cap Co. LLC, Wheatland.
• Growth Large Service: UPMC Horizon, Shenango Valley and Greenville.
• Nonprofit /Service Organization (large): Tails of Hope, Hermitage.
• Nonprofit /Service Organization (small): Chelsea Rowe Rescue Fund, Sharpsville.
• Beautification Award: Sara Giordano, vice president of the Insite Group, Sharon.