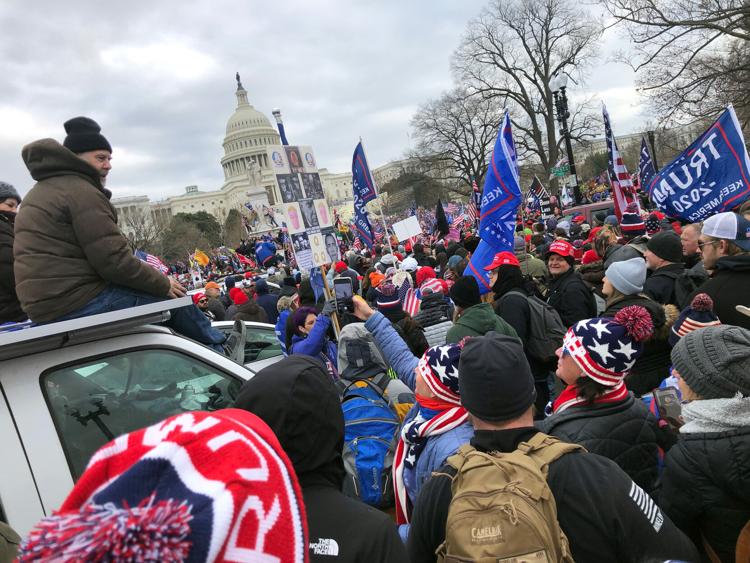 Bill Strimbu of Brookfield got to the steps of the U.S. Capitol during Wednesday's protest, after law enforcement had  expelled most of the rioters. 
But he didn't enter.
"I didn't have any desire to go there," Strimbu, president of Nick Strimbu Inc., a Brookfield trucking company, told The Herald Friday.  "I stayed outside. Me and everyone around me were there to peacefully protest that President Trump was cheated on in the election. We were there because we want to have a fair election.''
Strimbu said they were told by protest leaders and others that the rioters were a splinter group – possibly Antifa members, Democrats, and others –- who wanted Trump to lose the election. Their goal, he said, was to create a riot to make the overwhelmingly peaceful protesters look bad."It was a setup – I was told,'' he said. "The Capitol police opened the doors and let them in because they knew they would be violent.''
There have been a number of definitions given for Antifa, short for "anti-fascist," but many people view it as an ultra-leftist group that instigated violent protests over the past year, particularly on the West Coast.
The FBI said Friday, however, that no evidence suggests people associated with Antifa disguised themselves among pro-Trump supporters to provoke the mob at the Capitol.
 "We were told to be careful because Antifa members might have been attached to the protest,'' Strimbu said. "These are evil people. And I worry about President Trump's life after he leaves office.''
A Republican, Strimbu said he is incensed at how the media covered the protest. Few media outlets, he said, showed videos of the enormous, peaceful crowd that stood for six hours on, or near, the National Mall.  
"There were millions of people there,'' Strimbu said. "President Trump said it was the largest crowd in U.S. history. What happened was probably one of the most meaningful things I've ever gone to.''
An estimate on the number of protestors by the National Park service wasn't available Friday night. But the New York Daily News said the number was in the "thousands.''
Strimbu said the crowd represented all walks of life, including various colors, ages, and professions. 
"It was more like a church revival than a protest,'' he said. "We sang songs, read scripture, said prayers, and sang God Bless America. There was no violence at all – none. We all helped each other.'' 
He said neither he nor any protestor around him wore a mask. 
"I already had COVID,'' he said. "And it's not right that anyone should be forced to wear a mask.''
All of the protesters wanted to see an investigation into the presidential election because it was rigged, he said.
"This is the greatest president we've ever had in United States history,'' Strimbu said. "All he wants is a fair and honest count of the election results.''
A variety of illegal methods could have been used to skew election results, such as purposely losing ballots or gaming election machines, he said.
"People are pissed off,'' Strimbu said. "People feel their vote has been negated. If we don't fix the system, I fear we won't have a fair election again.'' 
Strimbu acknowledged no cards are left to play in overturning election results, and that Biden will be sworn in as the next president.
"It's a sad day for our country, it really is,'' he said.