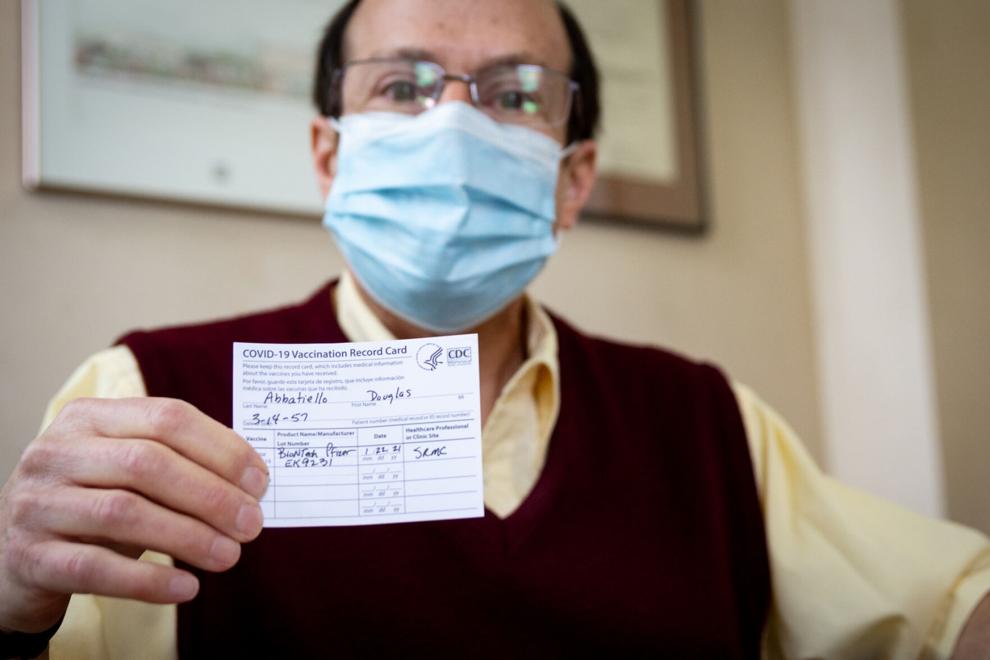 SHARON — Like many others, Douglas Abbatiello was concerned about the COVID-19 pandemic. 
But he had reason for greater concern than most. Abbatiello has Type 2 diabetes, which means he is at risk for serious complications if he contracts the virus.
By the third week of January, the Sharon resident decided he was going to get vaccinated.
"I don't know what it was, but it was like something snapped and I decided I was going to start looking into this and at least try to get in the queue," Abbatiello said.
An architect with HHSDR Architects/Engineers in downtown Sharon, and therefore relatively tech savvy, Abbatiello opted to apply for the vaccine online instead of making a series of phone calls.
Starting with the Pennsylvania Department of Health's website, Abbatiello took an online quiz to determine if he would qualify for the vaccine, which he did due to his diabetes. After that, he reached out to some local healthcare providers to find out where he could get vaccinated, beginning with UPMC.
Abbatiello received an automatic response that said he did not qualify since he was not already in UPMC's system. Another email sent to Primary Health Network resulted in a response from a live person, but the email merely said he would be contacted when more vaccine doses became available.
His third email, to Sharon Regional Medical Center, was more successful. Hospital personnel sent an email to inform Abbatiello that his information would be forwarded to those handling the vaccination scheduling and he would be contacted soon, although it was uncertain when that would be, Abbatiello said.
Only a couple days later, on Jan. 22, the Sharon resident received a phone call, asking if he would be able to schedule an appointment later that day.
"I was excited and asked 'How about now?' and they asked if 12:15 would work, and that happened to be during my lunch break," Abbatiello said.
When he went in for his vaccination at Sharon Regional Medical Center School of Nursing, Abbatiello said there were about four medical staff — a greeter, someone to assist with paperwork, someone to administer the vaccines, and an observer.
The observer monitored those receiving the shots during a 15-minute waiting period after the vaccination, to watch for negative reactions.
During his visit, Abbatiello said he saw there were about 25 to 30 people present for their vaccination appointments. However, everyone wore masks and socially distanced, and the patients seemed to move at a steady pace, he said.
He said the whole process took about 25 minutes from beginning to end, and that the experience exceeded his expectations in every way.
"I really admire what Sharon Regional is doing with the vaccine," he said. "The process as I witnessed it, I couldn't have been happier."
A couple days after the vaccine, Abbatiello said he experienced some chills, and then felt "less well" for about six hours the following Sunday, which he described as feeling like he was "hit by a truck," although the symptoms were still minor and not totally unexpected side effects for the vaccine.
During his first vaccination appointment, staff provided Abbatiello with a vaccination card to indicate that he had received his first dose. Following a three-week interim period, Abbatiello will receive his second dose of the Pfizer vaccine Friday at the same location.
Since he received the first dose, a few of his co-workers have also gotten vaccinated, and a few friends have asked him about the process of scheduling an appointment and what it was like to get the vaccine. With a physician for a father, Abbatiello said he was always used to the medical field, which helped him in trusting the vaccine process.
Now Abbatiello said he hopes his experience will help show others it's safe to get vaccinated, and that from what he's read, more than 95 percent of people who are vaccinated have not reported any side effects.
"The ill effects of the vaccine versus what can happen if you get the COVID virus, it's not even close," he said.
Like David L. Dye on Facebook or email him at ddye@sharonherald.com.