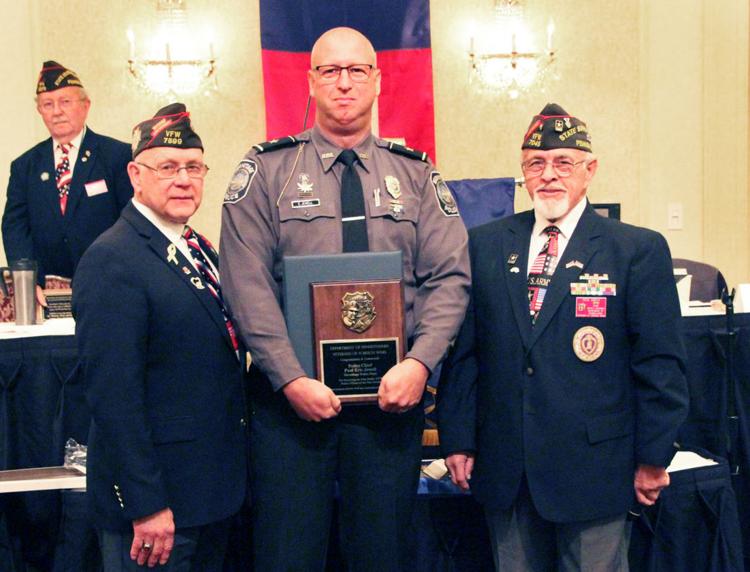 HERMITAGE — For Eric Jewell, the motivation to work in law enforcement was planted in childhood and adolescence, in part by television police shows like "Adam-12" and "Miami Vice."
Real-life police work turned out to be a little bit different than it was on television, but Jewell, now Hermitage police chief, has earned his own style of fame.
Jewell was named police officer of the year by Pennsylvania's Veterans of Foreign Wars, and has received the the state VFW's John Radko Police Officer of the Year Award.
He called the experience humbling, and thanked Reynolds VFW Post 7599 Commander Clark Everhart, Quartermaster Roger Irvy and VFW Associate Member Bill Romine, who sponsored Jewell for the award.
Jewell said he was grateful to the municipalities, officials and residents of as well as officials with the City of Hermitage who have supported the police department — and the people he protects.
"I am very thankful to the citizens of Hermitage, Clark and Wheatland, because without this job I wouldn't have received this award," Jewell said.
Jewell began his career as a soldier, not a police officer. He joined the Army in 1986 and served active duty for seven years, followed by another six in the Army Reserves.
"I thought it was a noble cause, and I knew I wasn't ready for college, but I knew I wanted to do something in law enforcement," he said.
Jewell served as a military policeman, with work as a patrolman, patrol supervisor and desk sergeant. Working in law enforcement at an Army base was comparable to being a police officer in a small city — complete with housing, gas stations and grocery stores.
"I had some unique cases in my time, but I also responded to some very tragic calls, so it was much like city police," Jewell said.
In the Army Reserves, Jewell served as a CID, Criminal Investigations Division, agent. CID agents handle felony investigations where the Army is a victim or party of interest, and carries out security and terrorism investigations and protective services.
He earned an associate's degree in law enforcement technology from Central Texas College and graduated in 1993 from the police academy at Mercyhurst North East, Erie County.
Jewell started with the Hermitage Police Department in 1994 as a patrolman. But his interest for investigative and forensic work led him into work as a detective, and was later promoted to captain and deputy chief of investigations before becoming chief in 2016.
"Detective work can be first-responder work, but it's primarily find-a-needle-in-a-haystack kind of work," he said.
Since Jewell began working in Hermitage, he said the job has undergone significant changes, with new legislation, training techniques, and technology, which has allowed police to collect evidence from cell phones and computers and surveillance video.
Digital crimes, including scams involving people's digitally stored personal information, has also become more common.
However, Jewell said some things, such as the collection of physical evidence or gathering information from people involved with a potential crime, never change.
"The principal attribute of a criminal investigator is to be able to talk to anyone from all walks of life, including both victims of crime, suspects of crime, or witnesses of crime, and getting accurate information," he said.
As chief, Jewell's duties include administration of the police department's patrol and detective divisions, as well as being responsible for the department's equipment, training, budget and meeting the community's needs.
But even with the increased responsibility, Jewell said he is proud of the department he oversees.
"The most rewarding part is when I get calls or emails or letters from citizens thanking me for having good people, and those people doing their job professionally, even going above and beyond sometimes," he said. "It's a very honorable thing to hold the public's trust, because they trust that you'll do the right thing in accordance with the law and the Constitution," Jewell said.
Like David L. Dye on Facebook or email him at ddye@sharonherald.com.