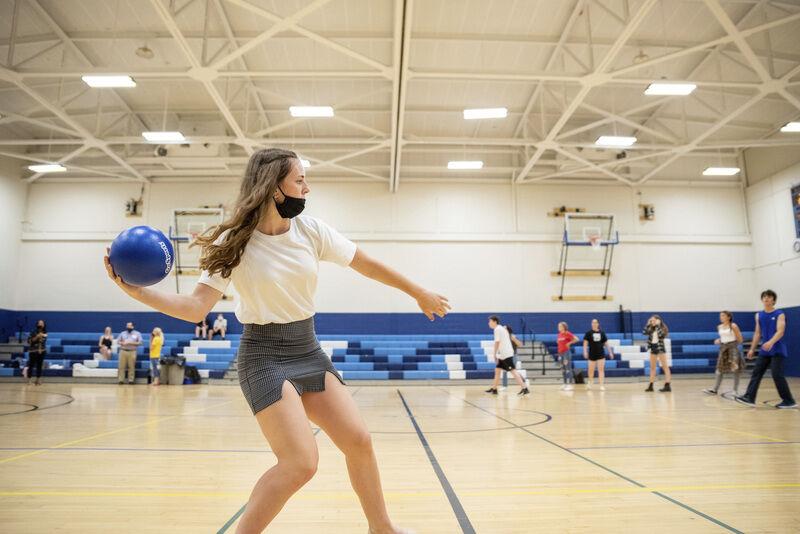 SHARPSVILLE — Students, in the roles of "greasers" and "socs," rumbled Wednesday with dodgeballs instead of fists.
The rumble was held at Sharpsville Area Middle School, where teacher Patti Tetrick's eighth-grade language arts class spent the day celebrating S.E. Hinton's 1967 novel "The Outsiders."
As part of their classwork, Tetrick's students read the novel and watched the film adaptation, and worked on multiple "Outsiders"-themed projects, including images of sunglasses — which evoked the sunglasses worn by the book's characters — to represent where the students "see" themselves in the future.
The dodgeball game was the second Outsiders-themed "rumble." On Wednesday, where students played a trivia game featuring questions from the story. For lunch, the students had school-made pizza and ice cream donated by Dairy Queen.
Students Lily Palko and Jacob Pifer, dressed their parts, with greasers-centric clothing. Palko had on jeans and a Winchester shirt, while Pifer wore jeans, a white shirt and a leather jacket on a day when outdoor temperatures rose into the 80s.
"It's a little warm," Pifer said.
Palko said she preferred the film adaptation of "The Outsiders" for its visuals, while Pifer preferred the book for its detail. But both students said they enjoyed the story. Palko said she enjoyed the consistently interesting plot, while Pifer said he enjoyed the character development.
"By the end of the book, all of the characters had changed," Pifer said. "No one was the same as they were in the beginning."
This year marked Sharpsville Area Middle School's second annual "The Outsiders" celebration, which Tetrick said has gotten support from administrators. The school held a similar event was held in March last year, just prior to the closure of schools across Pennsylvania due to the COVID-19 pandemic.
In the case of this year's event, the celebration came during the Sharpsville students' last week of school — a relatively lighthearted event that Tetrick said presented a contrast to the start of school last fall when the students came back during the increased uncertainty of the pandemic.
"The students this year have really come together," she said.
Like David L. Dye on Facebook or email him at ddye@sharonherald.com.