Like most 8-year-old boys, Hueston Roberson loves cartoons, playing with toys, and generally having fun.
Unlike other kids, he isn't able to talk about it, which is one of multiple challenges that the 8-year-old and his mother, Chevonne, tackle on a daily basis. Being Hueston's mother takes complete love and commitment.
"My life is Hueston," the Hermitage woman said in a video interview from her son's bedside at Children's Hospital of Philadelphia, where they spent quite a few months – just one of many hospital stays since Hueston was born.
He was born with intestinal malrotation, which causes severe intestinal and feeding issues, though he wasn't diagnosed right away. With a silent son, Roberson learned very quickly that she needed to be a voice for him, advocating for his care and a proper diagnosis.
Chevonne had a normal pregnancy but recognized something wrong when Hueston was about 3 weeks old. He was projectile vomiting, but doctors said he was doing OK, especially since he was growing. But she suspected that the doctors had missed something, and sought second and third, and more, opinions. 
That motherly persistence may have saved her son's life.
She tried different doctors and several kinds of baby formula before getting a referral for a gastroenterology nurse practitioner, who confirmed that Hueston's intestines were twisted and narrow.
Hueston, then just 3 months old, had emergency surgery — the first of many operations.
"I haven't slept well in eight years. I've been fighting since he was born for someone to listen to me," Roberson said.
Hueston also has autism and food allergies, and has had pancreatitis among other health issues. He has difficulty eating and drinking, and he faces countless medical appointments and several different kinds of therapy.
Chevonne is constantly learning new ways to best help her son, and her 20 years as a certified pharmacy technician has served her well with navigating his medications.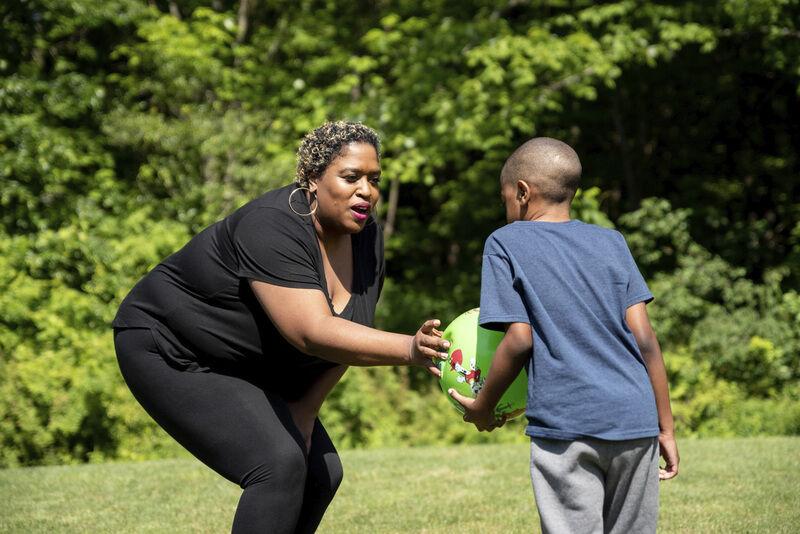 On top of all the challenges, Hueston can't tell his mother how he feels, so Chevonne relies heavily on "mother's intuition" when it comes to his needs.
He does make some noises for needs like expressing emotions, and he sometimes uses a device that emits phrases with the push of a button.
But it doesn't keep him from being a loving and affectionate child with a lot of empathy for others, and he's always smiling and laughing, Chevonne said.
Hueston's frequent stays in the hospital are rough on both of them, and the COVID-19 pandemic meant few visitors and gave him trouble keeping up with his schoolwork.
"It's just been very overwhelming," she said.
Chevonne said she is able to keep going thanks to her faith in God and her church, Victory Christian Center in Coitsville, Ohio, along with the caring medical professionals they've met, and support from friends and family.
But Chevonne's mother, Venesta Kirk of Farrell, tops the list of helpers. She said Kirk is like a second parent to Hueston and helps out with so much of his care.
"My mom has been the best support system I could ever ask for. I don't know what I'd do without her," Roberson said.
Through social media, she's connected with other families who spend a lot of time at children's hospitals. That includes two local women, Theresa Davis and Lisa Bowers-Alters, whom Chevonne called a "godsend."
She is also grateful for the team at Capable Kids in Hermitage, where Hueston receives therapy, and family friend Jessica Logue.
Alyson Stover, who owns Capable Kids, and Logue led a GoFundMe campaign to raise money for the Robersons. Chevonne said the campaign was unexpected and, although she doesn't like to ask for help, she said it's been a blessing. The fundraiser helped her buy a washer and dryer, but she still needs help with her car. 
When the staff at Capable Kids learned the Robersons were facing some financial difficulties, Stover said they knew that the community would help support them because mother and son have shown so much love to many. 
"Hueston brings his own joy and light with his every visit," Stover said.
Logue has known the family for about five years and said she's never met a more hopeful, optimistic and caring person than Chevonne.
She is always looking for ways to help Hueston, her family, his entire treatment team and the community. Logue said she is humbled and motivated by Chevonne's drive, selflessness, faith and effort.
"I am beyond blessed to know them," Logue said.
Hueston was discharged in late April from one recent hospital stay, and mother and son have been getting settled into their new home.
They continue to take things one day at a time. Hueston needs help with a lot of tasks, and Roberson is a bit sad to think she may never hear him call her "Mom," but the experience has humbled her.
"I think people take a lot of things for granted ... Just love your child where they're at," she said.
It wasn't easy at first for Roberson to come to terms with a surprise pregnancy and being a single mom, and she had to convince herself to stop asking why.
"It's all the feelings of me not being able to control the situation," she said.
Finding time for herself and meeting new people, especially dating, has been difficult. Chevonne said she pictures herself and Hueston with a man who will be a good partner and role model.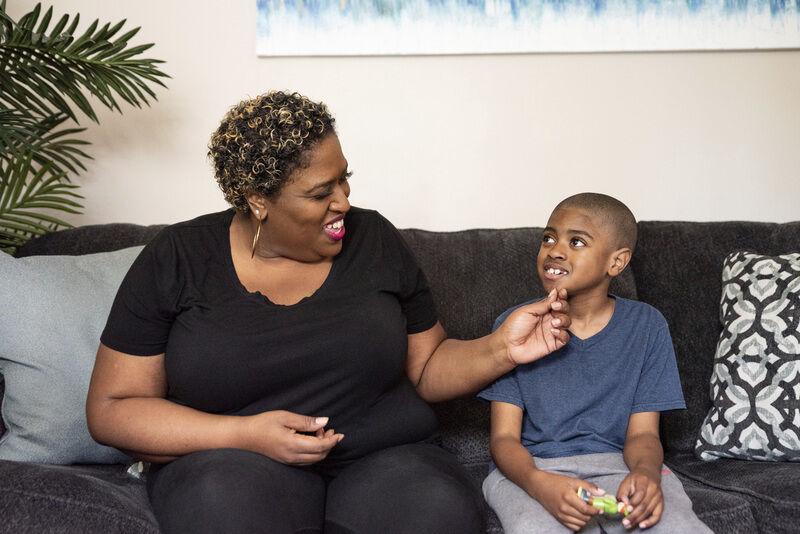 She believes that she and Hueston are meant to help others, and she hopes they can find a way to return the love and support they've received.
Roberson has ideas for a toy and an app for children like Hueston who are facing obstacles, but she needs assistance creating a business plan.
"I just keep pressing forward," she said.