TRANSFER — Even though it is sometimes called the "Forgotten War," the American service men and women who fought in the Korean War are not forgotten by South Koreans.
And those long memories are how Transfer resident Kenneth Shaffer ended up with an "Ambassador for Peace" medal.
Awarded by the government of South Korea, known officially as the Republic of Korea, the medal recognizes those who served in Korea from June 25, 1950, to July 27, 1953.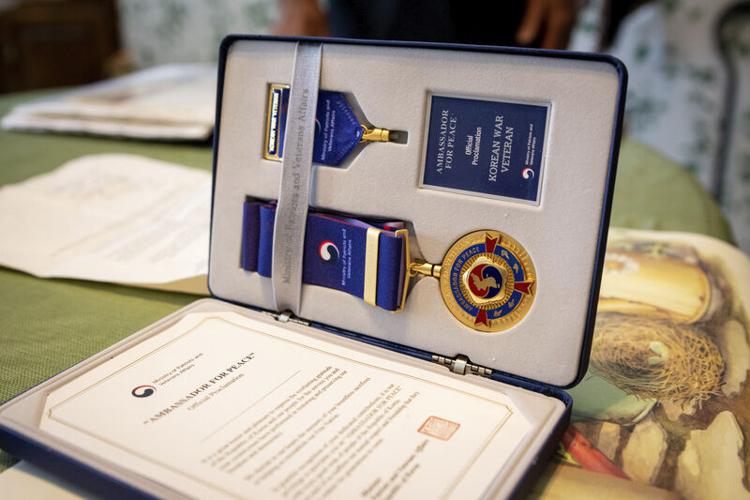 Shaffer has received other medals — including a Korean Service medal, National Defense medal and United Nations Korea medal — for service in the Korean War, which started back when the 88-year-old veteran was a 19-year-old draftee from Sharpsville.
However, being drafted into the Army didn't have too much of an effect on Shaffer — his older brothers Stan and Frank had served during World War II, while another brother, Leonard, also served in Korea.
"I didn't think much of it. I got drafted, so I went," Shaffer said.
Initially sent to Fort Meade, Md., for about a month, Shaffer was then sent to Camp Polk, La., for about three months. During his training as an infantryman, Shaffer said all the soldiers were trained to use the full range of Army weapons, from rifles to machine guns to bayonets.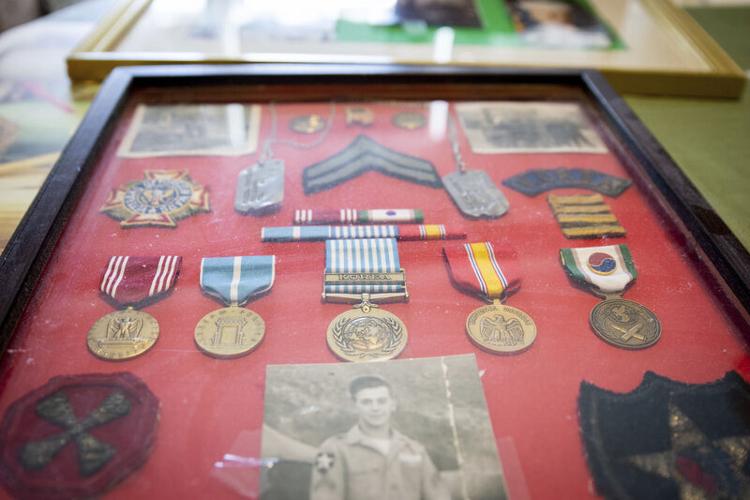 "They wanted everybody to know how to use everything just in case," Shaffer said.
After his training, Shaffer had about 10 days at home before he shipped out, first to California and then Korea, spending more than 20 days on a troopship as it crossed the Pacific Ocean. He arrived in Korea sometime in June of 1953, and was deployed with the 2nd Infantry Division along the 38th Parallel between North and South Korea.
The Korean armistice — signed July 27, 1953 — set the 38th Parallel as the approximate border between North and South Korea. Even though the cease-fire went into effect shortly after Shaffer arrived, his unit remained in Korea as both sides established the demilitarized zone that separates the two nations to this day.
While deployed along the 38th Parallel, Shaffer and the men lived in tents, which prevented anyone from taking showers for long periods of time. The climate in the Korean mountains was also much different from the temperate climate of Mercer County, Shaffer said.
"It got a lot colder over there than it did over here. It could get around zero degrees, maybe lower," he said.
During his time there, officers called for volunteers to go to cooking school and learn how to be a chef. Thinking cooking would be more pleasant than the front lines, Shaffer volunteered and was sent to a cooking school in Seoul for the soldiers for about six weeks.
When he returned from training, Shaffer cooked meals for the soldiers in the tents, with the menu dependent on whatever supplies the Army provided. The soldiers also ate K-rations, canned meals that could include food such as corned beef, crackers and soup, along with a couple cigarettes.
The Army also provided water, delivered in 500-gallon trucks sent up to the mountains.
"We'd cook everything, pork chops, whatever the Army'd send us," he said.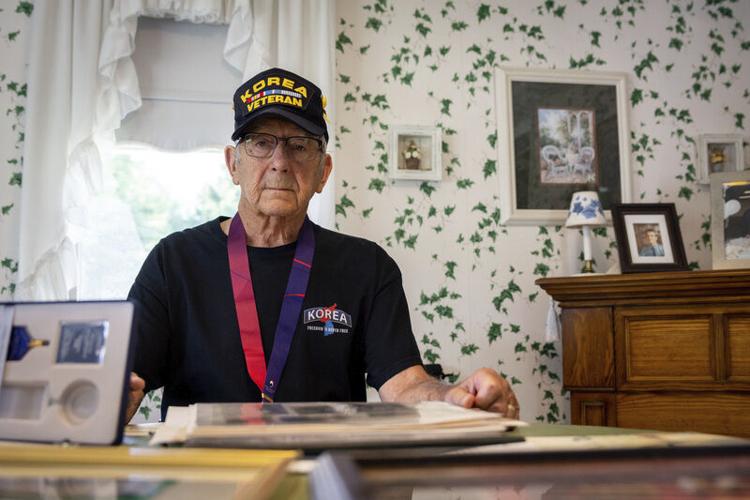 After about a year, most of the soldiers in the 2nd Infantry Division were sent home, although Shaffer did not have enough points — under a system that took into account several factors, including time in service and time in combat — to be sent home. Instead, he was sent to the 8th Army for three more months.
While stationed along the 38th Parallel, Shaffer and the men were sometimes provided entertainment, with the most memorable being a USO performance by Marilyn Monroe.
"They'd had some other groups who would come through once in a while, but she was the most popular one to visit," he said.
Though he did occasionally have correspondence with home, he couldn't get one thing in Korea — hot dogs, among his favorite foods. Shaffer made up for it when he returned home.
"When I got home, the first thing I did was go down to the hot dog shop in Sharon and get a hot dog," he said. "That was good."
Though Shaffer's area didn't see much combat, they supervised communist prisoners of war, including North Koreans and Chinese who worked on projects such as repairing roads. Shaffer also met other United Nations soldiers, including South Koreans.
"They were real nice, and they spoke English too," he said of the South Koreans.
Shaffer's time in Korea ended in December 1954, after which he came home and worked with his brother Stan at an excavating business in Hermitage, then went to at Shenango Furnace, in Sharpsville, where he remained for 34 years.
He was placed in the inactive reserves following his departure from Korea until 1961, when he was fully discharged from the Army. Since an armistice ended the fighting in 1953 and the Korean War never officially ended, Shaffer still follows the news about North Korea today.
Shaffer was among several Korean War veterans who applied for Ambassador for Peace medals through state Rep. Mark Longietti, D-7, Hermitage, and state Sen. Michele Brooks, R-50, Jamestown. Plans to award the medals in a group ceremony for all of the veterans were scuttled by the COVID-19 pandemic.
Shaffer said he nevertheless appreciated the medal and the efforts made to honor him and other Korean War veterans.
Now living in Transfer with his wife, Helen, he has preserved photos of himself and family members over the years, along with his service medals and memorabilia. However, one of the most important things to him is the American flag that flies outside their home.
"It makes me proud that I served," Shaffer said.
Like David L. Dye on Facebook or email him at ddye@sharonherald.com.