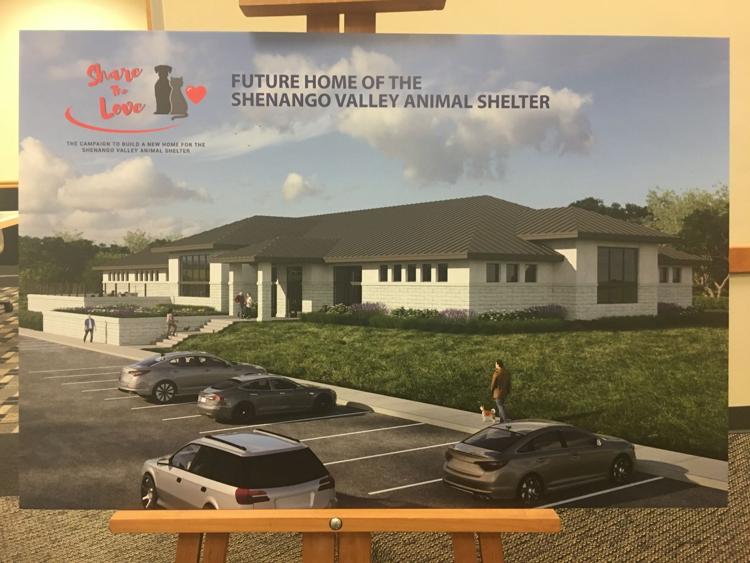 HERMITAGE — The Shenango Valley Animal Shelter board has been planning a new building for more than a year, but shelter officials now have something to help with fundraising — designs of what the proposed building.
The designs, which were unveiled at the shelter board of directors meeting Thursday, show an exterior view of what the building would look like when viewed from Lynnwood Road in Hermitage, and a floor plan showing the building's rooms inside and their intended uses.
The design includes variations on rooms the existing animal shelter, located on Broadway Road in Hermitage, currently has. Those amenities include increased holding space for dogs and cats and a fenced-off area outside. Plans also include spaces – such as a meet and greet area, a police drop-off spot, a quarantine room and an indoor exercise room – that are completely new.
"We want it to be something that people will look at 50 years from now and say, 'They knew what they were doing when they designed this place,'" said board member Mike Ceci.
Copich Architects of Youngstown developed the plans. Ceci said Copich exclusively handles animal-related buildings.
Board President Duane Piccirilli acknowledged the efforts of the board and Ceci, who led the building design committee, and said the proposed designs will help with fundraising efforts now that shelter officials have a visual representation of the shelter's new home.
"There's been a lot of hard work from the board to get to this point, and there's still a ways to go, but now we have a vision to work toward," Piccirilli said.
The new building will be located on 5 acres of land on Lynnwood Drive near the Tails of Hope Spay and Neuter Clinic in Hermitage, on land donated in April by the Shenango Valley Foundation.
The project got another boost Thursday when Hermitage Rotary President Ada Novero came to find out what the club could do to support the new building.
"I'm an animal lover myself," Novero said. "My husband and I have three dogs."
Novero learned about the building project when she stopped by the existing animal shelter on Broadway Road.
Novero said she liked the plans for the shelter's new building and thought it was a reflection of how serious shelter officials are about helping animals.
As the animal shelter's fundraising efforts continue, Ceci said groups like the Rotary will have opportunity to contribute, with plaques honoring donors.
"It could be anything from a park bench to a name over the puppy room, but we'll have plenty of opportunities for people or groups to be recognized," he said.
An event is being planned for October, when Piccirilli said members of the public and local organizations could see designs for the new building, photos and a video of the current animal shelter, and meet with the shelter's staff and board of directors.
Like David L. Dye on Facebook or email him at ddye@sharonherald.com.