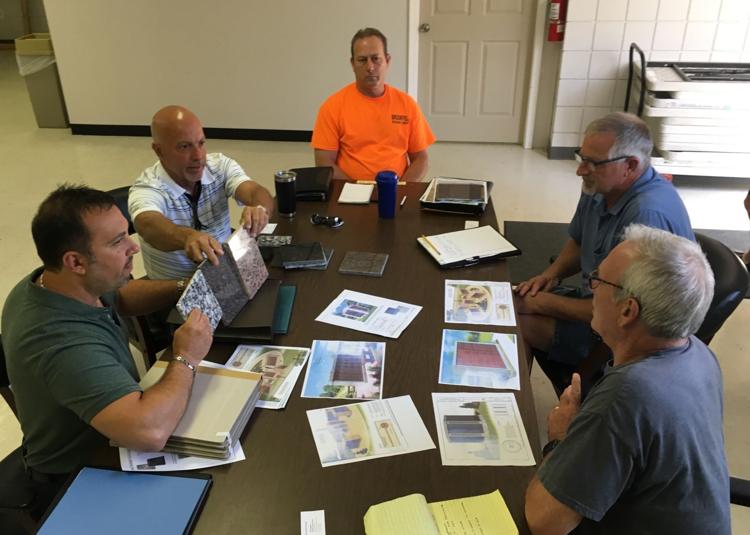 BROOKFIELD – Don't feel bad if you don't know what a columbarium is – Dan Suttles didn't know what it meant.
"I had to go home and look it up in the dictionary,'' Suttles, a Brookfield trustee, said with a laugh.
He and Ron Haun, a fellow trustee, listened to a presentation at a special meeting Monday morning to discuss erecting a columbarium at Brookfield Cemetery. A columbarium is structure where a small niche is created to house cremated remains.
Brookfield maintains the cemetery where residents can be buried at a reduced rate compared to those living outside the community. Trustees didn't immediately have figures on those costs.
Dave England, regional sales manager for Cold Spring Co., made the presentation. The memorial and building materials company is based in Cold Spring, Minn. 
Both trustees agreed they wanted the columbarium to be properly situated in the cemetery where it would have an appealing look.
"I wouldn't want this to be in the middle of a field all by itself and without easy access,'' Haun said during the meeting.
England agreed.
"This has to last forever,'' he said. "You not only want to keep it nice, but keep it growing.''
Columbarium prices can vary based on the number of niches it houses, building materials as well as with surrounding landscaping, he said.
The two trustees said they wanted to sell niches at an attractive price. But they wanted use the proceeds to build another columbarium so that it becomes a perpetual fund.
Haun said that the price could be reduced if Brookfield created the foundation for the structure. Also, he wanted to see a design for the area surrounding the columbarium that included items like trees.
"I want to see what it will look like 15 years from now,'' Haun said.  
Suttles and Haun asked for bids on several different styles of columbariums. 
Trustees previously said they would use proceeds from a recent state grant to pay for the structure along with funds earmarked in the cemetery's budget. Their top choice, called a Romanesque, could run around $50,000, but the two trustees asked England for other options in that style that would cost less.
Also, Suttles reaffirmed that any proceeds from niche sales would remain in the cemetery fund.
"We wouldn't place the money in our general fund for other things,'' he said.
The National Funeral Directors Association, a trade group, said the cremation rate for the funeral industry was 53.5 percent in 2018 and forecasted that the national cremation rate will reach 80 percent by 2035, according to its website.
The median funeral with cremation costs about $6,000, NFDA said on its website. Cremation services can range from $1,000 to $3,000 on the low end and as much as $6,000 to $8,000, depending on the options selected. Cost of a funeral and burial runs around $8,500, which doesn't include a burial plot or other costs like flowers or transportation, NFDA said.
Brookfield trustees would have to approve adding the columbarium at a public meeting. Suttles said he hoped trustees could have something in place this year.