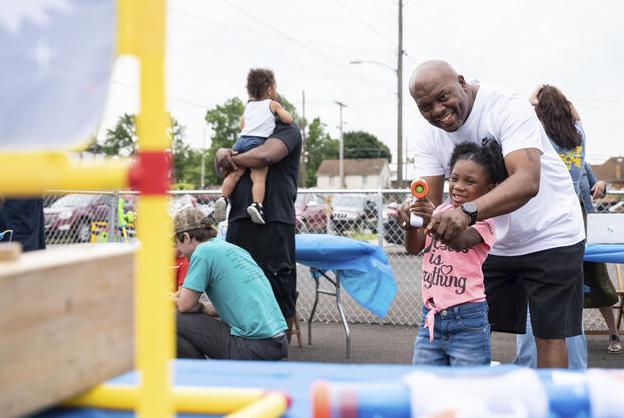 FARRELL — There were a more than a dozen children happily running between activities Friday morning at Zion Education Center, three of whom belonged to Henry Peterson-Banks.
Joining the Sharon resident were his children Kazion, 3, Zydarian, 2, and Brazeikieo, 4. But despite keeping him busy, Peterson-Banks said being out and about with his three kids were some of the easier parts of his day.
"Getting all three of them out of bed and ready to start the day, that's the hardest part," Peterson-Banks said.
Friday marked the first such event for the Farrell day care center. Children enrolled in its programs were invited along with their fathers for a day of activities and lunch, said Miah Hudson, who works with the center's Children and Youth Prevention Empowerment Network.
For Peterson-Banks, Friday's festivities are just one opportunity for him to spend some quality time with his kids. In two weeks, the Army veteran will deploy to Kuwait for nine months to a year, so Peterson-Banks and his wife are trying to cram as many family activities into the next couple weeks as possible.
Though he can't completely recreate being at home with his family when deployed, Peterson-Banks said he's able to call them often, sometimes with regular calls or Skype for some face-to-face interaction.
"It definitely makes it easier when I'm overseas," he said.
Aside from the activities and food provided for those in attendance, a few local organizations had tables set up with information, including Primary Health Network, Thiel College and Rev. Terry Harrison, Hudson said.
Harrison, pastor of Valley Baptist Church in Farrell, is also a certified coordinator who worked with the Mercer County Father's Network, an organization that provides mentorship for local fathers.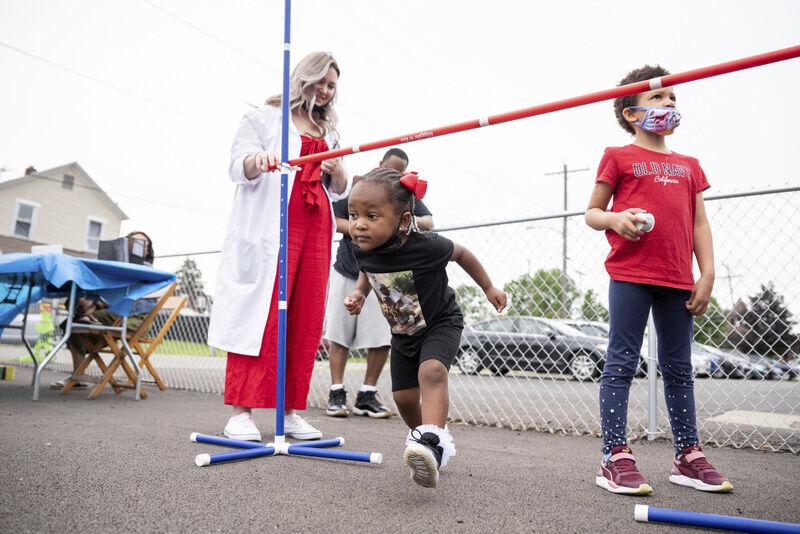 Providing that support can help combat what Harrison called an epidemic of absentee fathers, which is why the three most important factors for fathers are involvement, nurturing, and consistency in their children's lives.
As a father himself, Harrison said he always tried to be present for all of his children's events, and that fathers are "dad 24/7," even in cases of separate parents or single parents.
"When it's your day with the kid, it's not just babysitting or time to watch the kid," Harrison said. "This is your kid."
Sometimes fighting or separated parents may use their child to get back at the other parent, which is why Harrison stressed the importance of co-parenting, and for both mothers and fathers to fulfill their roles of parents equally.
Also present for Friday's festivities was Cheyenne Jarzenske, of West Middlesex, who brought her 2½-year-old son Dakota Jarzenske.
Cheyenne was accompanied by her mother, Christi Griffin, and her brother, Jacob Jarzenske. Uncle Jacob accompanied Dakota as they enjoyed the day's activities.
"He loves whenever Jacob can come out with him," Cheyenne said of Dakota.
Christi enrolled both Cheyenne and Jacob in Zion Education Center as children, with Dakota now continuing the tradition.
Despite being a single parent, Cheyenne said it helped having the support of her family, who live minutes away if needed. Dakota himself provides the best part of Cheyenne's day, which makes the hardship worth it.
"Every day when I pick him up from school, he gives me a big hug," Cheyenne said. "That's the best part of my day."
The center's CACFP coordinator and Harrison's daughter, Temarah Harrison, said Friday's activities drew a positive reaction from those who participated, and that future events, such as movie nights, could be held in the future to continue building engagement with families.
Like David L. Dye on Facebook or email him at ddye@sharonherald.com.