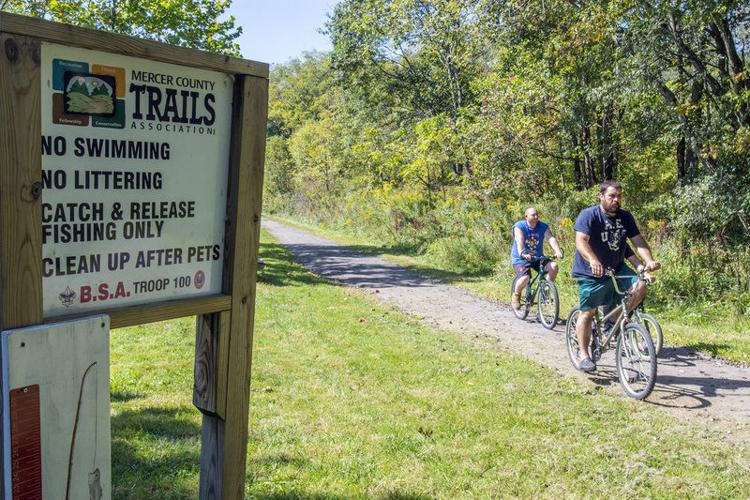 Hours after learning that the Mercer County Trails Association would receive a $75,000 grant, President Hugh Clark was still overjoyed.
"I still haven't gotten down off my cloud yet," he said.
The association and Hermitage received grants for trail development through the state's Greenways, Trails and Recreation Program. Hermitage is in line to receive $150,000 for trail development and rehabilitation.
State Sen. Michele Brooks, R-50, Jamestown, and state Rep. Mark Longietti, D-7, Hermitage, announced the grants, totaling $225,000, this week.
Hermitage will use its funding to improve parts of its existing trail system, including a connector along North Hermitage Road between the city building and the proposed Town Center project. The city's 2030 Comprehensive Plan, which Hermitage's board of commissioners approved earlier this year, calls for developing a downtown-style city center, and walkable amenities.
In August, city officials announced their intention to seek grant funding for developing a city center area along North Hermitage Road.
City Manager Gary Hinkson said the trail funding will help with that proposed development.
"It will make an improvement to the trail that for the town center," he said.
The grant will help Hermitage rehabilitate an existing trail along the eastern side of North Hermitage Road that connects Hermitage school buildings, Rodney White Olympic Park and the city building with the proposed town center site.
"The key going forward is to link those things together and to link neighborhoods and recreational facilities," he said.
Hinkson said the improved trails will become part of a system that includes paths running from Hickory High School northwest to Buhl Park and another walkway that connects the LindenPointe innovation park, Route 18, and Christy Road and Emily Lane on the southern end of the city.
The trails association grant is part of a project that will be a little more wide-ranging. Clark said the $75,000 grant will fund planning for a trail project to extend the existing Shenango River Trail so it links downtown Greenville, Riverside Park and the Greenville soccer fields along Porter Road.
From there, the trail will connect with existing walkways to Jamestown, and from there to the Ohio state line, where it will become part of a multi-state trail network.
Funding for planning, Clark said, is an integral part of any trail project that crosses private property.
"The biggest issue with trail-building groups is 'Who owns what?'," he said.
Clark said he was grateful to the work done in Harrisburg by Brooks and Longietti. State Rep. Parke Wentling, R-17, Greenville, also helped out, Clark said, even though much of the proposed trail isn't in his district.
"We were helped immensely by our politicians," Clark said. "The three of them were in this neck deep."
Follow Eric Poole on Facebook and Twitter @HeraldEricPoole. Email him at epoole@sharonherald.com.