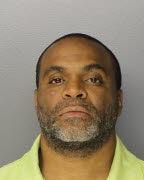 MERCER – Convicted killer Roy Lee Johnson will serve what is effectively a life sentence, under an order handed down Friday by Common Pleas Judge Daniel P. Wallace.
Johnson, 54, of New Castle, pleaded guilty in July to third-degree murder and felony weapons charges for the Jan. 29, 2018 shooting death of Sierra Nicole Madison-Clark, 30, of New Castle, behind Tony's Pizza, 628 Stambaugh Ave., Sharon.
In exchange for his plea, Wallace sentenced Johnson to 27 to 54 years in prison. 
"He's effectively going to be in jail for the rest of his life because he was 53 when he committed the crime," said Mercer County District Attorney Peter C. Acker said. "He'll be 80 when he's eligible for parole consideration."
A number of Madison-Clark's family members directed comments toward Johnson Friday morning at the sentencing hearing.
"They talked about the impact of her absence," Acker said. "The fact that she won't be there for a number of important things in their lives. It's a tragedy."
Surveillance video captured images of Johnson shooting at Madison-Clark behind the Sharon restaurant on the night of her murder.
During Johnson's preliminary hearing in February of 2018, Sharon police detective Sgt. Ryan Chmura described what police believe happened that night.
Chmura testified that Johnson had a second girlfriend, Christine Thomas, of New Castle, and that the defendant went to Thomas' residence after the shooting. Chmura said Johnson told Thomas that police were looking for him because he had killed someone.
An autopsy report indicated that Madison-Clark was shot three times. One shot grazed her head, one hit her in the mouth and the third and fatal shot was to her chest.
Surveillance video from the pizza shop showed muzzle flashes in the car and a 30-second pause, when police believe Johnson was arranging items in the car to make the shooting look like a robbery.
The video also showed a man resembling the defendant holding a gun. The man shot Madison-Clark a third time while standing outside the passenger side of the car, Chmura said, adding that the man appeared to be wearing a gray sweatsuit. 
Chmura testified that Johnson was wearing a gray sweatsuit when he arrived that night at UPMC Jameson hospital in New Castle to be treated for a gunshot wound to his wrist. Police believe the wound was self-inflicted.
Gerald Clark, Madison-Clark's father, said previously that his daughter's family was close friends with Johnson's family. He said that Johnson would come to the house and they would feed him. He said his daughter even supported Johnson by accompanying him to his mother's funeral in South Carolina.
Acker said accepting a plea that will keep Johnson in jail until he is at least 80 was the right decision.
"There's always a risk inherent in any trial," Acker said. "At trial they can file appeals. When they plead guilty, they have no ability to file post-trial motions. They have limited rights for appeal."
In spite of the video evidence, the district attorney said a jury decision might have gone against the prosecution.
"If they would come back and acquit him then it's done and over with and there's no justice for the victims and the commonwealth," Acker said.
Follow Melissa Klaric on Twitter and Facebook @HeraldKlaric, email: mklaric@sharonherald.com