MERCER — Pennsylvania's chief election administrator stopped Thursday at the Mercer County Courthouse to express admiration for the county's work to transition to a paper-ballot voting system.
"You are ahead of the curve," Kathy Boockvar, Pennsylvania acting secretary of state told county commissioners and Election Director Jeff Greenburg.
Boockvar also brought the county something more tangible than respect. She delivered, in the form of an oversized replica check, $118,312 to help Mercer County pay for its new voting machines. The funds come from Pennsylvania's share of a $380 million federal voting system aid program.
In April, the county signed a contract with ES&S of Omaha, Neb., for a voting system based on the ExpressVote optical scan device for counting paper ballots and the DS200 ballot marking device. Starting in November, most Mercer County voters will use paper ballots that are scanned and counted by the ExpressVote.
The ballot-marking devices will enable the county to comply with voting provisions in the U.S. Americans With Disabilities Act.
Greenburg said Thursday that the new system will enable all 90 of the county precincts to allow people to cast ballots while decreasing wait lines and wait times.
"It will allow more voters to vote at every precinct," he said.
Boockvar demonstrated the paper ballot system by casting one of the county's proto-ballots.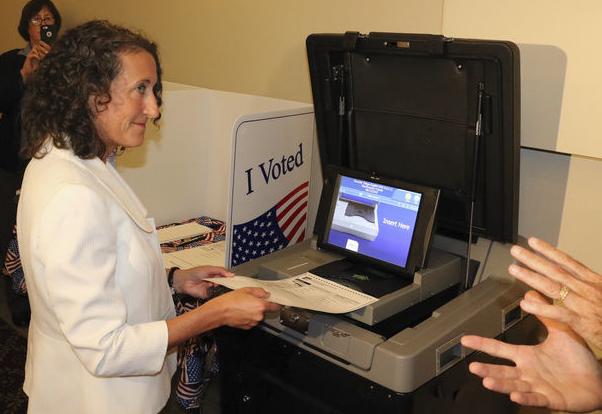 "This has an actual document showing their vote," she said.
The acting secretary of state said the paper ballots would give voters faith in the election system because results can be audited in recounts after elections.
Mercer County could release final November ballots as soon as next week, Greenburg said.
Election department staff are proofreading the final ballots, and Greenburg is waiting for one more race that could be added to the voting list. Party leaders have until Sept. 16 to name candidates for West Middlesex mayor.
West Middlesex Council appointed businesswoman Debbie Larouche to replace Jarrod Palmer, who resigned in July.
While Boockvar's check delivery covers only about 12 percent of the $976,214 Mercer County is spending on the new voting systems, she is hopeful that Harrisburg will offer more help in the coming months.
Gov. Tom Wolf is working on a bond issue that would generate up to $90 million in revenue to reimburse counties for money spent on changing voting systems. Boockvar said Thursday that the state and federal government would cover almost 80 percent of the cost of new voting infrastructure.
That would be appropriate, she said, because all three levels of government — federal, state and local — have a stake in secure, auditable elections.
"It's a true partnership," Boockvar said.
Follow Eric Poole on Facebook and Twitter @HeraldEricPoole. Email him at epoole@sharonherald.com.