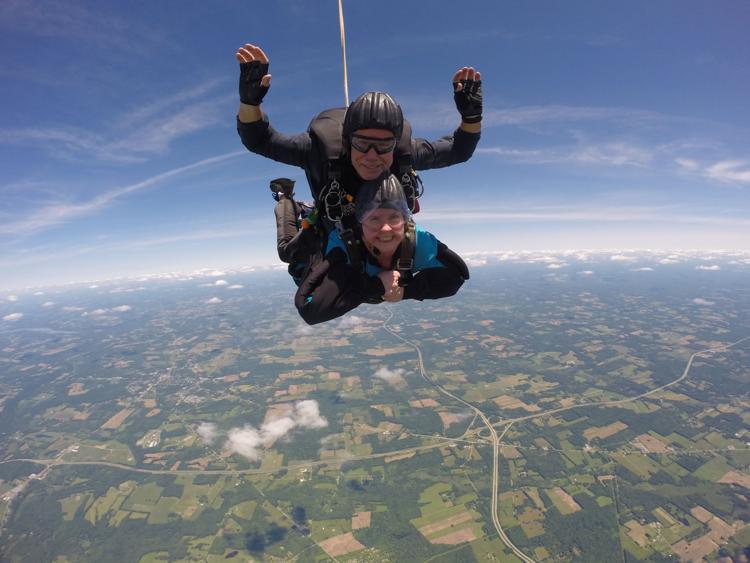 SPRINGFIELD TOWNSHIP — It's not often that an employer gets to see six of her workers fall from an airplane while she watches from the ground.
But that's what Laurie Staph, president and CEO of Keystone Blind Association in Hermitage, found herself doing last weekend, as she stood at Skydive Pennsylvania near the Grove City Airport watching as six figures in brightly-colored jumpsuits floated to the ground.
"I was definitely nervous, but at the same time, it was awesome to see them get to do it," Staph said.
The idea started with two employees, Gary Simmons and Sarah Hinkson, who discussed a mutual desire to try skydiving. Simmons — the most senior member of the group at 67 years old — was also the only one with prior experience, having skydived during a trip with his wife to Las Vegas in 2010.
"I had never been in the military or anything, but it was something that I had always wanted to try," Simmons said.
Starting with those two, the idea spread to their fellow workers in the folder department at Keystone in Hermitage. Eventually the group grew to six people, including Tammy Currie, John Bungar, Brian Rodemoyer and Jeff DeMarco.
Though Rodemoyer also serves as a firefighter, he said he was initially hesitant to join the group. At least with rappelling down the side of a building, a person can control his speed of descent compared to a free-fall from an airplane, Rodemoyer said.
"When they first asked me, I said 'why would I jump out of a perfectly good airplane?'" Rodemoyer said.
"Well, it has to be a perfectly good airplane for you to be able to jump out of it," Simmons replied.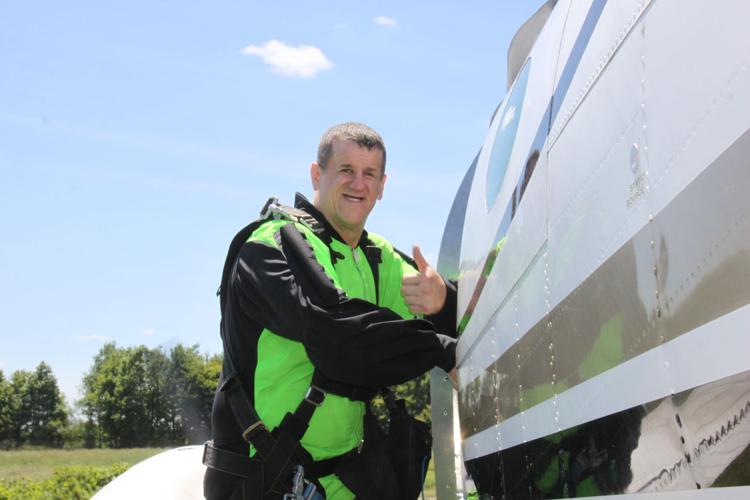 Eventually the group was together and made plans to jump with Skydive Pennsylvania. The date was initially set for June 15, but was pushed back to June 22 due to the weather.
Everyone in the group was legally blind, with 20/200 vision in their best eye. The group received an hour of training and were each paired with an instructor, who was strapped to each jumper for the skydive.
"At first I thought about bringing my cane, but then I figured, 'well, there's no point to that. I won't be able to touch the ground anyway,'" Bungar said with a laugh.
Riding in a small plane that could only fit a few teams at a time, the skydivers had about 10 minutes between takeoff and the dive. When the time came, the teams walked to the door with their instructor and — instead of jumping — fell out of the plane, Hinkson said.
"You really can't describe it," Hinkson said. "It doesn't feel like you're falling. It feels like you're floating."
"People always think it'll feel like you're falling, but the air is actually pushing you up as you're headed toward the ground," Simmons said.
Instead of circular parachutes, the skydivers were equipped with rectangular parachutes, which allowed the skydivers a measure of control over their landing, DeMarco said.
"You could get it to turn a lot with only a little pull," DeMarco said.
As they neared the ground, the instructors gave the employees the signal and the skydivers kicked their feet up so that they "skidded" across the ground instead of possibly injuring their legs. But even if the employees were legally blind, they could still see the support from their "family" at Keystone waiting for them, Rodemoyer said.
"Everyone from our boss at the folder department to the CEO was down there waiting for us," Rodemoyer said. "We really had so much support."
For Currie, the jump was also a family matter, as her daughter decided to jump as well before she left for basic training in July with the National Guard.
"It was kind of a last big thing me and her could do together before she headed out," Currie said. "She liked it, but I asked her if she'd want to do it again and she said 'Umm, not really.'"
Even though it was the first time for most of the jumpers, they could agree on one thing — they wanted to do it again, Hinkson said.
"Next year, we ought to try and get more people from Keystone to go," she said.
Like David L. Dye on Facebook or email him at ddye@sharonherald.com.