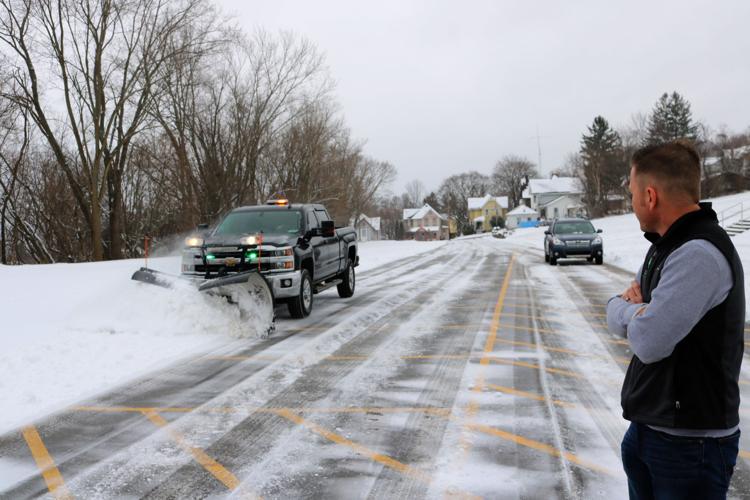 PYMATUNING TOWNSHIP – The winter storm that hit Wednesday morning in Mercer County was upside down.
Most storms become more severe in the county's northern reaches. Travel Wednesday actually became less hazardous further north, said Jim Lumpp, transportation supervisor for Reynolds School District. 
"There's no problem with weather at all here,'' he said. "I live in Hermitage, and I drove up Route 18 and actually saw the snow disappear when I crossed the (Shenango Lake) causeway.''
A morning snowstorm struck the Shenango Valley Wednesday morning, dropping between 3 and 4 inches, according to the National Weather Service. The snow fell too quickly to be easily cleared, which made traveling difficult.
PennDOT issued an order reducing the speed limit to 45 mph on Interstate 80 in Mercer and Venango counties, and Interstate 376 in Mercer and Lawrence counties. The transportation agency lifted the speed restriction at 12:45 p.m.
State Police in the Mercer barracks reported two accidents Wednesday morning, with one on Interstate 79 and another on state Route 258 between Grove City and Mercer. No one was injured in either accident.
In spite of the heavy snow, almost all Mercer County schools remained open. Hope Center for Arts and Technology in Sharon was an exception. Tim Roberts, the school's executive director, said he made the decision based on the safety of faculty members.
"We have instructors that have to travel from places like Poland in Ohio,'' Roberts said. 
There were school closings in Ohio such as the Youngstown City School District which is a touch further south than Sharon, he noted.
"This storm came in from the southwest and those areas south of us got more snow,'' Roberts said.
Wednesday's snowfall isn't expected to hang around long. Today is supposed to be cloudy with a high near 42, with temperatures expected to drop to 23 tonight.
Friday is expected to be mostly sunny with a high near 43. Saturday's forecast calls for rain after 4 p.m. with a high of 48.