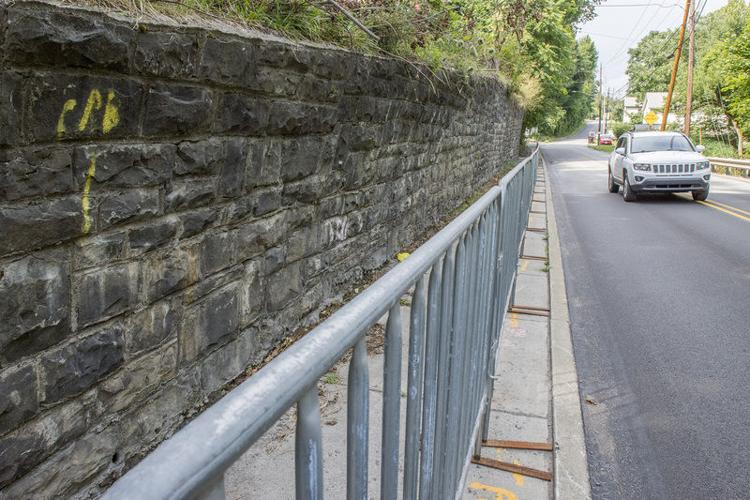 SHARON – Fixing a retaining wall in imminent danger of collapsing onto North Water Avenue in Sharon could cost in excess of a half-million dollars, city officials say.
The city has closed a portion of the sidewalk on North Water Avenue and put up a temporary fence because of a crumbling wall at the bottom of Grant Street, near the water treatment plant.
Sharon officials have been watching the wall closely.
"The Grant Street wall has been failing for years," Sharon City Manager Bob Fiscus said. "There's been concerns raised over the structural integrity of it."
An engineer examined the wall and confirmed that it is leaning more than ever and continuing to give way, Fiscus said.
The city took its concerns to PennDOT because North Water Avenue is a state road. Route 718. Earlier this year, PennDOT contracted work to install a wall designed to support a portion of the road. The work was on the opposite side of the road from the wall, on the bank closer to the Shenango River. 
"We argued to the state because although the base of it is at our right of way, it's leaning into theirs," Fiscus said. "We also have concerns that it didn't appear to be leaning that bad until after they did their work underneath it. So they were driving steel beams into the ground for their retaining wall directly across the road from it, and now ours has failed."
In addition to erecting a retaining wall, the state also paved the road, installed sidewalks and curb ramps, paved the road shoulder and improved the guardrail and signs. The project cost was close to $500,000, which came from state gasoline tax revenue.
"They don't have a record of what it looked like beforehand and neither do we," Fiscus said.
Jill Harry, PennDOT spokesperson, said that the state agency will act only as consultants on the project, which would be under the city's purview. 
Fiscus and city officials met with PennDOT last week after council's work session.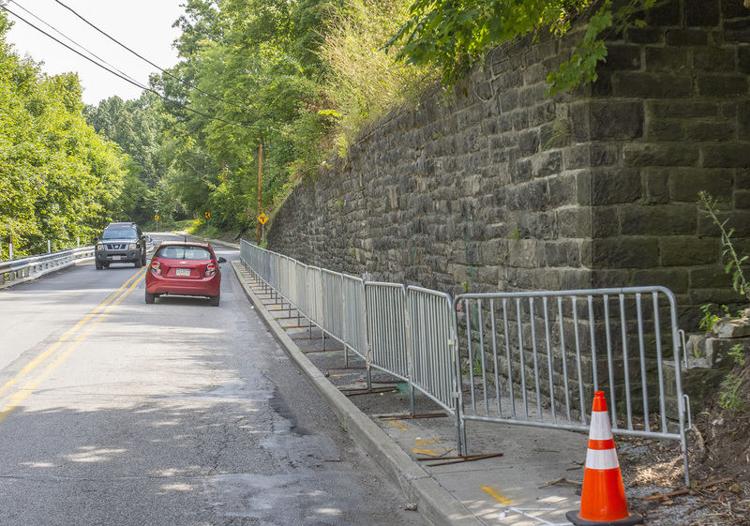 "Although the wall is our responsibility, they are providing technical support as to the best way to address the situation," Fiscus said. "The city has closed the sidewalk and is in the process of providing pedestrian detour signage."
Fiscus said at this point, PennDOT has determined that Water Avenue does not need to be closed.
"PennDOT and the city are going to continue to closely monitor the wall while evaluating all options," Fiscus said.
An item in The Herald on May 11, 1937, said the wall had just been completed and was built by the Depression-era federal Works Progress Administration.
Follow Melissa Klaric on Twitter and Facebook @HeraldKlaric, email: mklaric@sharonherald.com