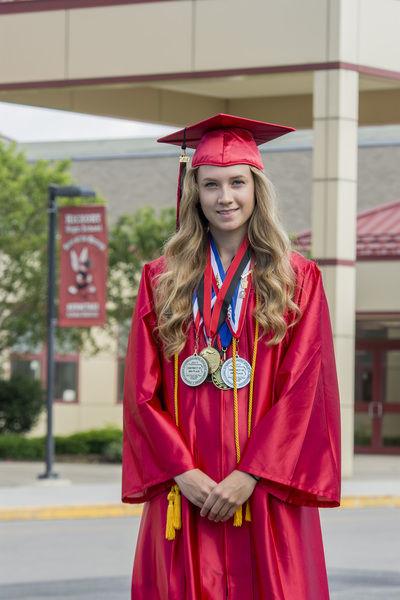 I'd like to start by saying how amazed I am at how impressive this class is.
Who has been the most influential person in your life and why?
A: It may be cheesy, but my mom is definitely the most influential person to me. My mom has worked tirelessly her whole life to accomplish things like paying for college all on her own, graduating with a degree in chemistry as a female, and raising my brother and I to be just as persistent and kind as herself. She has been such a strong and compassionate role model for me as I've grown, and I can't thank her enough for shaping me into the person I am now.
What activities were you involved in during high school?
A: I was the president of Physics Club, the Vice president of National Honor Society, and the founder and president of Engineering Club. I was also involved in four math modeling competitions. I played the violin in the orchestra my freshman and sophomore years, then transitioned to marching band when I was on the dance line my junior and senior years. I played volleyball my freshman through junior years and triple jumped and long jumped during indoor and outdoor track my junior and senior years. I was lucky enough to make it to outdoor states in triple jump this year, thanks to my coach.
What are your plans for after graduation?
A: I will be attending the University of Pittsburgh in the fall for bioengineering. After my undergraduate career I hope to continue on to a PhD/MD program for Tissue Engineering and Neurology. I'd eventually like to end up working as a research doctor.
What was your favorite part about high school?
A: The friends I have made in high school have definitely been the best part of high school. I've gotten so close with such an amazing group of six girls and they've been with me through every happy and disappointing moment of my high school career. We all have the same hardworking but outgoing personalities, and I can't imagine spending these last four years with anyone but them.
How do you think your school has prepared you for life after graduation?
A: The support and reassurance I have gotten from my teachers in high school has prepared me the most for college. My biology, chemistry, and physics teachers in particular have helped me transition from high school-level classes to college-level rigor. Going into engineering will not be easy, but I feel confident my teachers have provided me with the necessary experience to do well.
What is one piece of advice you would share with a freshman?
A: Don't think that to be academically successful you have to devote your whole high school career to your schoolwork only. I achieved exceptional grades not because I spent all my time at my desk, but because I was a part of groups that helped lift the weight off my shoulders when I felt anxious. Definitely get involved as much as you can in the arts and athletics; it helps you grow as a person and fosters your academic success as well.
What is one thing you would like to change about the world?
A: If I could change one thing about the world, I would give everyone the ability to truly understand others' struggles. Whether it be a starving child in Africa or a woman living in a county controlled by a harsh dictator, I think it's beyond important for everyone to have empathy for the suffering. It's not that I don't think specific situations should be fixed, I just think that those problems along with many others would be solved if everyone possessed a lot more compassion.