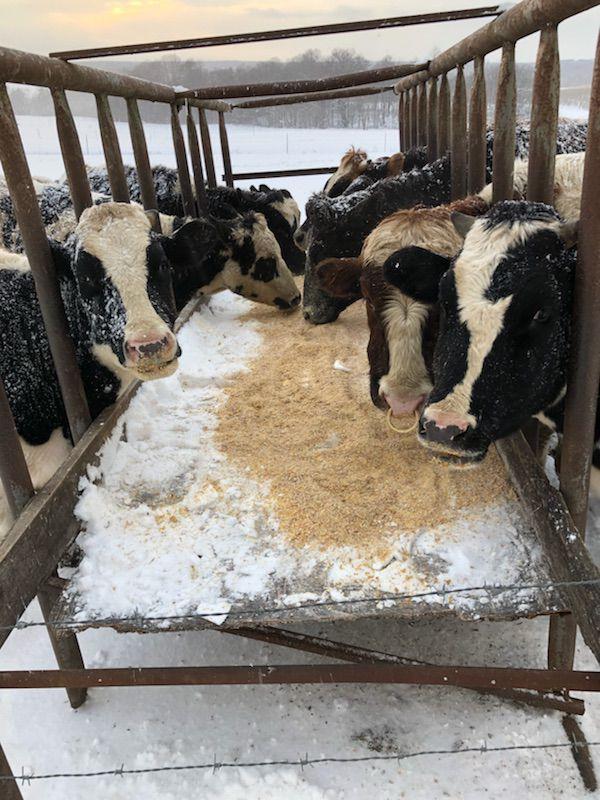 SOUTH PYMATUNING TOWNSHIP – A decline in milk consumption as well as a possible new processing competitor are being blamed for Dean Dairy's decision to end milk contracts with area farmers.
The news of the terminations sent shockwaves through the local dairy community. Dean processes milk at its South Pymatuning Township plant, which employs 300.
Randy Seitz, chief executive officer of the economic development agency Penn-Northwest Development Corp., said he contacted Dean Dairy managers on Friday.
"They told me they are reducing the amount of raw milk they're buying from dairy farmers,'' Seitz said. "They said that they simply don't need as much milk as they had in the past.''
Bill William Klumph, a South Pymatuning Township supervisor, also said he contacted a Dean representative.
"What he told me was they weren't looking to close the plant, but instead to scale back production,'' Klumph said.
In response to a request for an update about the plant, Dean spokeswoman Reace Smith responded in an email that the company is looking at all aspects of its business.
"We are actively rescaling our supply chain and are evaluating all Dean Foods operations,'' Smith said. "The company looks at a variety of factors including the overall efficiency of the facility and its role in the broader network of plants. Recent or projected volume losses at the plant are a factor, but not the only thing we are considering. No announcements have been made about specific plants.''
Sixteen western Pennsylvania milk producers will be left with no one to process their raw milk beginning June 1. The company notified dairy farmers across Pennsylvania that it will not renew 24 contracts.
The three factors going into the decision include Walmart constructing a new Class I fluid milk processing center, a decline in the consumption of fluid milk and a rising surplus, according to the Center for Dairy Excellence.
Walmart is opening a 25,000-square-foot processing center that will use dairy farms located with 200 miles of the Fort Wayne, Ind., plant, and will supply the retail giant's stores and Sam's Club locations in Illinois, Indiana, Ohio, Michigan and Northern Kentucky.
Ginger Fenton of Penn State Extension in Mercer County said the issues involving milk are not just local.
"I know that I can tell you fluid milk consumption is down," Fenton said. "There are many factors that are involved. It is a global issue, I think, with dairy consumption, and exports. There is not a quick fix that I know of."
Dean is dropping more than 100 dairy farmers in eight states, according to Brownfield Ag News for America, a trade publication. In addition to Pennsylvania, the article identified the other states as Ohio, Indiana, Kentucky, Tennessee, New York, North and South Carolina.
There was talk among dairy farmers that another factor was the pending opening this spring of a Walmart milk processing plant outside of Akron. But Dean never mentioned it in any news release or in conversations with Seitz or Klumph. Walmart has been a Dean customer.
The dairy business has suffered of late. Like any other product, milk is subject to market forces.
Americans today drink about 42 percent less milk than they did in 1970, according to the Pew Research Center.
Pennsylvania milk prices have plummeted during the past three years and are continuing to decline.
A dairy farmer in 2015 was paid $25 per 100 pounds of milk. There's about 12 gallons in 100 pounds. That same farmer now is getting around $13.80 per 100 pounds, said Cathy Heim, a fifth-generation dairy farmer in New Vernon Township.
"My understanding is our contract ends on May 31,'' she said.
With 35 milking cows, her family had been able to make a living. But given the current economics that's going to be rough.
"When spring comes, we have to have money for things like hay and repairs to our equipment,'' Heim said. "If we don't have any milk, we have no income. We don't want to go deeper into debt.''
Pennsylvania is ranked fifth in the country for milk cow inventory, but it has also seen the number of dairy farms decline sharply from 82,708 in 1954 to 6,650 today, according to the Penn State Cooperative Extension office.
"What people don't understand is that if we go out of business, we don't qualify for unemployment benefits,'' Heim said. "We can lose our home if we're too deep in debt.''
Their 94-acre farm is efficient, she said.
'We grow our own crops, but we don't make all of our own feed (for cows),'' she said.
Dean wasn't trying to be the bad guy in all of this, she added, as her family has come to know the company's inspectors when they visit the farm.
"When we talked to them, they apologized,'' Heim said. "Their inspector knows our kids and they know us. Every place else we would just be a number.''
The New Castle News contributed to this report.