HARRISBURG – Student debt is binding many new college grads, keeping them at home with mom and dad as they lick their financial wounds.
If staying at home weren't frustrating enough, an increasing number of former students are having trouble recovering at all and are slipping into delinquency and default.
"If there was a nuclear war, the only thing that would be left would be cockroaches and student debt," said Stephen Mazzeo, of Easton, who is resolved to stay on top of his $250,000 in student loans.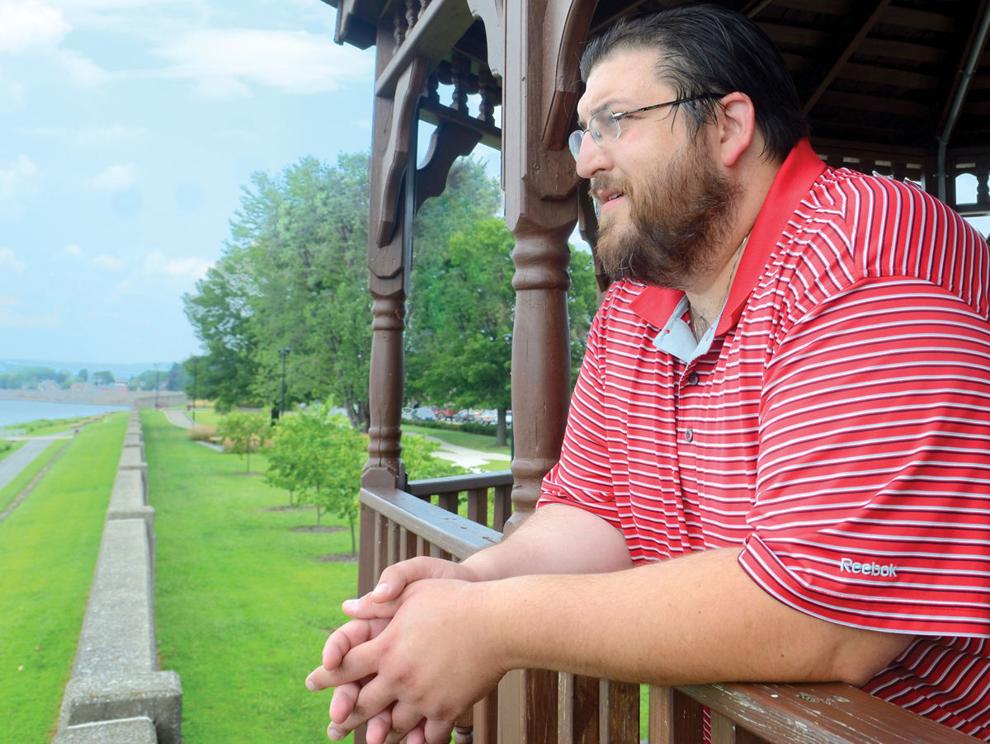 Mazzeo took a marketing job out of Drexel University. Dissatisfied with that career path, he decided to go back to school to get the graduate degrees required to become an English professor.
Now he works as a part-time, adjunct professor at four different colleges while he tries to land something full-time.
A big chunk of Mazzeo's debt came from a year he spent in a master's of fine arts writing program at American University that he later abandoned because he felt like he'd been misled about what it entailed. That cost more than $40,000.
Falling behind
Jessica Ferastoaru, a student loan counselor at Take Charge America, said that it's not always the case that people with such large debts are more likely to default.
Students graduate with a six-month grace period. In the meantime, they jump into the real world and struggle to make ends meet as they face bills for housing, food and insurance.
More often than you'd think, Ferastoaru said, students default just because they never start repaying their loans.
Regardless of how much they owe, graduates get behind because they don't research ways to satisfy the bank, such as adjusting their payments based on income.
About 1 in 7 college borrowers can't or won't keep up with their loans, according to the U.S. Department of Education.
After a borrower is behind on payments for a certain period of time - usually nine months for federal loans - a bank will declare a loan in default. The entire balance then comes due.
If that happens, a bank can garnish wages and move to take a borrower's tax refund.
Bankruptcy won't help shed student loans, and personal credit scores tank.
In Pennsylvania, where the cost of attending the state's premier public colleges leads the nation, about 26,000 former students are in default. Only seven states - including New York and Ohio - have more young people who've fallen so far behind that their banks have declared them in default.
Growing rates of delinquency and default are magnified because they coincide with rapid increases in the number and value of loans.
Nationally, more than 40 million student loan borrowers collectively owe about $1.2 trillion.
College officials in Pennsylvania acknowledge that student loan debt is a problem for everyone's alumni. But University of Pittsburgh Chancellor Patrick Gallagher said the situation seems to be inflamed by for-profit colleges whose students sink into debt in exchange for questionable credentials - that is, if those students graduate at all.
Nearly 1 in 5 students at for-profit colleges who began repaying loans in the 2010-11 financial year were in default as of last summer, according U.S. Department of Eduction data.
That compares to 1 in 8 students who took loans to attend a public university, and 1 in 14 who went to private, non-profit colleges and universities.
Gallagher said much of the national conversation about student debt and default is ?distorted? by statistics from for-profit colleges and their students.
"That confuses the issue," he said. "What we have to do is make sure the value is there so students can make decisions and graduate in a timely way with a high-quality degree."
Bank problems
Drastic penalties of falling behind convinced Mazzeo to stay on top of his loans, he said.
But dealing with banks isn't always easy, even for those with enough money in a checking account to cover their payments.
Mazzeo said he's repeatedly tried to consolidate his loans, only to have banks tell him that they never received his paperwork.
His debt gets moved, and banks change their names. So, he periodically gets calls from debt collectors who represent companies with unfamiliar names but familiar demands: They want money and they threaten to report him to credit bureaus if he doesn't comply.
Those types of complaints are more common, according to the Consumer Financial Protection Bureau, created in 2011 by the Dodd-Frank Wall Street Reform and Consumer Protection Act.
The bureau, which monitors banks and financial institutions, said it received more than 3,100 complaints about private student loans during a six-month period from late 2014 to early 2015.
That's a 34 percent increase from the same period a year earlier.
In May, the bureau launched a campaign to document first-person accounts of the roadblocks facing those in repayment. Among them are complaints that banks make it harder, if not impossible, for borrowers to get ahead on payments or pay off loans early.
Some borrowers say they've had to fight to get banks to enroll them in income-based repayment plans. Others say they've been dismayed by the problems that follow when their debt is shifted to another bank.
Futures on the line
The bureau is finding other serious pitfalls, according to a report released in June. Private student loans, which account for more than 1 in 7 student loans, typically require a co-signer. Many private loans offer ways for co-signers to be released from responsibility once borrowers establish a history of responsible repayment and evidence that they earn enough to pay the bills.
But rules dictating when co-signers can be released are unclear, the bureau has found. Many borrowers and their co-signers are unaware if or how to take advantage of that option.
In 9 of 10 cases, banks refused to let co-signers off the hook, the bureau found.
Rules about co-signers can have serious, sometimes hidden consequences.
Investigators found evidence of graduates placed in automatic default when a co-signer died or declared bankruptcy. This happened even when payments on a loan were up-to-date.
"Parents and grandparents put their financial futures on the line by co-signing private student loans to help family members achieve the dream of higher education," said Richard Cordray, the bureau's director. "We're concerned that the broken co-signer release process is leaving responsible consumers at risk of damaged credit or auto-default distress."
Broad impact
The perils posed by the rapidly expanding student loan industry could have implications far beyond the individual struggles of Americans trying to balance their checkbooks.
In a spring essay published in "Dollars and Sense" magazine, economics professor Susanne Soederberg pointed to similarities between the way debt from private student loans is handled and the practices used by mortgage lenders during the pre-recession ousing bubble.
Banks use financial instruments called "student loan asset-backed securities," or SLABS, to package student debt and re-sell it. Investors expect their money back as students repay their loans.
Problems occur if large numbers of graduates don't find good-paying jobs and can't afford to keep up with payments.
Soederberg noted that reform will be difficult because the government has scaled back grants to help students pay for school, compelling more and more to borrow.
And, just like private lenders, the government profits from the student loan market by cashing in on borrowers with federal loans.
The U.S. Department of Education, she wrote, made as much as $101.8 billion from student loans from 2008 to 2013 - just by profiting on the difference between the low interest rates of its borrowing compared to the slightly higher rates it charged college students.
Experts such as Soederberg argue that the government's role in contributing to the student debt crisis can't be ignored.
But, the federal and state governments have decreased funding, allowed tuition spikes and leaned more heavily on loans than grants.
"In other words, the consumer protection framing veils the role of the debt-fare state in actively facilitating predatory practices" of the banks that have profited so heavily on the growth of student debt, she said.
That's spurred much of the growing political discontent among millennials, she said.
And it's an issue that looms so large that it must be confronted, Soederberg wrote.
"The increasing reliance on expensive personal loans to replace or augment wages - as well as obtain an education - is not a natural phenomenon. Rather, it is a social construction that needs be revealed, attacked, and uprooted," she wrote.
JOHN FINNERTY covers the Pennsylvania Statehouse for CNHI's newspapers and websites. Reach him at jfinnerty@cnhi.com<mailto:jfinnerty@cnhi.com>