GREENVILLE — Students — sharply dressed in suits and dresses — gathered in the Sawhill-Georgian Room of Thiel College's Howard Miller Student Center before tables immaculately set with fine china and flatware.
The students chatted with each other and their professors, which created the atmosphere of a business dinner rather than a traditional college seminar.
That's exactly the point of Thiel College's annual Ruth A. Miller Senior Seminar.
Professor Gary Witosky of Thiel's business administration and accounting department, oversees the seminar, a spring semester course held every Wednesday. The seminar combines professional dinners with presentations from Thiel alumni.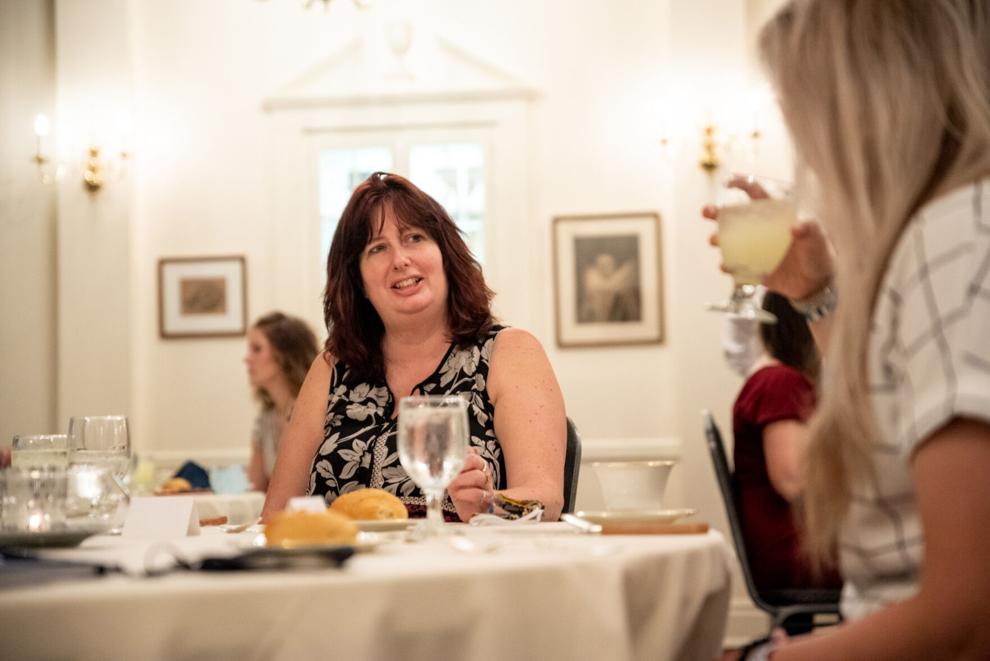 Each session ends with a question-and-answer period for the students.
"I think people like being able to tell their stories," Witosky said. "I think the alumni being able to connect with the students is really powerful."
The seminar's inspiration came during the 1980s, when now-retired Professor David Miller and another professor, Marc Golsmith, saw an article in the "Harvard Business Review" about a similar program at the Ivy League school.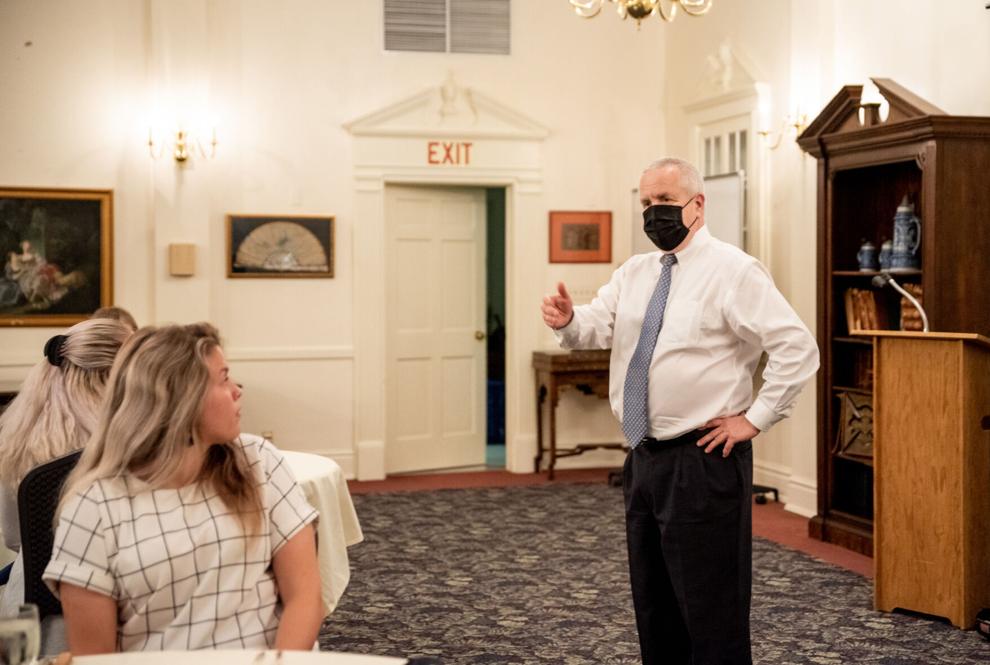 With funding from Kemper Insurance, Thiel College started the seminar, with successful people visiting the college students. That changed about 15 to 20 years ago, when Miller said the program shifted to exclusively bringing back Thiel graduates.
Students were more enthusiastic about seeing Thiel alumni, Miller said.
"We realized that if the speaker was a Thiel graduate, it had a special impact," he said.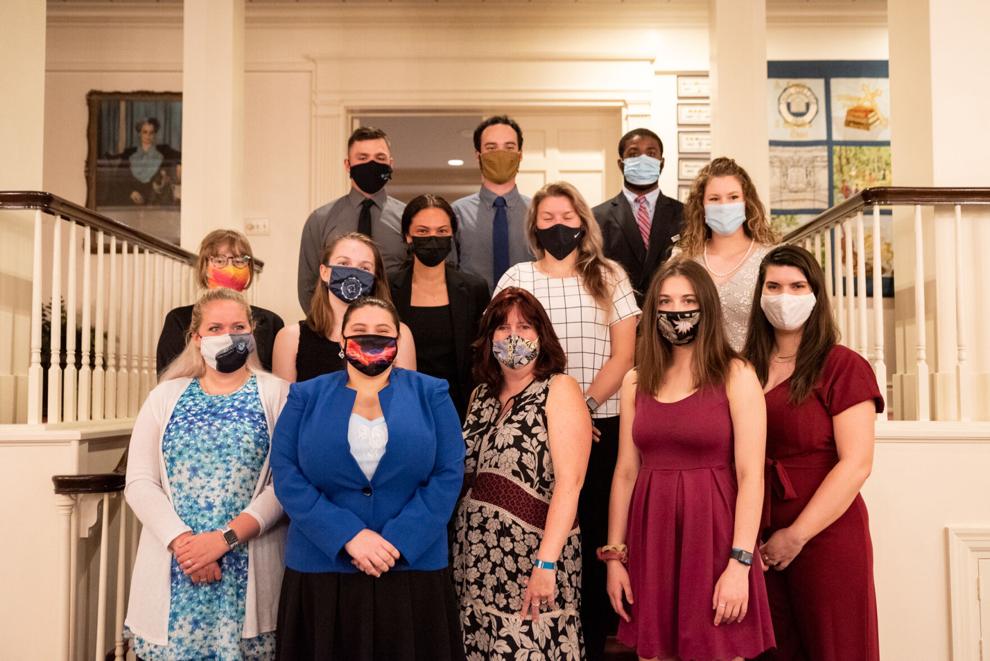 The seminar was initially an honors program, offered by invitation only, but was later opened up to other students. Miller said he thought all the students deserved the same opportunity.
Around five years ago, organizers offered the seminar to students other than business and accounting majors in response to increased interest. 
Miller said the program is relevant even for students outside the business program because the speakers tell universal stories, such as dealing with being fired or the loss of a family member.
"These lectures are not about business, they're about life," Miller said.
In 2018, a group of students led a campaign to create an endowment for the senior seminar. When the campaign was successfully completed, the course was renamed the "Ruth A. Miller Senior Seminar" in honor of David's wife, Ruth, who sometimes served as a nurse at Thiel College and often attended the dinners with her husband.
"I was absolutely honored," Ruth said of the recognition.
Miller retired from teaching in 2020 due to health reasons, but Witosky has since taken over the program and arranging Thiel alumni to come speak.
Since speakers have had to pull out at the last minute due to business-related scheduling conflicts, Witosky said he always has a "Plan B" and "Plan C."
That was how Roberta Leonard, Thiel's vice president of college advancement, became Wednesday's speaker.
Though not a Thiel graduate, Leonard has 20 years of experience working with the college's students. She said having pre-existing relationships with students allows her to use her professional background and the shared experience of being on the same campus.
"Everybody here has their own Thiel story," she said.
Casey Rose, owner of Rose and Black Funeral Home and Crematory in Stoneboro and Sandy Lake, spoke in the program earlier this year.
Rose participated in a cooperative program between Thiel College and the Pittsburgh Institute of Mortuary Science, graduating in 2014. He later returned to Thiel last July for its master of business administration program, where he shared some of his experience.
After that, organizers contacted Rose to participate in the senior seminar. At first, Rose said he was nervous about it.
"I really didn't think I had much to share, since I only graduated a few years ago," Rose said.
Post-graduation, Rose started at a funeral home in Clarion County before he purchased the Mercer County funeral home from Scott Black in 2018. When it came time to speak with the students this spring, Rose said he tried to stress the importance of networking and a willingness to go where opportunities are.
Afterward, the students had a chance to ask Rose more in-depth questions, from managing a business to the particulars of being a funeral director.
"I loved it, and the students asked such good questions," Rose said. "If they asked me to come back every single year, I'd do it."
Anthony Sebastian, a senior from Beaver Falls, said one of the program's biggest benefits is the networking opportunity, where students can get to know the speakers and sometimes connect with them online afterward, which could lead to job offers or internships post-graduation.
"The networking is something that can be really helpful," Sebastian said.
The dinner aspect of the meal is also important, as the students work with AVI Foodsystems staff to plan a different meal for each week.
This gives students a chance to try meals that are not only more unusual, but often difficult to eat. That includes foods such as French onion soup or spaghetti, while learning proper etiquette for formal professional dinners, Witosky said.
"We always select something that's challenging to eat, because they have to eat it without making a mess," Witosky said. "The students also build up a comfort level in trying to talk over a meal, because talking with someone who's older and more established can be uncomfortable."
Previous meals have included German, Spanish and Thai food, although meals can also reflect the week's speaker. When Nate Bissell, owner of Bissell Maple Syrup, came to speak, everything in that evening's meal incorporated maple syrup, junior Emily Baker said.
Junior Madison Acor said having a formal, yet informal atmosphere allows students to interact with the speakers more than a traditional lecture or presentation. Those lessons learned from the speakers can be helpful for students of majors outside of business and accounting, said Hannah Ushock, a junior history major.
"Learning how to network or be successful can help anyone," Ushock said.
Like David L. Dye on Facebook or email him at ddye@sharonherald.com.