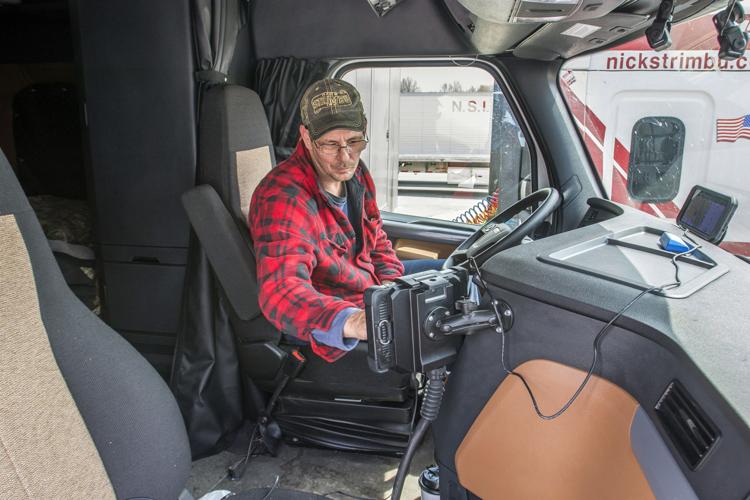 After Falcon Transportation shut down last weekend and left more than 500 workers without jobs, local trucking and travel companies want to make sure the Youngstown-based company's former employees are back in the driver's seat as soon as possible.
Cory Knowlton, director of operations and information technology at Nick Strimbu, Inc., said the Brookfield trucking company plans to immediately add five new drivers to its current fleet of 90 trucks.
"We're looking to get them on as quick as we can," Knowlton said. "We're working extra time to process these guys and get them through the door."
The company plans to bring on at least 10 additional drivers, with more hirings likely in the near future as positions become available. He said the average truck is 55 years old, which means companies are always looking for qualified applicants.
"The industry as a whole is constantly trying to hire," he said. " There's a lot of freight out there and not enough drivers. I can't imagine drivers will be out of work for too long."
Falcon employees were informed of the company's closure on Saturday via text message.
"We regret to inform you that Falcon Transport Co. is not able to continue operations and will be shutting down effective today," the mass text message read. "Please stop any work you are doing for the company immediately. You are not expected to return to work."
The closure came roughly two months after General Motors stopped production at its Lordstown facility. Knowlton said Falcon had been contracted to bring raw materials and assembled parts into the Lordstown plant.
Knowlton said he is encouraged by the amount of community support for the displaced employees. He mentioned TDDS Technical Institute, which has already reached out to help place its former students in new positions.
Courtney Saylor, marketing and media coordinator at Anderson Coach & Travel, said her company also is eager to help former Falcon employees get back behind the wheel.
"We've seen this happen, unfortunately," Saylor said. "Businesses close and there are a ton of people who need work. I'm happy that this time that we might be able to be a solution."
The Greenville-based charter bus service provides transportation for a wide variety of events, vacation and sightseeing tours, as well as school bus contracting services.
Saylor, who also serves on Sharon City Council, said a number of Anderson drivers are former truck drivers, and that the transition from big rigs to charter buses is a relatively easy one.
"It's basically the same thing," she said. "its the same weight and usually they are used to the same routing."
Saylor said Anderson expedites and pays for training with drivers who already have commercial drivers' licenses (CDL). However CDL-licensed drivers still have to earn their passenger endorsement, which authorizes them to carry passengers instead of cargo.
She added that the biggest change from driving big rigs to coach buses is the lifestyle. Instead of driving overnight as a trucker, Saylor said coach drivers get to attend the same events as the passengers, see the same sights and sleep in the same hotels.
But there's one major requirement — you have to like people.
"People love our drivers and a lot of them get requested again and again," Saylor said. "If you like people and actually like seeing places, definitely consider it. "It's different (lifestyle), but it's a very similar base skill set."