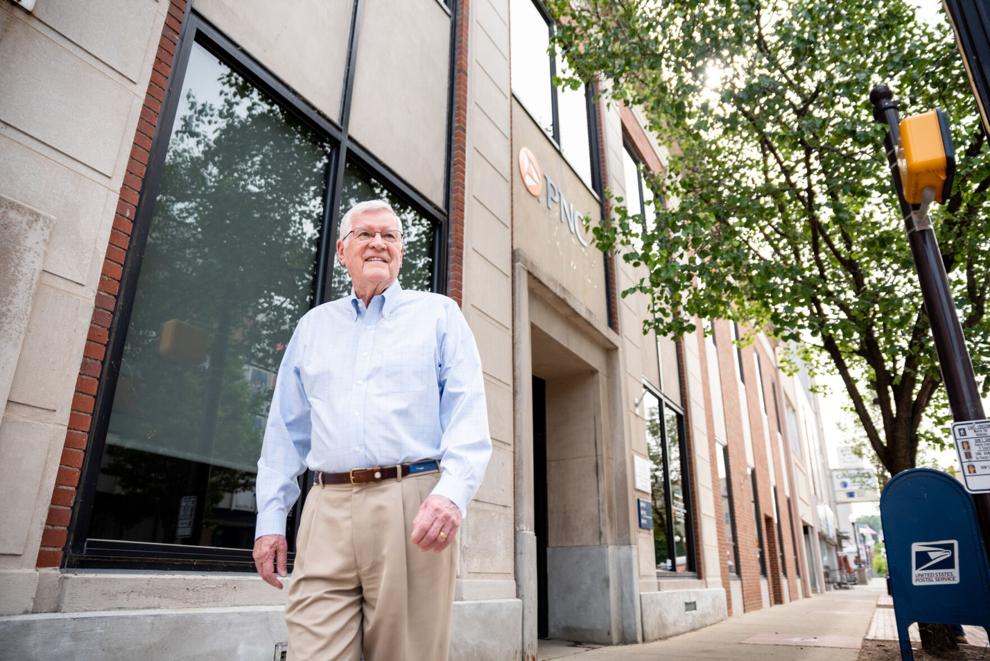 SHARON – When McDowell Bank got its first ATM — automated teller machine — Tom Demas predicted, correctly, that it would come to dominate the banking industry.
That was in 1970, and McDowell's first device was just the 64th to roll off the manufacturer's line. Demas, then the bank's head of marketing, saw even then that the devices would allow people to access many banking services 24 hours a day, which would enable banks to slash workforce costs.
"I told people back then ATMs are going to take over,'' he said.
McDowell's machines caught a lot of attention.
"We probably had 50 banks come to visit us to see how it worked," Demas said.
With arrival of the internet, the next step in customer service evolution, online banking, became inevitable. In Sharon, that has led to the disappearance of brick-and-mortar financial branches. As of Friday, when PNC Bank closed its Sharon branch. McDowell was acquired by Integra Bank in 1988, followed by National City in 1995 and PNC in 2008.
Closure of PNC's Sharon office is the latest bank branch shut downs this year. Huntington Bank closed its Sharon branch in January and First National Bank of Pennsylvania shuttered its Farrell office in March. There are no longer any bank branches operating in Farrell, and First National Bank and Mercer County Community Federal Credit Union are the only financial institutions with offices in Sharon.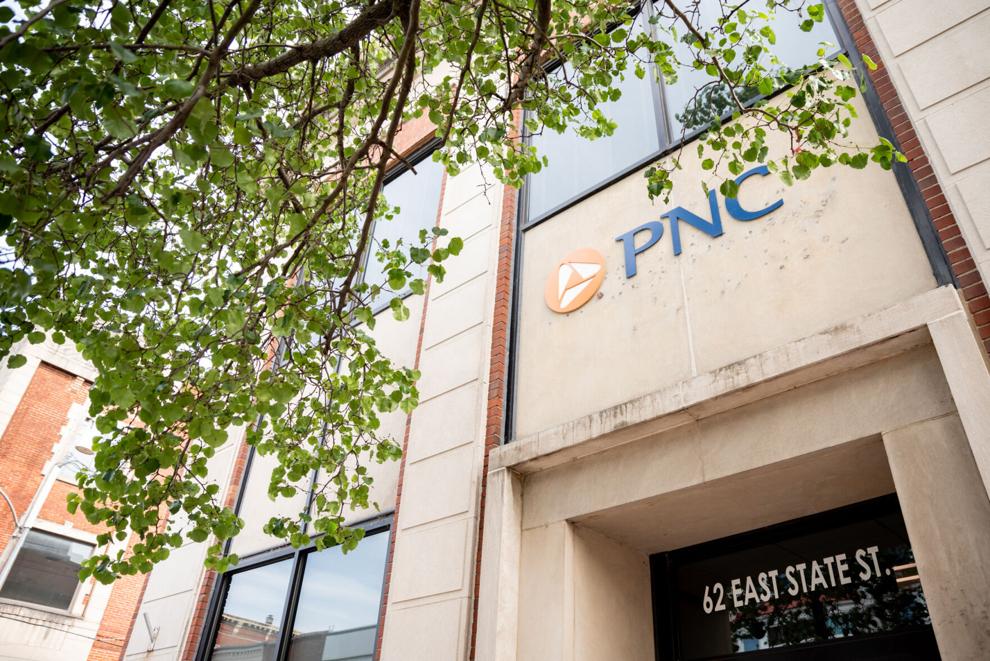 PNC's Sharon customers have been directed to PNC's Hermitage office on East State Street. In addition to the Hermitage branches, PNC said it has seven Shenango Valley ATM locations.
"There are more ways to bank with PNC than ever before and we have continued to see our customers taking advantage of the investments we have made in non-branch channels by altering the ways in which they are banking with us,'' said Marcey Zwiebel, PNC's director of corporate public relations. "Shifts in the way customers are conducting their banking transactions are important inputs that inform our branch consolidation decisions.''
The change is driven by technology changes, some of which can be traced through the history of McDowell Bank, which was founded May 1, 1868 – just three years after the Civil War — in Sharon. The bank moved in 1935 into the now-closed PNC Bank building. 
Up until the 70s it was common for people, particularly mill workers and railroad employees, to cash their paychecks at banks. With few industrial workers owning vehicles prior to World War II, banks almost had to be within walking distance of both homes and workplaces. After establishment of the Social Security system during the New Deal 1930s, banks needed platoons of employees to handle massive crowds inside their offices.
When ATMs arrived at McDowell, Demas said blue collar workers were the first to accept the technology. 
"Industrial workers were use to getting food at their mill from vending machines,'' Demas said. "If you think about it, ATM's are kind of like vending machines.''
Brookfield resident Jack Allen remembers well the late stages of a time when banking was almost exclusively an in-person business. Allen served on McDowell Bank's board for four years.
Allen, who turns 100 later this year, is likely the eldest living McDowell Bank board member. 
"We're going to miss that Sharon bank,'' he said.
Serving on McDowell Bank's board gained him business contacts. At the time he owned owned a Brookfield insurance agency.
"If you got on the board you got to know the movers and shakers in the valley,'' he said.
As the bank grew into other local towns, it forged strong relationships among its employees and customers.
"It was more of a family then,'' Allen said. "People felt close to the bank. Everybody knew everybody.''
At times, there were wide age ranges represented on McDowell Bank's board. When tapped to serve on the board, Sharon resident Jim Feeney — then future senior vice president of Wheatland Tube — was in his 30s, seated alongside men much further along in their careers than he was.
Feeney said McDowell National was "the'' local bank of that era, which made his first couple monthly bank board meetings intimidating experiences. 
"I was nervous as could be,'' he said. "I was sitting next to top executives of major local companies. I didn't say a word until my third meeting."
Retired husband and wife couple John and Elizabeth Fair worked separately at McDowell Bank's Sharon office. Elizabeth was eventually elected as Mercer County Prothonotary. But John stayed at the bank to head its commercial loan department.
Loaning money to businesses was far simpler when Fair began his banking career in the mid-60s.
"Back in those days a handshake was good enough,'' Fair said. "It was so simple then. Now technology has taken over.''
Bank approval for big business loans were made in Sharon, he added. With few local banks around any more, corporate offices in big cities make the calls on major loans. 
Elizabeth talked about how banks promoted their offices.
"We use to give away things like drinking glasses,'' she said. "People tried to collect the entire glass set.''
More than 30 years after McDowell bank disappeared, its legacy made waves, albeit small ones, among collectible enthusiasts. In a 2019 auction by Dallas, Texas-based Heritage Auctions, the winning bidder paid $108 for a 1929 McDowell-issued $20 bank note. 
The note was a holdover from the period of 1863 to 1935, when banks could issue their own bank notes after depositing bonds in the U.S. Treasury. Banks could issue their own legal, government-backed paper currency with a total value of up to 90% of the bonds' value.
While the auction price amounted to five times the note's face value, that didn't amount to a windfall. After adjusting for inflation, the bill's annual rate of return was well under under 1 percent.
Yet, banknotes can offer good memories.
Feeney's eyes sparkled when he saw a photo of the auctioned McDowell banknote, Feeney's eyes sparkled.
"Where did this come from? Its great,'' he said.