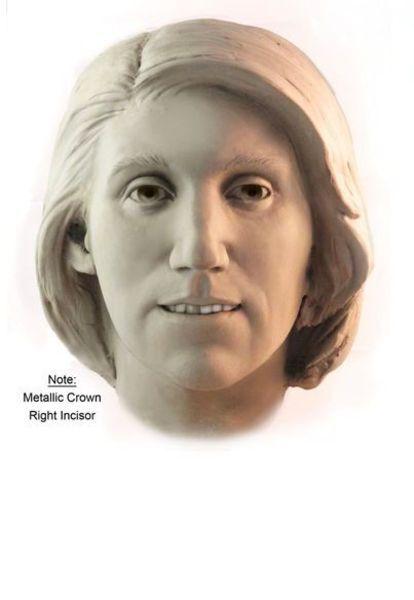 PASCAGOULA, MISS. — The body of a woman found 30 years ago in a Mississippi bayou has been identified as a former Sharon resident.
Kimberly Ann Funk, formerly of Sharon, went missing in 1990, and her body was discovered in 1991 in Ward Bayou, about 15 miles of the Mississippi Gulf of Mexico coast.
Detective Matthew Hoggatt, of the Jackson County Sheriff Department in Pascagoula, Miss., said his office is investigating Funk's death as a homicide.
"We are sure it was a homicide, but we're not releasing a cause of death," he said.
Thursday's announcement ends a 30-year mystery and identifies a long-ago victim.
On Feb. 1, 1991, forensic pathologists reported that the skeletal remains discovered in Ward Bayou belonged to a white woman in her late 20s with brown hair, but failed to establish an identity.
Later that year, investigators released images of a clay model of the woman's face, based on features of her skull, but they still were unable to discover the body's identity.
In 2019, the Mississippi state crime lab used funds from an anonymous donor to pay for enhanced DNA testing through the Othram Inc. laboratory, based in The Woodlands, Texas. Information from the tests were used to build a family tree.
The investigation bore fruit in March, when Othram's DNA tests indicated that the victim may have had a brother living in Sharon. Investigators spoke with the brother, who said his sister — Funk, who also used the name "Star" — had gone missing in 1990.
DNA testing on the brother, obtained with cooperation of Sharon police, confirmed that the body was that of Funk.
Hoggatt said Funk, who was born Feb. 7, 1969, had left Pennsylvania prior to 1989-90, when she lived in Houston. Sometime in 1990, Funk arrived in Biloxi, Miss.
Now that investigators have identified Funk as the victim, they are trying to fill in the blanks in the timeline of the final months of her life and, from there, discover the identity of her killer.
Hoggatt said he is looking for any information from anyone who knew about Funk's activities while she lived in Texas and Mississippi — and that could include people from Sharon.
"We don't discount any kind of information at this point," Hoggatt said. "There might be somebody up there that she stayed in touch with."
ANYONE WITH information on Funk can contact the Jackson County Sheriff's office at 228-769-3063 or Mississippi Crime Stoppers, https://www.dps.ms.gov/crime-stoppers.