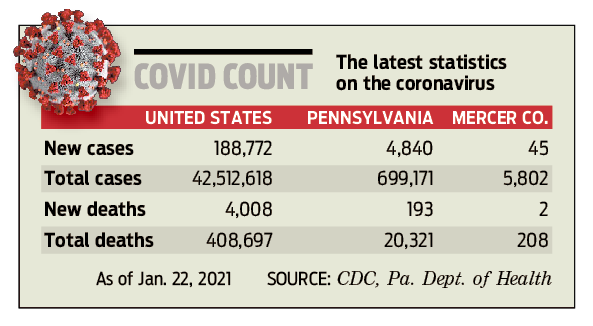 FARRELL – The city will use almost $200,000 in Community Development Block Grant funding to provide COVID-19 relief funds to small businesses.
Manager Ben Prescott said he hopes the grants will have a positive impact.
"So they remain in business as we work to 2021 and return to some normal functions within society," Prescott said. "We worry about businesses leaving the city. Because of COVID-19, there's no business for them."
Farrell has received $193,000 through the state CDBG program and city council members decided to use most of the funding for business aid in the form of $10,000 grants.
The city will also spend $40,000 to $50,000 for mass casualty immediate response facility — an inflatable structure with its own power supply that can hold up to six people at a time. It can be used in times of crisis such as the COVID-19 pandemic. 
Prescott said the application process involves filling out at least nine documents. Applicants will have to supply information on income, job creation and retention, and how the business would use the funds.
If a business has already received a similar grant from another entity — such as Mercer County, which distributed the bulk of its $9.8 million Coronavirus, Aid, Relief and Economic Security (CARES) Act funds to businesses and non-profit organizations — it may not be eligible for this grant, Prescott said.
For an application or information, business owners should contact Barbara Mosley, city clerk, at 724-983-2700.
There is no deadline, but application review is expected to take at least 30 days. 
The city's loan committee would grant preliminary approval and council would vote on applications.
Prescott said the CDBG funding will not directly remedy Farrell's budget difficulties, but could help keep businesses and jobs in the city, and keep the fiscal challenges from becoming more daunting. 
And Farrell's businesses are eagerly anticipating the help — Prescott said more than a dozen have already contacted the city to inquire about the program, and city officials, including Mayor Kimberly Doss, are in the process of contacting those businesses to alert them of the application process. 
"Mayor Doss and city council are excited that the funding has been released," Prescott said. "They're excited to help the businesses and citizens of Farrell as well."
State legislature to vote on limiting governor's power
The Republican-controlled Legislature on Friday took another step toward restricting future governors of some constitutional authority under emergency declarations and give lawmakers more control over the declarations.
The Senate Veterans Affairs and Emergency Preparedness Committee approved the proposed amendment to the state Constitution on a party-line basis, 7-4.
Passage by both the House and Senate before Feb. 18 can ensure that it gets on Pennsylvania's May 18 primary ballot when it can go to voters for a final decision in a statewide referendum.
The measure arises from Republican lawmakers' strident disagreement with how Gov. Tom Wolf, a Democrat, has handled the coronavirus pandemic in Pennsylvania.
It would end an emergency disaster declaration after 21 days, unless lawmakers approve an extension through a majority vote.
It also gives lawmakers, with a two-thirds majority vote, the ability to end a disaster declaration.
Wolf first issued an emergency order in early March for 90 days, and has since extended it every 90 days.
Republicans say the amendment will bring a balance of power, legislative input and accountability to disaster emergency declarations.
Democrats say it will deprive a governor of the ability to manage a disaster and potentially cost the state money by missing out on reimbursements from federal emergency relief aid.
If Pennsylvania were to end its emergency declaration, it would become the only state in the country to do so during the pandemic, said Sen. Carolyn Comitta, D-Chester.
National daily death toll tops 4,000 again
The U.S. Centers for Disease Control and Prevention reported a second consecutive day of more than 4,000 fatalities, with 4,008 reported Friday. Since the pandemic began, 408,697 Americans have died from COVID-19.
In Pennsylvania and Mercer County, however, the numbers are falling. The state Department of Health reported 4,840 new cases Friday, the fourth-lowest single-day number of 2021. Mercer County had 45 new cases, also one of the year's lowest single-day reports.
Hospital preparedness
Demand on hospitals continued to ease Friday, with 4,169 patients hospitalized, 822 in intensive care units and 507 using ventilators, according to the state Department of Health.
Hospitalizations fell 12.4%, from 4,758 Thursday.
Ventilator use, over the last 14 days, has averaged 595.8 a day, the first time since Dec. 13 that the rolling two-week average has dropped below 600.
Average daily hospitalizations, which fell below 5,000 per day Thursday for the first time since Dec. 10, continued to decline, to 4,869.5.
ICU bed availability held steady at 634.9 over the last two weeks Friday, even though occupancy dropped 3.4% since Thursday, largely because hospitals are closing ICU rooms due to decreasing demand.
City of Farrell businesses can request an application for a COVID-19 relief funds grant by contacting Barbara Mosley, city clerk, at 724-983-2700 or b.mosley@cityoffarrell.com