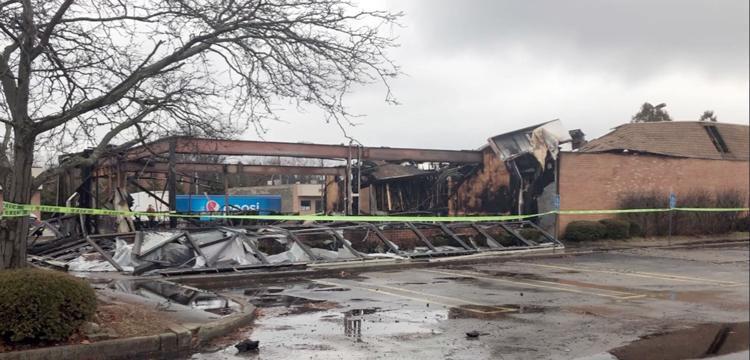 FARRELL – Testimony in Farrell District Court today revealed that the man accused of setting fire to a day care center in December was promised $50,000 to get the job done.
"This was all planned out ahead of time," Farrell Detective Capt. Chuck Rubano testified. 
Rubano testified that he spoke to the accused, Dustin Lovell Morrow, Wednesday morning, and he said on the night of the fire, Dec. 21, Anna Theresa Santana-Benavides gave him a key to the building at 841 Sharon New Castle Road, which her father owns, and a $5,000 down payment to burn it down.
Rubano also revealed during cross-examination by Defense Attorney Stanley T. Booker that he did not believe Santana-Benavides was driving the SUV captured on video driving around the building at the time of the fire.
"You don't believe my client was driving?" Booker asked Rubano in disbelief. "Well, who was driving?"
At that point, Assistant District Attorney Stephanie Lauderbaugh asked for a sidebar in order to keep that person's name a secret, since he or she has not been charged.
"I'm not going to ask you who was driving, but will that person be charged?" Booker asked Rubano, who said yes.
On Wednesday, charges of arson, causing a catastrophe, criminal trespass and reckless endangerment against Santana-Benavides, 27, of 1118 Negley St., Farrell, were held over to Mercer County Court of Common Pleas by District Magistrate Mary Ann Odem. Santana-Benavides' bond remains at $250,000, which she posted a day after her arrest.
Morrow, 31, of 506 Emerson Ave., Farrell, was charged with 48 counts including conspiracy to commit arson, causing a catastrophe, criminal trespass and reckless endangerment. Morrow is in Mercer County Jail after failing to post $250,000 bond. His charges were waived to Common Pleas Court two weeks ago. His next court date is April 3 in Mercer.
Rubano's testimony included more details than previously released surrounding the night of the fire.
Rubano testified that the whole event was caught on video provided by the Farrell Area School District, which is across the street from the destroyed building.
He testified that a Hyundai Santa Fe periodically driven by Santana-Benavides but owned by her father, Colon Santana, was seen constantly circling the building before, during and after the fire.
At one point, a man checks two doors to the building and is unable to get in. At the third door, he appears to be unlocking it and then enters the building.
The man, who Rubano believes to be Morrow, was inside for several minutes.
"Then the building explodes into a fireball," Rubano testified. "There's a massive explosion that just blew out the windows."
Rubano testified that the accelerant used to blow up the day care was gasoline, according to Morrow and verified by state police testing.
Morrow told Rubano that he used 10 gallons of gasoline to start the fire, which had been left for him in the Santa Fe.
After the explosion, the SUV appears about 40 seconds later, according to Rubano, and a person runs up and gets in.
Rubano testified that he began checking local hospitals, disbelieving that someone could walk away from setting the fire without serious injuries.
After some checking, Rubano found out that a man and woman arrived at a local hospital seeking treatment for severe burns on the man.
Video surveillance showed Santana-Benavides and Morrow to be that couple, Rubano testified.
Santana-Benavides' next court date is April 23 in Mercer County Court of Common Pleas.
Follow Melissa Klaric on Twitter and Facebook @HeraldKlaric, email: mklaric@sharonherald.com