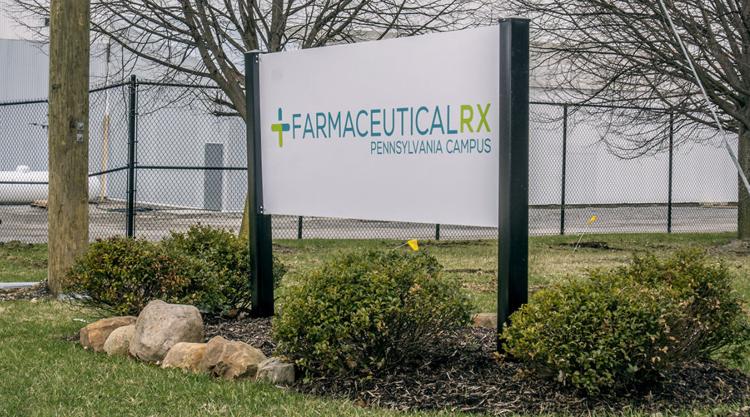 FARRELL — A city-based medical marijuana facility is ready to grow.
Rebecca Myers, FarmaceuticalRX's chief executive officer, said the company received its official certification last week after completing state building and security inspections. With that certification, the company can begin growing and processing medical marijuana in Farrell.
The state Department of Health awarded FRX a license in August to grow and process marijuana, but needed an official certification before it could begin the growing process. Since the company was licensed, it has poured roughly $3 million into renovating its Farrell campus — located in the old PPV Plate Processing building on 680 and 660 Martin Luther King Jr. Blvd. — into a state-of-the-art research and grow facility. The site originally was part of the Sharon Steel Corp. mill.
"Stringent security requirements have to be met, and we have satisfied them all," Myers said of the recent certification. "We have proved to the state that we can satisfy all requirements to start growing, and we have the infrastructure in place to do that."
While medical marijuana is legal in Pennsylvania, it is still, at least technically, against the law on the federal level. Because of that tenuous status, Myers said companies can't obtain conventional bank financing for development.
Instead, FRX relies on private investors to fund its operation, which require the company to achieve certain benchmarks in order to receive additional funding. Its recent certification served as one such benchmark.
"It's a complicated industry," Myers said of medical marijuana. "There are only certain banks that will bank in the industry, so we have to raise money where we can. It can be challenging not being able to follow the trodden paths."
Now that it is certified, Myers said FRX can pull the remaining funding to finish construction on its processing area, where the marijuana crop can be turned into oils, patches or other forms of consumption before it is sold to dispensaries throughout the state.
Myers said she expects the first round of plants to be ready in July for harvesting and processing. The company's next benchmark will come when the state certifies the processing center near that time.
In Pennsylvania, medical marijuana is allowed for treatment of certain conditions, including chronic pain, epilepsy and other seizure-related diseases, AIDS, and post-traumatic stress disorder. Pennsylvania is also the only state that allows medical marijuana for treatment of people dealing with opioid addiction.
Myers said the research portion of FRX will focus on the development of all cannabinoid therapies.
"That's what is exciting about us," she said. "One thing everyone agrees on is that we need more research, and we are all about that."
Myers said the main focus on cannabinoid research as been fixated on two components: Tetrahydrocannabinol, or THC, which is the main component responsible for creating the "high" associated with recreational cannabis use, as well as cannabidiol, or CBD, which has no psychoactive effect, and is more commonly found in dietary and natural supplements.
But Myers said there are more than 100 other components of the cannabis plant that FRX plans to research extensively. She mentioned cannabinol, or CBN, as just one of the plants lesser-known components.
"CBN has extremely high clinical effectiveness for sleep disorders, as well as antibacterial properties," she said. "We are really focusing on the whole category of therapeutics."
Myers added that FRX plans to team up with local universities and medical centers to to provide scientific and clinical research, respectively, and mentioned the possibility of inviting students from Penn State Shenango onto the company's Farrell campus for internships.
She also emphasized the company's plans to take money earned from medical marijuana production and reinvest it into the local economy.
That mission begins with the goal of creating roughly 100 jobs on the Farrell campus. FarmaceuticalRX held a job fair in November, at which hundreds of potential employees — from engineers to beauticians — interviewed for various positions.
"We came to the realization that if people know how to shape hair, they will definitely be able to trim marijuana buds," Myers said. "We also interviewed local engineers who will be able to work on the processing side, and we're really excited about that. We are going to do the vast majority of our hiring locally."
In addition to cultivating a processing medical marijuana, the Farrell campus will also serve as FRX's corporate headquarters. FRX will not have a dispensary at its Farrell location, meaning individuals will not be able to purchase medical marijuana for personal use on site. 
"But we can sell to every dispensary in the state," Myers said. "And we will be."