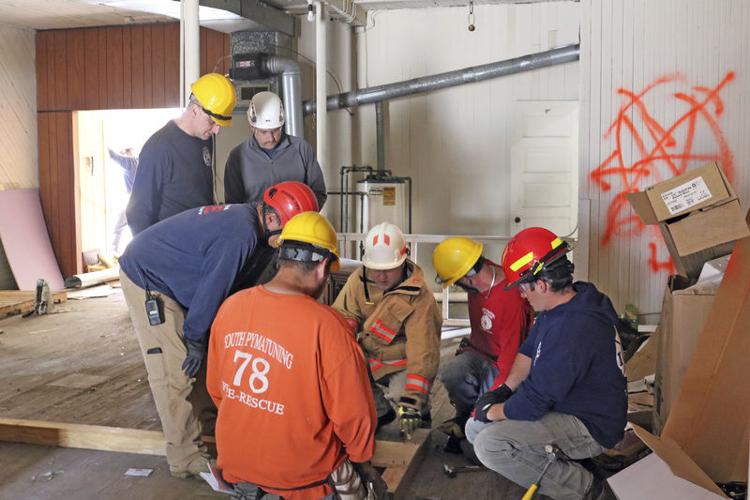 SHARON – A vacant building in downtown Sharon was abuzz with activity this weekend as firefighters put the building to one last use.
Sitting at the southwest corner of North Sharpsville Avenue and East Silver Street in Sharon, the grey, wooden walls of the DeBlase building were flagged with orange paint markings Saturday afternoon. While a portion of East Silver was closed to traffic, firefighters in various shirts including the Hermitage, Sharon and East End fire departments, cut, measured and carried pieces of lumber into the building.
Instead of extinguishing fires, the firefighters were receiving structural-collapse training. It included lessons on how to shore up a building, such as erecting supports in a doorway, window, or the center of a room, to allow first responders to securely retrieve someone who may be trapped inside a collapsed building, Hermitage fire Chief John Flynn said.
"We have a team inside the building who are measuring what they need, and then there are runners who come out and let these guys know what to cut," Flynn said.
More than 40 firefighters from at least eight departments participated in the training, which included a lecture portion Friday evening, and hands-on training Saturday and Sunday. Patrick Moore, with the Pennsylvania State Fire Academy, said rescuing someone from a collapsed building may not happen with the same frequency as other situations firefighters respond to, such as fires or vehicle accidents, but that only makes training for collapsed structures all the more important.
"Firefighters sometimes make mistakes, but we go to fires often and can prepare for them and train for them. On the other hand, we don't normally have to perform structure rescue, and that can be just as dangerous as fires," Moore said.
Even if it's not a building, Flynn said firefighters may have to perform a trench rescue, which could sometimes be similar to a structural collapse.
"Someone could be digging a trench for utilities or waterlines, but they don't shore up the walls and then the trench walls collapse on them," Flynn said.
The structural collapse training was offered at no cost to the firefighters, courtesy of the Chelsea Rowe Rescue Fund, according to a press release.
A Hermitage resident, 27-year-old Chelsea Rowe was driving on state Route 18 in South Pymatuning Township when her car was hit by a semi truck on Sept. 10, 2016, resulting in her death. Before the accident, Rowe was forming fundraising ideas for local fire departments to help them with training or equipment, so six friends of Rowe decided to organize an effort that would honor their late friend while fulfilling her passion for fundraising.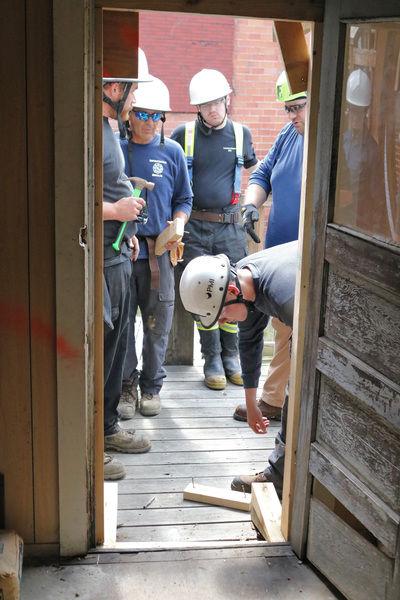 So far, the Chelsea Rowe Rescue Fund has raised $30,000 toward firefighter training, the release states. The rescue fund had previously sponsored training for freeing victims from vehicular accidents in 2017, which benefited local fire departments.
The use of the DeBlase building or the training was also a donation, this time by local businessman Jim Landino, who reportedly plans to demolish the building. Though the building was in a state of disrepair, Moore described the building's condition as awesome for the firefighters. One of the major hurdles for organizing this kind of training even finding a suitable building, he said.
"We've got three floors to work with, there's space for our guys to move around, the building itself isn't in too bad a shape, and there's plenty of entryways for us to get inside," Moore said. "Normally when we do this kind of training, we tend to use buildings that've been burned up, because a house might be abandoned but it's too dangerous for us to have guys inside of, or the building isn't quite that bad, so the property owner wants to keep it and refurbish it."
Though structural collapses may not be as regular an occurrence as fires, Flynn said an apartment collapse two years ago helped illustrate why the training was important for firefighters. On July 10, 2017, an apartment complex in Washington collapsed, trapping a mother inside for about nine hours.
Chief Bill Finley with the Mercer East End Volunteer Fire Department, and a member of the Pennsylvania Urban Search and Rescue Strike Team 1, was one of the first responders called to the collapse.
"She was originally on the third floor, and the third floor collapsed into the second floor, then the second floor collapsed into the first floor, and she ended up in the basement," Finley said. "What we ended up having to do was starting in the basement of a building next door, cutting through the wall and eventually shoring up a tunnel for us to crawl over to her."
As part of the training, the firefighters learned techniques including the different kinds of supports to be used for shoring up ceilings, walls, doorways and windows, with the supports being designed by the U.S. Army Corps of Engineers, Moore said. Though the supports are made of lumber and nails, other tools of the trade are becoming more advanced, including a 360-degree camera that first responders can use.
Instead of a single camera on a pole, the new camera uses two fisheye lenses to provide a full view of a space for first responders to not only search small areas, but the video feed can be viewed and controlled using an app on a tablet. The camera also receives updates, which can improve factors such as video quality, Moore said.
"This way we can stick a camera into the empty space or the void in the debris, and we can say, "Hey doctor, take a look at this" or have an engineer take a look, without needing these people to actually crawl into the structure," Moore said. "And I can see this footage on the tablet, or someone at the command center can get the app on their phone or tablet and see the footage too."
Aside from the training sponsored by the Chelsea Rowe Rescue Fund and the donated building by Landino, the business across the street from the DeBlase building — Our Gang's Lounge — offered to provide food for the firefighters Sunday, Flynn said.
"We get a lot of support from the community, which is huge, because we couldn't do a lot of what we do without that support," he said.
Like David L. Dye on Facebook or email him at ddye@sharonherald.com.