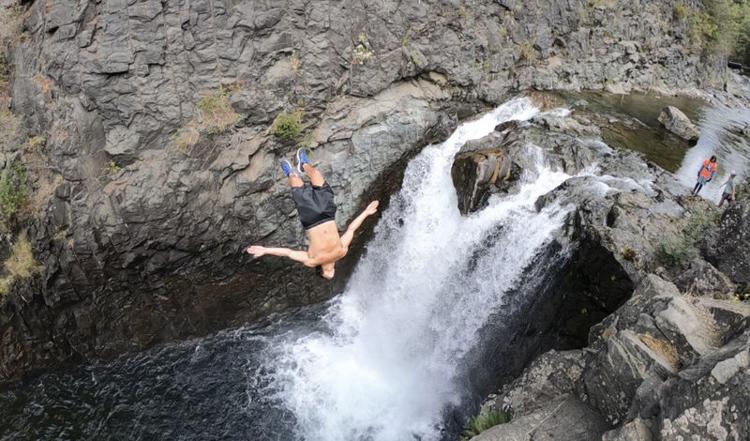 HERMITAGE – Gio Masters lives his life close to the edge. But he doesn't need a push. He'll throw himself off on his own and do a backflip on the way down.
His father, Mark, said his son is just as likely to jump off of a library than he is to crack a book inside of one. He knows, because it happened once at the Community Library of Shenango Valley in Sharon.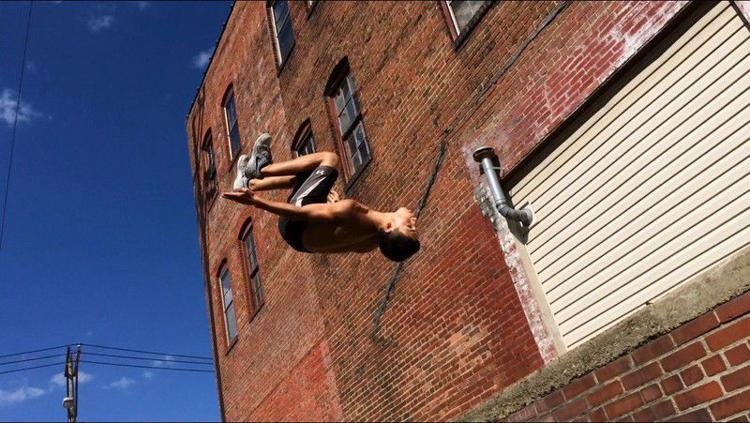 Mark even recalls a time he rented an inflatable bounce house for then-9-year-old Gio and some of his friends to use on a day off from school. He couldn't help but laugh when Gio and his friends flipped it over and started jumping onto it from the roof of the house.
The other parents were not as amused.
"I thought, 'man, they're never going to let their kids come back,'" Mark joked.
But these antics aren't as reckless as they sound – at least not for Gio. Whether he's tumbling from a platform at a diving meet, a cliff in the Washington state wilderness, or hurtling down a slope at 40 miles per hour and twirling through the air strapped to a pair of skis, the Hickory High School senior is going to stick the landing.
And if he stays the course, Gio's high-octane lifestyle could land him a spot on a U.S. Olympic team by 2026.
Gio started in gymnastics when he was 4 years old. It was there he learned to contort and control his body properly, which proved a perfect athletic foundation as his interest in extreme sports evolved.
From there, Gio began dabbling in BMX biking and the occasional parkour – a sport that consists of moving quickly through an urban environment while navigating obstacles by running, jumping and climbing.
"That kind of came naturally," Gio said of his introduction to parkour. "It was just something I started doing after (gymnastics) practice."
Gio began diving competitively when he was 10. He recalls having some free time at the end of one of his first practices in which he and the other students were allowed to experiment with some of the boards at the pool. Gio didn't waste his time with the one- and three-meter boards like most of the other kids. Instead, he went straight for the 10-meter board and never looked back.
"Every day I came back I'd try to do something new," he said.
Gio's love affair with diving escalated quickly. He soon began to see a future for himself in the sport, far more so than parkour and BMX.
"It just seemed more real to me," he said. "So I started chasing it."
Mark took on duties as Hickory's diving coach when Gio entered high school, but that was mainly just to fill the position required for the high school to field a team. Mark credits Westminster College diving coach Heath Calhoun and Youngstown State University coach Nick Gavola for Gio's success in diving.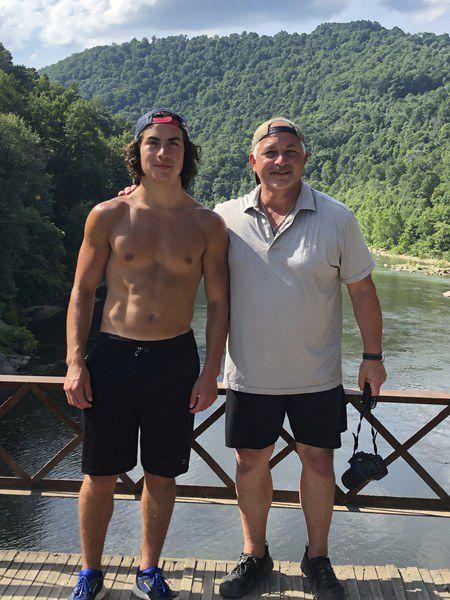 "I always said, 'whatever you do, you're going to have the best coaches,'" Mark said.
Under the tutelage of Calhoun and Gavolas, Gio won three straight Iroquois Invitational meets, three District 10 titles and made three all-state teams while acquiring a respectable collection of medals from various other events. He has taken third and fifth in state title meets, but this year, gold is the only color that matters.
"That's my focus right now," he said.
•
Despite the countless hours spent in the pool, Gio never lost his love for BMX. He spent a bulk of his free time at Wedgewood Ramps Skatepark in Austintown, Ohio, as well as Ray's Indoor Mountain Bike Park and Chenga World park in Clevelend.
But his favorite was The Kitchen Skate Park in South Bend, Ind. The Kitchen was built and owned by Brett "Mad Dog" Banasiewicz, a South Bend native and championship-winning BMX biker until he was seriously injured during a competition in 2012.
"He used to be one of the best in the world," Gio said. "His jumps were all bigger (than other parks)."
Gio loved the park, but Mark had a slightly different take. "It was one of the most dangerous things I've ever seen," he said.
A double backflip performed by Gio – who was then wrapping up his freshman year of high school – caught the eye of a man named Mark Osborne who happened to be at The Kitchen that day. Osborne was an old freestyle skier – a type of skiing on a course that includes aerials and moguls where competitors perform flips and spins while jumping or skiing down a mogul-covered trail. Osborne helped pioneer the aerial aspect of the sport, which involves tearing down a slope at 40 mph, hitting a roughly four-meter ramp, twirling through the air at about 60 feet and landing safely, or at least as safely as possible.
Osborne liked what he saw in Gio's skill set, and thought If he could do it on a bike, why not try it with some skis?
Things moved quickly after Gio was introduced to the freestyle skiing scene. Osborne told Gio about a development program at the Olympic Training Center in Lake Placid, N.Y. After a tryout in Lake Placid, Gio entered a few freestyle competitions and earned a third-place finish in a junior national event.
By the summer of his sophomore year, Gio was a member of the U.S. development team and firmly cemented in the freestyle skiing scene. He spent three weeks on, one week off, training from May to November in Lake Placid – all while maintaining his diving and BMX skills, and attending school online.
"The training never stopped for anything he was doing," Mark said.
The Olympic development training consisted of trampoline work in the morning, then two two-hour jumping sessions in the afternoon. Tricks learned on the trampolines were transitioned to the jumping sessions, which emulated a course found at a regular competition. But instead of landing on slope as they would in an event, jumpers plunge into a swimming pool to help preserve their bodies and reduce the risk of injury.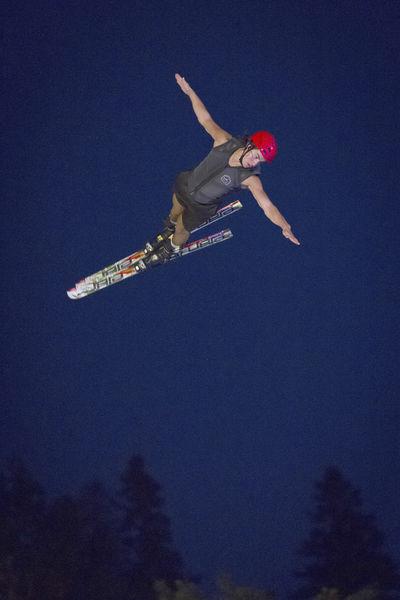 "You have to limit your jumps," Gio said, adding that most freestyle skiers hit their competitive peak at about 26 or 27 years old. "You only have so much in you in your life as a freestyle aerialist."
Gio's goal to make it onto the U.S. Olympic team hit a roadblock in September when he learned that the U.S. development program was losing its funding. And even though the financial burden of training for the team now rests heavily on Mark's shoulders, Gio's brief experience with the program gave him the knowledge and experience he needs to cultivate his own path.
"I know what I have to do," Gio said.
•
But another passion bloomed as Gio trained with the development team.
Gio and Mark made regular trips to and from training sessions in Lake Placid, and as they did, they were also keeping their eyes peeled for cliffs, bridges or any elevated surface Gio could dive from.
Mark took video of Gio's dives, which were all posted online. Before long, word of Gio's conquests were circulated throughout the cliff diving community and eventually his videos landed in front of a group of experienced divers who travel the country in search of the best diving spots.
Gio was at a freestyle event in Canada over the summer while the diving group was on a trip to Washington – an adventure in which Gio desperately wanted to participate. Gio was on a plane home immediately after the competition and caught a flight to Washington the next day. There was no cell reception where his friends were diving, so Gio took an educated guess at a spot they might be.
"Eventually they showed up," Gio said.
Gio might have been the youngest and most inexperienced cliff diver of the group, but he was also one of the most fearless. While the other divers timed out their jumps by throwing rocks over the edge and counting the seconds it took for the stones to hit the water, Gio just took a look at the jump from a couple different angles and sent himself over the edge.
"You can't let anything inside your head," Gio said. "(You) can't let doubt creep in."
The exact location of the cliff is kept a secret, reserved only for serious divers. One member of the community was even blackballed for creating an app that pinpointed all the best spots throughout the country.
"We don't really expose the spots we jump at," Gio said. "People go out and trash them and then they get shut down."
Plus, the jumps are illegal in some areas, and could result in hefty fines for those caught by police or park rangers.
Gio's highest jump in Washington was about 100 feet, but his highest dive to date was a 125-foot leap – nearly 12 stories – off a highway bridge in West Virginia.
Respect for the sport is paramount, Gio said, and he therefore always has a spotter in the water in case something goes wrong.
"But you can't really think about the danger," Gio said. "I know what I'm doing."
•
Gio has plenty to look forward to next month, as the PIAA diving championship, Freestyle National Championship and Freestyle NorAm competition all take place in March.
A state championship would complete his unfinished business at home, but wins at each of the freestyle events would earn him a spot on the U.S. Freestyle Ski Team and a free ticket to the University of Utah. There, he would have access to the best coaches, facilities and a chance to travel the world for competitions. Plus, Gio will likely finish school by 2024, putting him in a solid position to make a run at the 2026 Olympics in Italy.
Utah is the dream, but Gio says he'll be happy as long as he can keep skiing and biking. And with plenty of time budgeted to travel to some new cliff diving spots, Gio also has his eyes set on breaking that personal-best record of 125 feet.
"I don't think I know the limit yet," Gio said. "But I think I can go a lot higher."