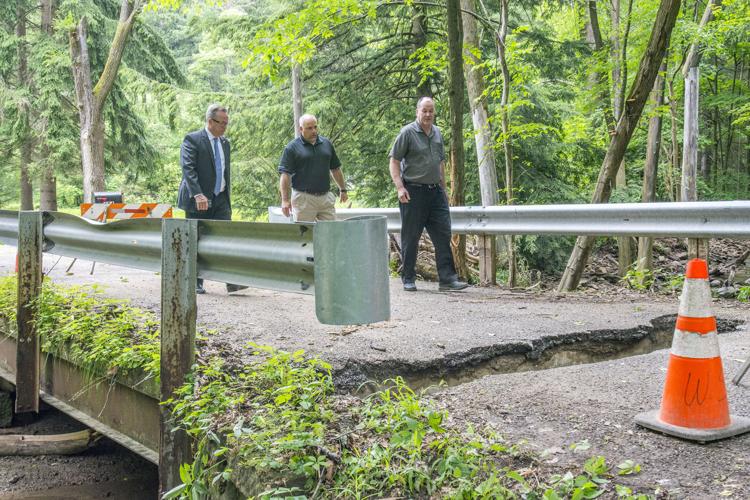 GREENVILLE — Five days after a flood ravaged the borough, residents again braced for the worst Monday afternoon when thunderstorms delivered a downpour.
This time, though, Greenville was spared. Monday's storm pounded the borough for about 20 minutes but slackened off, which gave rising waters on Main Street and Route 18 a chance to dissipate.
Shenango Valley residents felt the effects of Monday's storm — more than 7,000 Penn Power customers were left without power in what a utility official said was likely due to rain and lightning.
The first outage hit at 7:26 p.m. and affected 7,700 customers near Hermitage and Sharon. Power was restored at 7:31 p.m., said Penn Power spokesman Chris Eck.
The second outage hit 6,100 customers in the Shenango Valley with a heavy concentration in West Middlesex and Wheatland. Power was restored to those customers at 8:10 p.m. Eck said. By 9 p.m., crews had restored service to almost all of the region's customers.
But as Monday came, places like West Salem Township were still reeling from last Wednesday's floods. Township Supervisor Ken Sherbondy said two township-owned bridges on South Barry Road were destroyed in the flood and have to be replaced.
Both spans will be closed indefinitely, said Sherbondy, chairman of the township supervisors board.
As with Greenville, which sustained damage on a dozen or so streets and alleys from the flood, West Salem Township isn't likely to get much, if any, help from either the state or federal government to replace the destroyed bridges, Sherbondy said.
To receive disaster aid from the Federal Emergency Management Agency (FEMA) an municipality or county must be declared a disaster, and that hasn't happened. Unless a region sustains $19 million or more in damages, a disaster declaration is unlikely. 
Greenville borough Manager Jason Urey and Sherbondy both said the local damage, devastating as it is, probably will not reach that threshold.
Mercer County Commissioner Tim McGonigle agreed that the flood damage puts Greenville and West Salem in a sour spot — too expensive for either municipality to fix on their own, not expensive enough to qualify for state or federal assistance.
McGonigle said the county could declare a disaster with as little as $441,000 in damages, along with other criteria, and the county hasn't reached those requirements.
And Mercer County isn't in position to offer much help itself. With the county looking at a massive maintenance effort for the 247 bridges it already owns, paying for the township's two bridges is impossible.
"Right now we're in an infrastructure crisis,'' McGonigle said. "Over the next 10 years, we have $30 million worth of bridges that need fixed.''
McGonigle said the county would work to see if funds for flooding repairs can be found elsewhere.
Still, the commissioner said he was aware that the communities and residents are suffering in the wake of last week's floods.
"I've been through the damaged areas and it's painful to look at,'' McGonigle said.