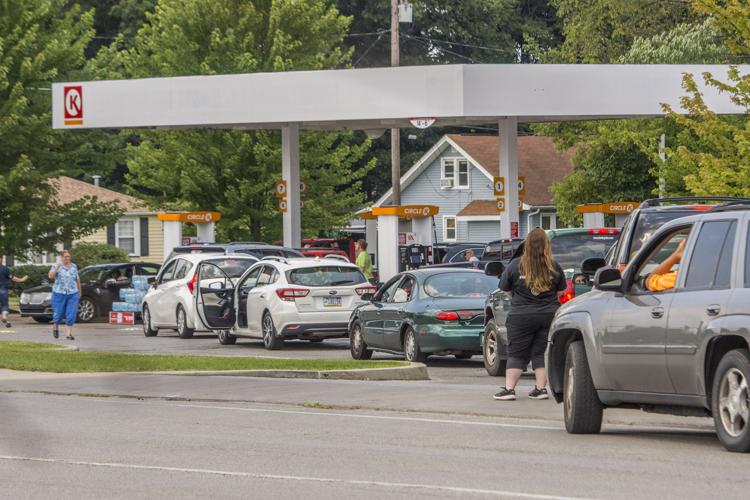 HERMITAGE – Drivers were pumped up to wait in line for $1.99-a-gallon gasoline at a Hermitage station Monday afternoon.
During the two-hour sale, customers drove into the Circle K at Highland Road and North Buhl Farm Drive with vehicles of all sizes and models, from two-seater sports cars to massive pickups. Justin Carson of Hermitage was among the latter.
Carson rolled in with a 2016 Dodge Ram 1500, 4-wheel drive pickup with a 5.7-liter engine. He figures he gets around 13 miles to the gallon in town.
"My fuel warning light is on, Carson said. "I'm going to fill this sucker up to the brim.''
Carson lives only a few blocks away from the Circle K and said he's a regular at the station.
"I usually use this station or Sheetz,'' Carson said. "They're both along my way to or from work.''
From 1 to 3 p.m. Monday, the station sold gasoline for $1.99 a gallon — about $1 off the regular price — with a limit of 10 gallons per visit.
The line of vehicles waiting to take advantage of the discount spilled out of the parking lot onto the roads. Most of the customers were in line about 20 minutes before reaching the pumps.
With a relatively short wait in line, Carson took advantage of the situation by driving back home for his Honda CRV. And for good measure, he fueled up a pair of 5-gallon gas containers. Carson said he bought around 45 gallons in multiple trips to the gas station.
The only potential snag took place when a car pulled up on the wrong side of a pump for their gas tank fuel door and blocked another motorist out of their turn. Otherwise, the discount day was friendly with many drivers talking to each other as they pumped gas.
Employees of the station referred comment to Circle K's corporate office. A spokesman at the company's Ohio regional office said he wasn't permitted to comment.
Customers said they learned about the deal through social media, texting and phone calls from others.
"All of my friends were talking about this on Facebook,'' said Michlyn Wilder, a Sharon resident who drove in with a Buick Enclave.
Wilder, who works at Sharon Regional Medical Center and drives a 2018 Jeep Sahara, said she learned about the sale by word-of-mouth.
"A patient told us,'' she said.
Lori Ann Gilger of Hermitage said she got the scoop from her husband.
"He told me I better get here and fill up with gas,'' Gilger said.
James Cromartie regarded his vehicle, a 2008 Lexus, with pride as he filled it with cheap gas.
"She has a few miles on her, but she's all original,'' he said. "She still runs like a champ.''
Cromartie said he learned of the two-hour sale by text from a friend.
Henry Jackson of Hermitage pumped gas into a 4-wheel drive, GMC Sierra 1500 and credited family for the tip.
"My brother called me about this,'' Jackson said. "You can't beat the price.''