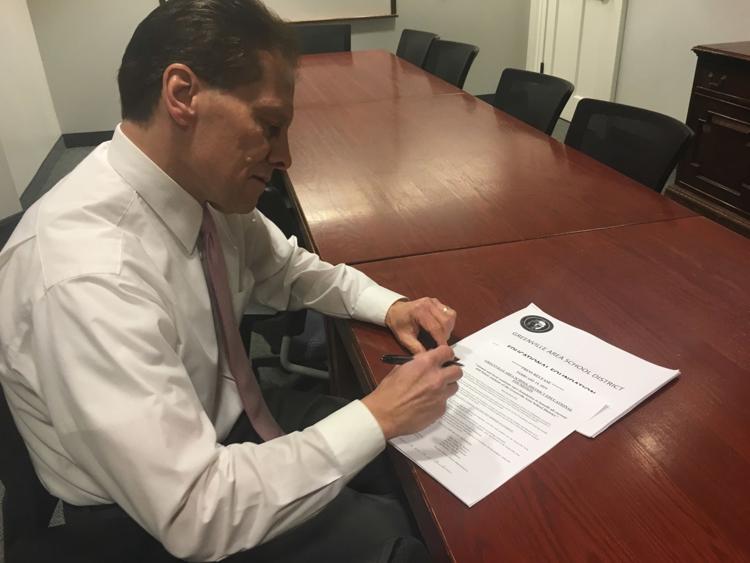 GREENVILLE — A group of alumni and friends is joining forces to help the Greenville Area School District keep costs down and quality up for students in the community's schools.
Making ends meet is on every district's mind, Greenville resident Mario Marini said.
"It's something across the state where schools are having to do more with less. But cutting things like equipment or supplies can only get you so far," Marini said.
He and a group of like-minded alumni and friends wanted to do something about that. So in May 2018, they created the Greenville Area School District Educational Foundation. The foundation's representatives made their first public pitch Tuesday evening at the Greenville school board meeting.
Organized as an independent, non-profit organization, the foundation's board includesf 10 members, as well as three representatives from the Greenville Area School District. Marini, a 1980 graduate of Greenville schools, is serving as the board's president and said the foundation looks to provide funding for opportunities at Greenville schools without resorting to increasing taxes.
"We've been in a kind of quiet phase as we went through the process of establishing our nonprofit status and making sure we had everything in order, but we've already had a few people who said they were interested in contributing," Marini said.
Although there are a few similar organizations at school districts in Mercer County, the majority of these foundations tend to be located in the eastern portion of Pennsylvania. Several years ago there were only about 30 or 40 such foundations, although that number has grown to about 85 to 90 in the commonwealth, Marini said.
One of the first projects that the foundation would like to pursue is a new set of playground equipment for the students at Greenville Elementary School. The building was formerly the Hempfield Elementary School until it was expanded to accommodate the closing of East Elementary School last year.
"The big thing is the current playground equipment isn't handicapped accessible, so this is something that we would want to make sure all of the kids there can enjoy," Marini said.
Other projects the educational foundation can look at organizing in the future could including providing funding for teacher training, scholarships for a student's first year at post-high school education, an academic and athletic hall of fame or equipment to be used in the classroom, Marini said.
"For example, let's say a teacher needed iPads for a classroom. We could raise the funds to buy those iPads," he said. "We wouldn't follow every particular thing the class would be using those iPads for after we delivered them — that would fall to the school district."
To generate those funds, the educational foundation is looking to make contact with as many Greenville alumni as possible, while organizing events such as galas, annual givings, tours or helping to facilitate endowments to the school district, Marini said.
"What I hope people take away is that this is about providing opportunities to not just the current students, but also our future students," he said. "We want the students at Greenville schools to have a strong foundation to prepare them for when they leave school.
The bylaws of the educational foundation have already been approved by the Greenville school board members, and Superintendent Brian Tokar said the school district is "very excited" to partner with the foundation.
"The efforts of the foundation's board members and our dedicated alumni offer tremendous potential to positively impact the educational experiences of our current and future students," Tokar said.
More information can be found on the foundation's website at www.greenville.k12.pa.us/foundation.
Like David L. Dye on Facebook or email him at ddye@sharonherald.com.