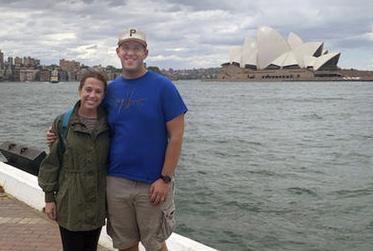 HERMITAGE — By Tuesday afternoon, Jan Urey was in full "Mama Bear" mode, rushing to the far end of the world.
"It's my ultimate nightmare," she said, as she rushed to Pittsburgh International Airport for a flight that would take her to Houston, then Sydney and from there to Christchurch, New Zealand, to be with her son, Matt, who was severely injured Monday in the volcanic eruption on White Island, New Zealand.
The Associated Press reported that Matt Urey sustained burns on 80 percent of his body and Jan Urey said Lauren had burns on about 25 percent of her body. As of Tuesday morning locally — which would be early morning Wednesday in New Zealand — Matt and Lauren Urey had both undergone surgical procedures.
Jan Urey, a registered nurse who works at a doctor's office in Greenville, said Matt would likely need skin grafts.
Hermitage native Matt Urey was on a honeymoon cruise with his wife, Lauren, on what Jan Urey called a longtime desire of her son's. The couple lives in Richmond, Va., and Lauren grew up in Williamsburg, Va.
"He wanted, since he was a child, to go to Australia and New Zealand," she said.
The Ureys — Matt, 36, and Lauren, 32 — were married on Oct. 18 and were nearing the end of their honeymoon when the disaster struck. They were scheduled to return home Dec. 16, Jan Urey said.
On Monday, they were on a cruise around the New Zealand islands when they had an excursion onto White Island. Jan Urey said her son and daughter-in-law were fortunate to have been near the shore when the eruption began and were able to take shelter in some rocks before retreating to the cruise ship.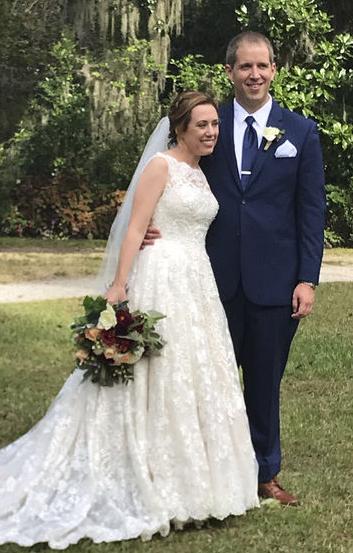 Jan Urey said her son, a 2002 Hickory High School graduate, was focused on technology while he was in school.
"He was kind of a nerd," she said. "He was a computer nerd."
He attended college at Rochester Institute of Technology in New York state and works as a mechanical engineer for DuPont chemical company. Lauren is a hospital lab technician.
Jan Urey said her son likes to run, and the couple enjoys watching movies.
She plans to meet her other son — Tim, a police detective in Manassas, Va. — in Houston for their flight across the Pacific Ocean to meet Matthew.
As of Tuesday in New Zealand, dozens of people were missing and rescue crews were still unable to search on the island.
In a cruel twist, the newlyweds are undergoing painful burn treatments hundreds of miles apart. Matt is in a hospital burn unit on Christchurch, on New Zealand's South Island. Lauren is recovering in a hospital in Auckland, New Zealand's largest city, on the North Island more than 600 miles away from her husband.
Jan Urey said she talked with Matt by phone Tuesday morning and was still emotional that afternoon.
"His burns are a little worse than we had hoped," she said. "We're going to hope for the best."
She thanked friends, relatives, coworkers and even strangers from throughout the Shenango Valley who reached out to offer support.
As badly as her son was injured, Jan Urey said things cold have been worse.
"With God's good graces," she said of her son's surviving the eruption. "Ten minutes would have made a difference."
Follow Eric Poole on Facebook and Twitter @HeraldEricPoole. Email him at epoole@sharonherald.com
THE ASSOCIATED PRESS contributed to this story.