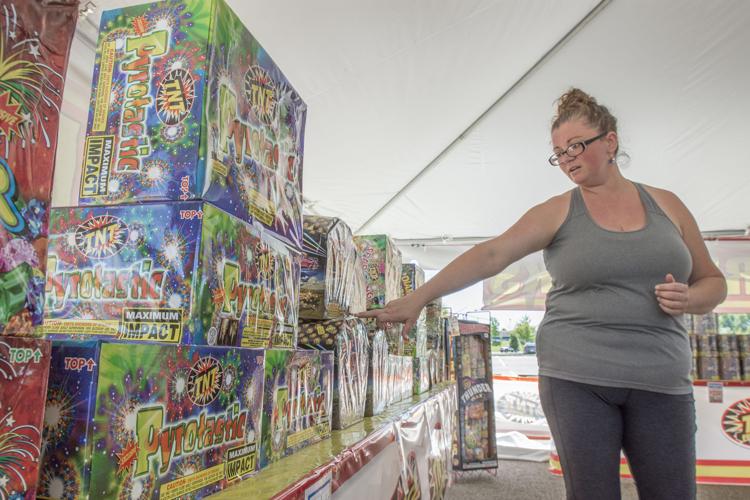 HERMITAGE – A court ruling on the Pennsylvania fireworks law is a hot topic this year.
Temporary structures, usually businesses housed under tents, are now prohibited from selling fireworks. It proved to be a real blow for these small businesses, such as the Perlik family's tent in the Hermitage Walmart parking lot.
"Last year we bought five pallets of fireworks,'' said Bobbi Jo Perlik, matriarch of the family operation. "This year we bought two pallets.''
A new state law legalized fireworks sales in Pennsylvania two years ago. Those with temporary businesses, along with those housed in permanent buildings, were allowed to sell fireworks. These fireworks are mainly aerials such as roman candles and bottle rockets, but also included firecrackers, Perlik said.
On Dec. 4, Commonwealth Court issued an order that changed the state's fireworks law. It wasn't a matter of restricting fireworks from the public. Rather, it was who could sell the aerials and firecrackers. 
Those selling fireworks in temporary structures annually must seek a state license to sell their products. The court ruling prohibited the state from licensing such businesses to sell fireworks, according to the state Department of Agriculture, which oversees fireworks licensing. 
Perlik said she often has to explain to customers why they don't carry the same merchandise that they had last year.
"They come in expecting we'll have it again,'' she said. 
Lee Gramsky of Transfer was at Perlik's tent Monday afternoon checking on products. He knew about the new law – and wasn't happy about it.
"It's probably a case where one bad person ruined it for the rest of us,'' Gramsky said.
Still, the Perliks sell other popular items that are Fourth of July crowd pleasers. Known as novelty items, they include such products as sparklers and fountains.
"These are the classics that never go out of style,'' Perlik said. 
She tends to steer families with children to buy sparklers with wooden sticks.
"The ones made of metal are still really hot after they go out,'' Perlik said. "If you lay the metal ones on the ground and someone doesn't see it, they could step on it and get burned. The ones with sticks aren't hot when they go out.''
And there are some snazzy fountains that can shoot bedazzling displays, she said.   
When it comes to purchases, there are differences between men and women, Perlik said.
"Women go more for sparklers,'' she said. "Men want the big boom.''