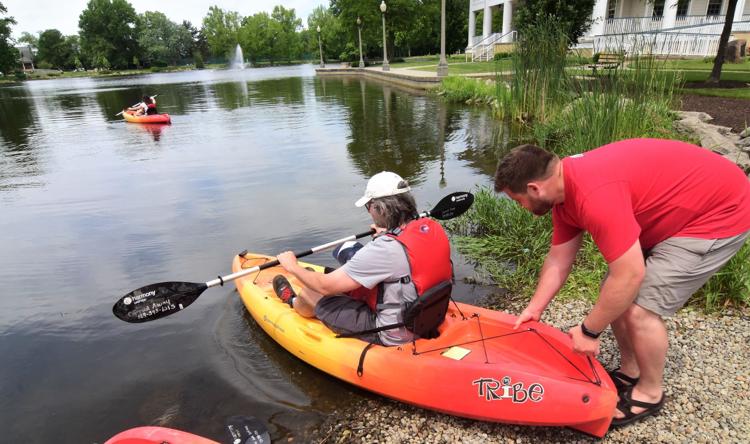 HERMITAGE — The occasional kayak isn't an unusual sight at Lake Julia during the summer, but about half a dozen kayaks could be seen floating gently along the lake Saturday afternoon in Buhl Park.
Most carried a parent and an excited child, as was the case for the Toth family, with Julie and her husband Aaron, who each paddled for their sons James, 4, and Jake, 2, of Boardman, Ohio. When the time came, the parents carefully helped their kids out while Case Shilling helped pull the kayaks back to shore.
Once a kayak came in and the rider was back on land, another eager group was ready for their turn, which Shilling, co-owner of Carried Away Outfitters, said had been "non-stop" since he began at 10:30 a.m. Saturday – a half-hour earlier than expected – until the rides ended at 1 p.m. However, for people who may be interested in boating but do not have the knowledge or time involved in getting started, Saturday was a good opportunity for families to give kayaking a try with "ride-on-top" kayaks, Shilling said.
"It gives people a chance to see how easy it can be, and it's a great way to work your upper body while getting outside," Shilling said.
The free kayak demonstrations were just one of many activities that were available for visitors to try at Buhl Park for National Get Outdoors Day. Offering a range of activities from kayak rides to a walk-through of Sandy's Place Prairie to live music, visitors were encouraged to try something new while having some healthy, active fun outdoors.
By Saturday afternoon, more than a hundred people "at least" had arrived at Buhl Park to enjoy the day, Buhl Park Director of Environmental Education Katie Nowland said.
"There seem to be a lot of families that came out today, which is great," Nowland said.
In the case of the Toths, Julie said the family had recently moved to the area after living in New York for several years. Though they were familiar with the area through visits to nearby Kraynak's, Julie said the family decided to attend Get Outdoors Day after looking into what parks were in the area and discovered Buhl Park.
"We had no idea that all this was here, and it seemed like a great way for all of us to spend some time together," Julie said.
Across from the casino on the other side of Lake Julia, the occasional boat could be seen speeding across the surface of the water. But unlike the slow pace of the kayaks, these boats were much smaller, including a miniature version of an air boat.
On land, members of the group Big Dog RC from Stoneboro watched as children took turns driving small remote control cars called "crawlers" over a set of ramps and obstacles. That way, children had a chance to try out the hobby while possibly catching the "bug," as Big Dog RC member Tim Taylor called it.
"If you're going to get into it young, then you definitely want to have some support to help you, like how I started. I was introduced to it as a kid through my dad," Taylor said.
Even though the hobby does take some getting used to, both in terms of cost as well as practicing, Taylor said it was important to have a relaxed atmosphere both for kids new to the hobby to practice, but to also encourage family participation.
"We're giving out gift certificates for anyone who can do the whole course in one try without their crawler falling off or backing up, but I've only had one kid do it so far," Taylor said.
One of those children trying their hand at RC cars for the first time was Destiny Banish, 10, who received some brief instruction from Taylor before taking the wheel. Destiny was accompanied by her mother, Leann Shaffer, of Sharon, as well as Shaffer's son Xaine Hasan, 3, and her fiance Moe Hasan.
Hearing about Get Outdoors Day from a relative, Shaffer said the family decided to stop by and see some of the activities due to their familiarity with Buhl Park.
"We try to come by at least once a week with the kids," Shaffer said. "This definitely seems like something we'll come to next year."
Other activities at Get Outdoors Day were a little more relaxed, such as a quiet portion of Lake Julia near the fitness trail, where kids were invited by the Northwestern Pennsylvania Sportsmen for Conservation to try their hand at fishing.
Heather Long, of Sharpsville, took a moment to rest on a bench while watching over her children Owen Long, 11, Emily Long, 9, and Jaci Long, 6, who lingered near the water's edge. Like the Toth and Shaffer families, Heather said this year was her first time attending Get Outdoors Day after seeing the event promoted on social media.
"We live pretty close to the park, so we usually come over a couple times a week, and this seemed like it had a lot of things for the kids to do," Heather said.
Though Owen said he has gone fishing for bluegill in the past in Indiana, Lake Julia was a new experience for him — but one that he would likely try again in the future.
"I'm not really sure what fish are here," Owen said.
Like David L. Dye on Facebook or email him at ddye@sharonherald.com.