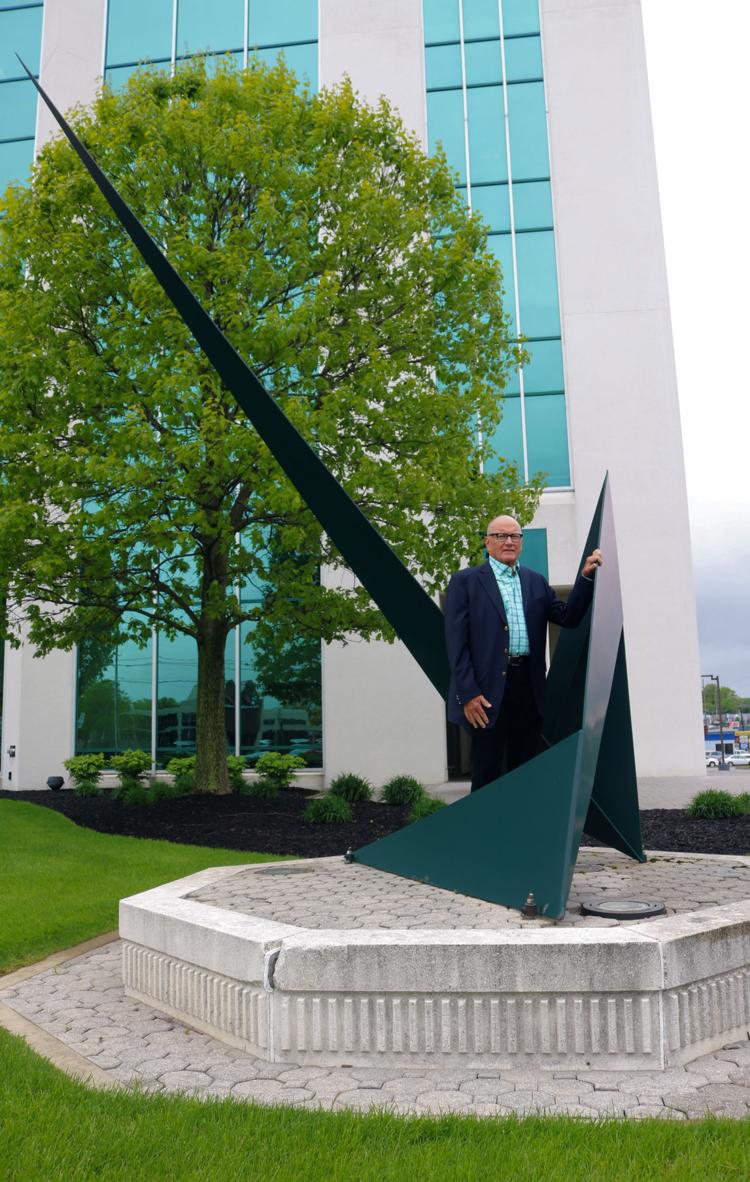 HERMITAGE – Steve Gurgovits started college with aspirations of being an elementary school principal.
Instead, the summer job he took to help with tuition became his livelihood. In a career that spanned six decades at FNB Corp., he rose from teller to CEO.
The Sharpsville native credited his professional rise — and FNB's fortunes — to a commitment of service.
"If there was a way for a bank to do a deal we would find it,'' Gurgovits said. "We wanted people to know we were the best bank in town. Then if you took your business someplace else you would realize that you made a mistake.''
Gurgovits, 75, who began working at FNB in 1961, retired in May from the bank's board. While acknowledging he will miss the wheeling-dealing action of the post, in other ways it's a relief.
"When I drive past our offices, you realize you're responsible for hundreds of jobs,'' Gurgovits said. "And those people have families and you feel responsible for them too.''
Gurgovits has worked 58 years for FNB – a legacy almost unheard of today.
"I've gone from being the youngest person on the payroll to the oldest,'' he joked.
Vincent Delie, the company's president and chief executive officer, has assumed the title of chairman.
For most of his tenure, Gurgovits has been a guiding force at FNB, best known for its First National Bank affiliate, as the industry has undergone dramatic changes.
Gurgovits became known for scouting out banks interested in talking turkey. Between 2005 and 2016, FNB bought out 14 other banks.
"It's all about contracts and knowing people. Plus we had a good reputation,'' he said of FNB.
Gurgovits had an unconventional start in the trade. After graduating from Sharpsville High School in 1961, he began working as a teller at its Farrell branch while attending Slippery Rock University.
"I was going to become an elementary school principal,'' Gurgovits said as stifled a laugh.
But his boss, Pete Mortensen, came to him with an offer. Mortensen would go on to follow in the footsteps of his father, Norm Mortensen, a former CEO and chairman at FNB.
"He wanted me to stay with the bank, and then said he wanted me to start management courses at Youngstown State,'' Gurgovits said of Pete Mortensen. "And then he said if I did that he would pay for all of my tuition and books.''
The path had a few bumps. When Gurgovits showed Mortensen his first grade report, it included a music arts course.
"He told me he wasn't going to pay the bill if I was taking those kinds of courses,'' Gurgovits said.
Needless to say, that didn't happen again. Gurgovits graduated from YSU with a bachelor's degree in economics and later graduated from the Graduate School of Banking at the University of Wisconsin.
By the time Gurgovits graduated from YSU, he was the bank's senior lending officer for its Hermitage office. 
He credited Mortensen for serving as a mentor and introducing him to key people in the community. 
"I didn't know who I didn't know,'' Gurgovits said. 
When Gurgovits joined the bank, it had branches in Greenville, Farrell and Jamestown, with and a drive-through in Hermitage. First National's assets at the time totaled $30 million and it had less than 50 employees.
The bank aggressively expanded throughout Mercer County and bought other banks to enter new markets scattered throughout Western Pennsylvania. 
In 1987, Gurgovits was named president and CEO of First National Bank. Then in 2004 he became president and CEO of FNB while continuing to hold his posts at First National. He retired from those posts in 2012.
He steered the company through buyouts that expanded FNB into Ohio, Kentucky, Tennessee, Maryland, North Carolina, South Carolina and Florida.
Gurgovits went on to become FNB's chairman, filling the spot held by his mentor, Mortensen.
As Gurgovits enters retirement, he leaves a financial institution with total assets of nearly $34 billion. The bank has about 380 offices and employs about 4,500.
Gurgovits said there's no secret to expanding a bank's customer base.
"You have to have really good customer service,'' he said. 
During his time in charge of FNB, Gurgovits started a program where he visited branches and took employees out for breakfast.
"These weren't managers,'' Gurgovits said. "These were people like tellers. I told them. 'We'll grow because of you. You are the ones who talk to the customers. Tell me what they're telling you.'"
Gurgovits credited much of his success to forging strong community bonds.
One of those bonds was with Bill Strimbu, president of Nick Strimbu Inc. in Brookfield. Bill Strimbu has served with Gurgovits on FNB's board of directors for nearly 25 years. The two men have grown close serving on other boards, including United Way of Mercer County and Shenango Valley Chamber of Commerce.
"When he chairs a meeting, he's probably the best chairman of any organization in the community,'' Strimbu said. "If he says a meeting will be an hour it will be an hour. He allows discussion, but he doesn't allow things to get out of control and he does it in a smooth way.''
But Strimbu's most vivid memory of Gurgovits is from 1989, when his father, community pillar Nick Strimbu died.
"Steve and my father were close friends,'' Strimbu said. "When my father died he was the first call I made to let him know. Steve came over to our house right away to offer emotional support for our family.''
In retirement, Gurgovits will continue to be involved in the community by serving on the boards of directors for Buhl Regional Health Foundation, Youngstown State University Foundation and Joy Cone Co.
He also plans on staying close with his family, including spending more time with his wife, Sandy. He's taking a position on the board of Tecum Capital Partners, a financial institution run by his son. Stephen Gurgovits Jr.
Looking back at his career, Gurgovits said he realizes how fortunate he was in being with a company he believed in and the rewards it gave him.
"I've had a real unique opportunity,'' he said. "Not too many people can say that.''
NOTE: This article has been edited to correct dates for Gurgovits' retirement as president and CEO, and indicate that he retired in May from the bank's board.